Name: Jorge Moreira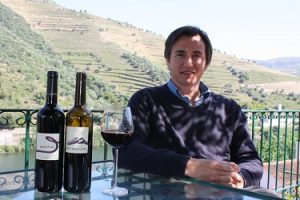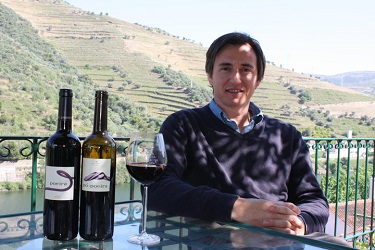 Currently: Oenologist at Quinta de la Rosa, Poeira & Real Companhia Velha
Website: www.quintadelarosa.com
Questions:
Please, tell us about how you got into wine, the wine industry and how your career developed?
I studied Enology in the university of Tras-os Montes at Alto Douro and started working in Real Companhia Velha in 1996 with an American Winemaker (Jerry Luper) to start a Fine wine Division in the company. I  worked for 7 years in this project where I studied the different grape varieties and how they perform in their environment (soils, altitude, sun exposition, cultural practice) that we have in Douro in order to create  wines with top quality. At that time I tasted and traveled as much as I could to develop my personal taste and to discover the style of wine I want to make.
This work was very interesting and I was learning a lot about winemaking but not enough about viticulture, so I left Real Companhia Velha and I bought a vineyard in Douro to start my own project in 2001 and so Poeira wine was born. Later in 2010 I returned to Real Companhia Velha as Chief winemaker. 2012 I started with Quinta de La rosa where I am still today. So my life is really interesting as I work in a very small project (my own Poeira) a medium size (Quinta de la Rosa) and a Big one (Real Companhia Velha).
What is your philosophy to making wine and viticulture?
Try to have balanced vines and to achieve this balance by natural processes using organic farming To fight every year to reflect my vineyards into a bottle which means to accept vintage variation and to realize that every year the wines will be a little different.
Which cultivar is your favourite to work with and why?
What I prefer is, to work with old vineyards from the Douro and this means field blends of more than 20 different grape varieties. But if I have to choose one it will be Touriga Nacional. Touriga Nacional is a grape that is very complete, full of character, personality and it is great to express the different "terroirs" we have in Douro. If it is planted in a hot and pour soil the wine will be powerful and very structured, if planted in high altitude and  richer soil it will be very expressive though elegant.
How do you see the future of wine production and what are the challenges and the opportunities?
I see the future with optimism. There is a huge population in the world that is just discovering wine, young people that are looking at wine not just as a drink but as part of a culture and history and talking about Douro there is growing interest in our wine region. The big challenge is to be competitive without following the world trends that would lead us to a globalization type of wine.
Where do you see the global wine market in 2025?
With much more diversity, with new countries, new producers and consumers. The consumption per capita decreasing and the quality of the wine increasing.
Jorge Moreira
@ by Dominik Kozlik – Zeitgeist Sommeliers – www.sommelier-jobs.com