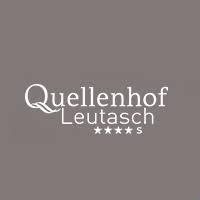 Hotel Quellenhof Leutasch
Do you want to see why you will love
working for Hotel Quellenhof Leutasch: www.quellenhof.at
Facebook Page: click
Instagram Page: click
Job Location: Austria/Tirol
City / Town / Village: Leutasch
We are looking for a: Head Sommelier (f/m/d)
Description of the position:
Du bist ein Genussspezialist, Kundenberater, Menschenkenner, Taktiker, Organisator, Kalkulator, Kreativer?
Dann komm zu uns! 
Wir sind eines der Top Wellnesshotels in Österreich und haben eine Passion für Wein. So wie Du.  
Wir suchen einen 
Head Sommelier (w/m/d) der/die folgendes hat und meistern kann:
Mit Wein-spezifischer Ausbildung und Erfahrungen in der Hotellerie oder im Weinverkauf 

Verantwortlich für die Gestaltung der Weinselektion und Mithilfe bei der Bar Karte und Produktauswahl der Getränke 

Zuständig für den gesamten Wein- und Getränkeeinkauf

Aktiver Wein und Getränke Verkauf im Restaurant, an der Bar und Vinothek

Lagerführung des Weinkellers und Getränkelagers

Aktive Unterstützung der Service und Bar Teams, Koordination mit der Küchenchefin und F&B Managerin 

Durchführung von Weinveranstaltungen

Weinausbildung und weiterführenden Schulungen von Mitarbeitern 
Wir bieten:
5 Tage Woche

Eine Ganzjahresstelle (14 Gehälter)

Kostenlose Unterkunft und Verpflegung (auch an freien Tagen)

Weiterbildungsangebote

Vergünstigte Übernachtungen in Kooperations-Hotels 

Freier Eintritt ins Alpenbad Leutasch, Benützung des Hotel Fitness Studios 

Arbeiten in einem beständigen, motiviertem und freundlichem Team 

Gehalt laut KV mit Bereitschaft zur Überbezahlung 
Desired wine education: Certified Sommelier
Contract type: Full time
Work permit: You need a work visa – eligible to work in Austria (EU)
Accommodation: is provided
Languages required: German / English
Wine list: more than 500 positions
Contact Name: Mrs. Sarah Pitter at [email protected]
*****
Please, mention Zeitgeist Sommelier-jobs.com when applying for this role!