Name: Mr. Jenzen Chow –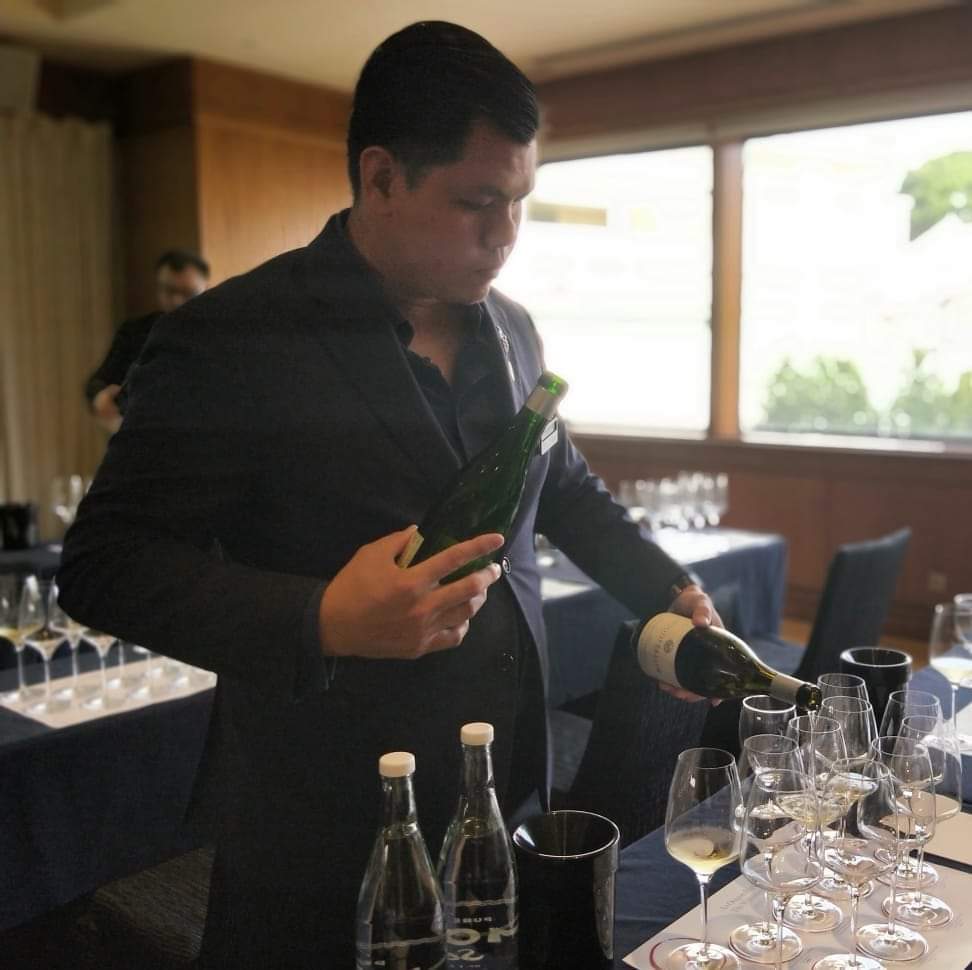 Nationality: Malaysia –
At the moment: Singapore
Assistant General Manager/Sommelier
Prerequisite:
Please, tell us a little bit about your first encounter with wine & the wine industry. Did you have any particular mentors?
Unfortunately, I do not have any mentors who guide me side by side but I do have inspiring seniors (not under the same company) who exposed me to learning wines. It was very new to me, especially coming from a typical Chinese family background from a small town in Ipoh, Malaysia, I went ahead in learning my wines and progressed very steadily in the F&B industry. I wish I had an interesting start in my wine career back in the early days to share but I certainly enjoyed the journey and am happy that I am shaped into who I am today.
What specific traits or skills should a Sommelier(e) possess for professional performance and is there any person with those qualities you especially admire within the wine industry?
People skills and respect apart from just wine knowledge.
If you asked me, I admire two most that will be Ryan Cheng from Malaysia and Kevin Lu Kai-Wen from Taiwan whom I worked closely together. No matter who you are, both will share their knowledge even if I never ask to be taught. They both are very jovial and enthusiastic to share wine knowledge and experience. Both have the people skill qualities that I love.
What would be your advice to a young Sommelier(e)? How to find a good position at home or abroad? Any further tips?
My advice to young sommeliers is very simple. Do not give up even if you fail, it is all about pushing through. Never hurt to know how far you can go and even if you do not make it big in life – your colleague or junior may follow your steps and be successful all because of you.
Always find a place where you feel good working. Always weigh in on the concept and approach of the establishment by studying its menu and background before you join/apply. Never jump to conclusions just because you are a sommelier, you will fit in anywhere. Trust me, the owner or manager will appreciate it and with that, you will have full support from the management and progress in an environment full of positivity.
Active:
When a customer asks for advice on selecting wine what, in your opinion, would be the best approach?
This is the scenario where your customers pay full attention to you and shine. Always be prepared to suggest wines based on the food they ordered without looking at the menu so that the customer knows what varieties they could go for. The customer tends to stick to wines they know best so always look for signs and understand the body language when you explain the wines.
Do not try to flood them with too many technical details. They will turn away from you. To me, having wine on the table is satisfactory.
What is your philosophy about glasses? Are you working with well-known brands or are you considering new brands as well? How do you decide?
Glasses play a huge role in leading you to taste wines differently no matter what brand it is. Modern technology influences the glass-making industry so much that producing stemless wine glasses and making the wine glass so thin that it is not sensible, and durable becomes a thing. I really dislike all these trends.
For example, I will choose glasses for wines based on where it comes from – for champagnes, I will either use diamond shape rose wine or burgundy wine glasses. Where it allows the champagne to express itself more definitively. I worked with Riedel, Spiegelau, and Schott which are just amazing brands for wine glasses and perfect for any occasion. It's a no-brainer.
What advice would you give people on pairing wine with food?
Sometimes we cannot express too much about how we pair food and wine with different people. Everybody has their own tastebuds. As long as they are comfortable with the balance of the pairing. Do not be afraid to be adventurous as well because you will never know what wonderful discovery you may have discovered. That's the magical experience of a food and wine pairing (or any other alcohol base).
Should a Sommelier(e) taste the guest's wine?
Yes. To be in control of any wine-tasting situation and if the guests find it difficult to accept the wine, at least you have prepared yourself with a little explanation to the condition of the wine you've tasted. Whether it needed a longer breather, double decanting, etc. When tasting the wine first, you will know as well if it is already corked. Your guest will appreciate that gesture and exchange with another bottle. With this process, you will gain trust and rapport with your guest and there's where the best experience is assured.
Wine list:
What are the key ingredients for creating a wine list for a restaurant and what is your opinion on pricing wine in restaurants, do you have tips on how to determine markups?
Research the current market trend. Different countries have different concepts and pricing trends due to the taxes of each individual country. Also, in the industry respectively different concepts play a big role too. For example, if you are working in a big corporation where there's a procurement team, they will decide on the sommelier and standalone restaurants/chain, and the sommelier themselves will determine the right pricing and markup strategies.
Pricing is important as it can reflect the sommelier's rapport with their customers. Most wine-drinking customers will return to the restaurant because of the sommelier's strategy, especially the pricing.
How do you manage to stay on top of the changes in the wine industry?
Reading, studying and the best part of being in this industry is that I have access to all the wine programs happening in Singapore. Attending wine dinners/wine tastings and meeting winemakers.
How would a new vineyard get its wine noticed and what is the best way for producers to improve their chances of being listed?
It really depends on the efforts of the wine suppliers/distribution. And ultimately the quality.
Favourite pick:
If you were a wine, which variety would you be, and why?
Hmmm, never thought that I will be asked of this. =) It must be a wine full of characters and emotions. For me, it would be a Shiraz. It really expresses the mood and can be big and juicy, elegant, and sweet spiced. This reminds me of my favorite collection of 'The Armagh' Shiraz by Jim Barry from Clare Valley, Australia.
Which top 3 types of wine (your faves would we find in your home wine collection and what's your desert island wine?
Austrian gruner veltliner
Australian Shiraz from Jim Barry, Clare Valley
And the top favorites of all
French Blanc de Blanc from Champagne Le Mesnil NV
And the wine I love =)
Spanish PX from Toro d'Albala (Not something for every occasion but it always brings attention to the table)
Thank you!
Jenzen Chow