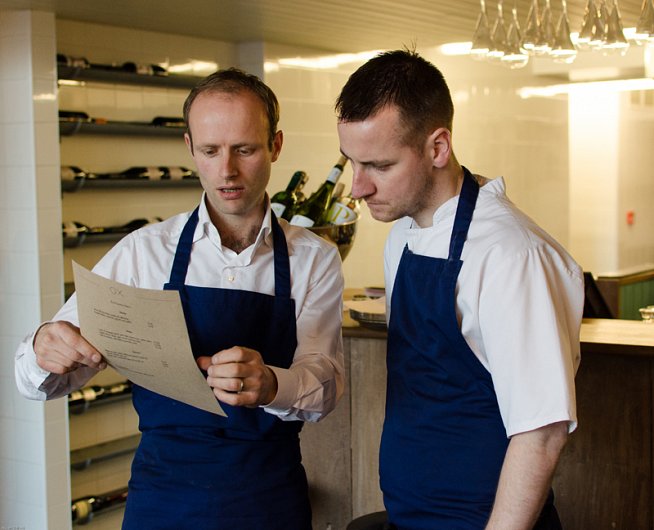 Name of establishment: OX
Website: click
Instagram: click
YouTube: click – Welcome to OX
YouTube: click – That`s the way – work & live
AA 3 Rosettes: click
Michelin Guide: click
Tripadvisor: click
Pinterest: click
Twitter: click
Picture gallery: click
Job Location: United Kingdom/Northern Ireland
City / Town / Village: Belfast
We are looking for a: Sommelier f/m/d
Description of the position:
Our exceptional wine cellar holds delicious wines by the glass and hard-to-find bottles from some of the world's most interesting winemakers.
Who We Are:
The riverside setting offers an excellent backdrop to this Oscar & Oscar-designed 40-seat restaurant, while an intimate mezzanine area provides for more private dining. With our fine dining heritage, we aim to provide the same quality of food and attentive service, but in a more relaxed, simple environment. Our restaurant is one of the leading restaurants in Belfast, having been awarded a prestigious Michelin Star and 3 AA rosettes.
We, Alain & Stephen, are now seeking a passionate and talented Sommelier to join the team.
What we offer:
Package up to £26 000 – £30 000

depending on experience.

Gratuities are shared evenly and the amounts are from £10 000 to £15 000

per annum per employee.

4-day working week.

Excellent working environment with work-life balance.

Planned annual closure in

Easter (1 week), Summer (2 weeks), and Christmas (3 weeks, we are closed from 24th December)

We provide accommodation for when you first arrive and can help you find a place to live.

When you have dinner in OX with a guest one meal will be free.

Free uniforms.

Staff meal, once a day.
A successful candidate will ideally have:
Previous experience as a Sommelier in a Michelin-star restaurant is

not required but would be an asset.

Passion to deliver an exceptional customer experience.

Expert knowledge of world wines, spirits, and cocktails.

Smart presentation and a friendly yet professional personality.

Excellent teamwork ethic prepared to look beyond wines when required.

Updating and keeping the wine selections and listing fresh and relevant.

Proactively working with suppliers to ensure we're always ahead of our competitors in terms of seasonal, imaginatively curated wines, spirits, and beers.

Maintain all standards as would be required in a Michelin Star restaurant.

Carry out any wine training

& knowledge in all aspects of drink service

as required by front-of-house team members

Ensuring the Food and Beverage team is trained and knowledgeable in all aspects of drinks service.

Responsible for the wine list in order to assist guests with their choices, being able to make appropriate recommendations where necessary.

Management of stock and inventory control
If you are looking for a new challenge, and have the passion and knowledge to help drive forward
our exciting dining destination contact us at: (++44 2890314121 or [email protected]) to find out more and apply.
The OX is open 4 days a week Wednesday 18-21.30, Thursday-Saturday 12-14.30, 18-21.30, and is closed on Sundays, Mondays, and Tuesdays.
PLEASE, DO NOT APPLY IF YOU DON'T MEET THE REQUIREMENTS MENTIONED, THANK YOU!
Contract type: Full time
Work permit: Help to obtain a work visa
Languages required: English
Contact Name: Alain at [email protected]
Please, mention Zeitgeist Sommelier-jobs.com when applying for this role, thank you!