Name: Hristian Iliev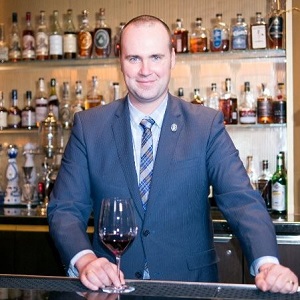 Nationality: Bulgarian
At the moment: USA/Nevada
Head Sommelier
Prerequisite:
Please, tell us a little bit about your first encounter with wine & the wine industry?
I grew up around wine. My grandfather used to farm a small vineyard and used to make wine every year, I would spent the summers in the village and help him with the work. After he passed away my father took over the winemaking, so wine has always been on our table. Can't say that I liked it at early age, but I clearly remember the hard work and the excitement around every glass of wine. My family makes wine to keep the tradition alive, and because they like to drink it, not for profit or as a business. My encounter with the wine industry happened much later, when I started my first job in Las Vegas in 2004.
Any particular mentors at that time?
Angelo Tavernaro MS was my first wine instructor, and somehow he managed to infect me with his admiration of the world wine. I was so fascinated by the history, diversity of terroir and the taste, that combined with the passion that I remembered from back home that goes in every bottle, I found my new love!
What specific traits or skills should a Sommelier(e) possess for professional performance and is there any person with that qualities you especially admire within the wine industry?
The sommelier must be humble and must have a certain charisma, which is direct correlation of his/hers passion for wine . I think after the tremendous knowledge and understanding of the wine world, we are merely servers, who are eager to share our excitement with the guest. I work with Nick Hetzel, MS at Sage and he is one of the sommeliers that I admire in every aspect of the trait.
What would be your advice to a young Sommelier(e) i.e. Commis Sommelier(e) where to look finding an adequate position at home or abroad? Any further tips?
Obviously the first job is the most important and the hardest to get, but the employer does see the potential of a future sommelier, so be yourself and show your passion. All theory can be learned and all service steps can be taught, but one's love for wine has to come for within. Also never be afraid to shoot for the stars. Picture yourself where you want to be and everything will come to place.
Active:
When a customer asks for advice on selecting wine what's in your opinion would be the best approach?
Listen! I have less than a minute to read the guest and determine what is s/he looking for, and how broad is their wine horizon. At that point I will find an alternative or a selection that is exciting and esoteric, but yet comfortable for their palate. This is their experience and my main goal is to make is pleasant. After working for 10 years in Las Vegas, I also learned that price is very subjective, so I will gladly describe with passion, wines that I love.
What's your philosophy about glasses? Are you working with well known brands or are you considering new brands as well and how do you determine?
We use Spiegelau, which I think are great because of their shape, durability and price. I don't think that the big brands is the only way to go, but somehow in Las Vegas they make a lot of sense from a business point of view.
Otherwise, the glass needs to be elegant, be present and beautiful, but unobtrusive. As long as the shape allows the aromas to shine and it feels good on the lips, I like it.
What advice would you give people on pairing wine with food?
Be adventurous, but follow simple guidelines as far as texture, intensity, residual sugar and acidity levels. I think synergy is a beautiful thing, but sometimes the best pairings come from bold and unpredicted moves.
Wine list:
What are the key ingredients for creating a wine list for a restaurant and what is your opinion on some ridiculous pricing on wine in restaurants, do you have tips on how to determine markups?
The wine program needs to be in support of the cuisine of the restaurant. How exciting is to go to a Thai restaurant and have 10 pages of Rieslings! But I have also been to Chinese restaurant that offers mostly first and second growth Bordeaux! So I guess the demand of the guest is as important as the cuisine. I think balance is important and after that strong focus on a region is a beautiful thing! I'd rather see a deep Spanish list at the proper restaurant than bits and pieces from all over the world. And I don't think there is anything wrong with high priced wines! The prices are determined by the supply and demand. And of course this is the decision of the owner if they want to invest into high price bottles and what their mark up will be.
How do you manage to stay on top of the changes in the wine industry?
Tasting wine and talking to producers is the best way to stay connected. I try to visit a wine region at least once a year, and talk to people, about new producers, climate changes, research, etc. Otherwise the internet is such a bottomless source of information. I love the fact that the cyberspace can not be controlled as much as the rest of the public media, there are many informative sites, but if I have to name a few major ones, I have to say: Decanter, Jancis Robinson, and Guildsomm.
How would a new vineyard get the attention of someone like you to notice their wine and what's the best way for producers to improve their chances of being listed?
I am always looking for wines that express the terroir the best, wines that speak the local language and say: " this is where I am from, like it or not". It may sound cliché, but I really appreciate wines with as minimal intervention as possible. Of course the use of sulfites or oak, or whatever needed to be done for the wines aging and showing its best, if fine. Balance and purity is what I look for in every wine.
Favourite pick:
If you were a wine, which variety would you be, and why?
I have to go with Gumza, which is indigenous Eastern European grape, that produces medium bodied red wine, with gentle tannins, fresh acidity and slightly spicy aromas. My roots are still settled deep in Bulgaria, and no matter where I go, I bring a bit of the rustic taste of the Balkans. I am not aggressive and flashy, but with much complexity that so far is improving with age.
What are the top 3 types of wine (your faves) would we find in your home wine collection and what's your desert island wine?
I love a lot of other wines but if I have to pick three, it boils down to Old Champagne, German Riesling and Red Burgundy, and this is about 70% of the wines that I have at home.
My desert island wine will have to be 1978 DRC, Romanee Conti! If this sounds outrageous I will settle for Keller, Kirchspiel, Riesling.
Any interesting suggestions about magazines or online platform?
So much has been done so far! I used to publish a DIY fanzine in my teenage years about the underground music scene, and I used to be able to freely express my opinion without any concern of what the public will think or say. How about something similar but about the wine world! Just raw and to the point, on a very grass root level, without big flashy ads and jaded articles! It can even be printed on Xerox! I know that will never sell, but hey, building a community is not always about the profit, I know there are many peers that are into the wine world because of love and passion.
Hristian Iliev
@ by Dominik Kozlik – Zeitgeist Sommeliers – International Sommelier Positions – www.sommelier-jobs.com