Name: Xoel Cantero Alvarez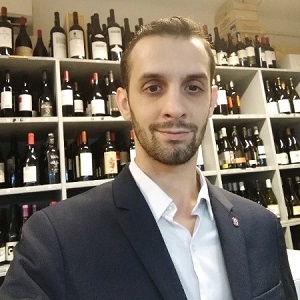 Nationality: Spanish
At the moment: United Kingdom
Sommelier
Prerequisite:
Please, tell us a little bit about your first encounter with wine & the wine industry? Any particular mentors at that time?
I have been in the restaurant industry for the past six years. I'm relatively new to wine as it is just for the last three years, that I have been employed as restaurant Sommelier. I consider Giancarlo Cuccuru (Assistant manager and formerly Head sommelier at the Marcus' Wareing restaurant "the Gilbert Scott") and specially Gabor Forth (current Head Sommelier at Hakkasan Hanway place) my mentors when I was starting out at this intriguing world that is wine.
What specific traits or skills should a Sommelier(e) possess for professional performance and is there any person with that qualities you especially admire within the wine industry?
Basic understanding of the different styles of wine and food and wine pairing are the key when it comes to successfully develop the skills of a top sommelier, as it is also having a strong background in hospitality and customer service. Knowing your product inside out is a must. I really enjoy working with Miguel Gomez (Head Sommelier at the Typing Room and Wine Director at the Town Hall Hotel) the philosophy of his wine lists and his unusual approach to wine and food pairing is an inspiration to experiment with new things in the ever evolving world of wine.
What would be your advice to a young Sommelier(e) i.e. Commis Sommelier(e) where to look finding an adequate position at home or abroad? Any further tips?
When you decide to start a career working as sommelier or in wine sales, is very important to dedicate a fair amount of time searching for knowledge, look for a place to work where your formation is considered an investment for the company and pay them back with commitment and hard work.
Active:
When a customer asks for advice on selecting wine what's in your opinion would be the best approach?
You should approach guests with the intent of understanding their priorities, wants and needs and look for opportunities to fulfill and exceed their expectations.
What's your philosophy about glasses? Are you working with well known brands or are you considering new brands as well and how do you determine?
Glasses are important when it comes to wine enjoyment, at the Typing room we work with different shapes of glasses to adapt to the characteristics of each wine. Riedel is our brand choice due in part to a commercial  agreement with our provider.
What advice would you give people on pairing wine with food?
Listen to your palate above all else, but keep in mind the cooking method when pairing food and wine. Consider not only the regional pairings but also think outside the box and be adventurous enough to try wines you are less familiar with.
Wine list:
What are the key ingredients for creating a wine list for a restaurant and what is your opinion on some ridiculous pricing on wine in restaurants, do you have tips on how to determine markup?
When creating a wine list for a restaurant the most important task is to honour the kitchen efforts, keeping in mind market needs and the financial reality of the business. It's important to establish an extensive network of contacts and associates (as well as a few friends along the way) when working within the compelling and exciting wine industry.
How do you manage to stay on top of the changes in the wine industry?
The wine industry is always changing, it's important to keep an open mind and be willing to try new "exotic" things and to understand how the market is evolving. Work with suppliers that keep you up to date with the last releases and exciting opportunities.
How would a new vineyard get the attention of someone like you to notice their wine and what's the best way for producers to improve their chances of being listed?
Marketing is an important tool to get the attention of wine professionals, but quality must be the ultimate goal of any producing wine estate if it is to reach the most exigent wine list out there. If it looks good and tastes good chances are customers will enjoy the wine and share their experiences with their relatives and friends.
Favourite pick:
If you were a wine, which variety would you be, and why?
If I had to pick a varietal to be I would be a Nebbiolo grape, nervy and aggressive in youth but developing into a complex and harmonious character as it ages and very representative of the "terroir" it comes from.
What are the top 3 types of wine (your faves) would we find in your home wine collection and what's your desert island wine?
The top three wines I really get excited about at the moment are the wines of Piemonte, Washington State experimental plantings and the white wines of Valdeorras DO from the Godello grape. Ice Wines from China and Hungary are my highlights when we talk about sweet wines.
Any interesting suggestions about magazines or online platform?
Wine Gang, Decanter and wine spectator are all good publications and I highly recommend to join the Guild of Sommelier to stay informed as it's for me the best online platform for wine professionals.
Xoel Cantero Alvarez
@ by Dominik Kozlik – Zeitgeist Sommeliers – International Sommelier Positions – www.sommelier-jobs.com