Name: Jonathan Kleeman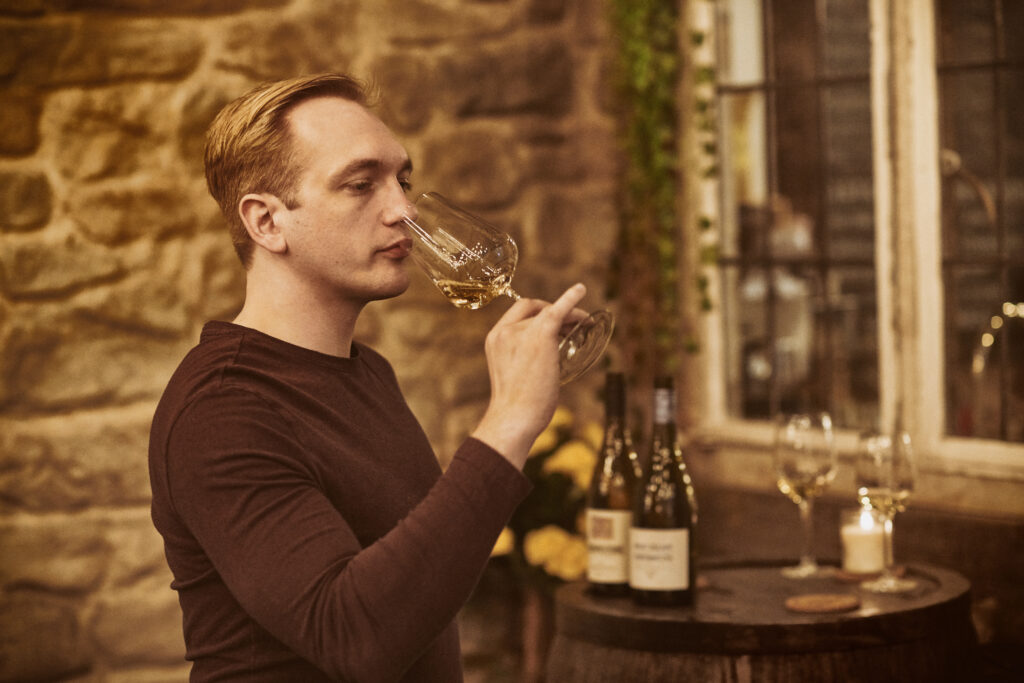 Nationality: English
At the moment: United Kingdom
Head Sommelier
Prerequisite:
Please, tell us a little bit about your first encounter with wine & the wine industry. Any particular mentors at that time?
I have been around the industry all my life. My dad is a chef and I also lived in two different pubs for half my childhood. I did not really get involved in wine properly until I was nineteen, it was when I went to Toronto to stay with my great Uncle who is a collector of fine wines thanks to him I tried my first truly good fine wine, and since then I have not looked back.
What specific traits or skills should a Sommelier(e) possess for professional performance and is there any person with that qualities you especially admire within the wine industry?
The most important skills for a Sommelier are Taste, Memory, attention to detail and communication. For me the most important trait is passion. when someone has a true passion for a subject it is conveyed in the way they speak, write and work. A great example of this is whenever you read Hugh Johnson writing you can really get the sense of her feeling towards wine in general as well as specific wines and regions that he really enjoys.    
What would be your advice to a young Sommelier(e) i.e. Commis Sommelier(e) where to look to find an adequate position at home or abroad? Any further tips?
Finding a job both at home and abroad can be done in many ways. the main one being networking, I have found that knowing the right person can open more doors than simply applying or putting your CV out there, this is true for all industries. There are other ways to find job opportunities like using social media, like LinkedIn where there are a number of groups showcasing jobs from all over the world.
The best advice I could give to a young Sommelier is to get out there in the wine world, as much as it is important to read about and taste wine it is equally important to get out there and meet other people in the wine world, not just other Sommeliers but also winemakers, representatives and all the other areas of the wine industry. Always make time to meet other people from the industry whether at your work, tastings or events like dinners or other industry lead events.  I would also say that of possibly going to a Vineyard and getting first-hand knowledge of the wine growing and making processes, the best way I have found is to organize working trips to vineyards through contacts like reps.
Active:
When a customer asks for advice on selecting wine what in your opinion would be the best approach?
The first thing to find out is what the customer is eating preferably before you go to the table. When you do approach the customer try to find out not just what they would like but get a feel for their taste in wine so you can make an educated recommendation
tailored to that customer's needs. I always feel that you are not just matching a wine to the food but also the wine and food match the customer.  
What's your philosophy about glasses? Are you working with well-known brands or are you considering new brands as well and how do you determine?
I am an admitted big Riedel fan I do believe that the right glass can make the difference and I have done tasting with Riedel glasses to see the difference and it was very notable.  
What advice would you give people on pairing wine with food?
When it comes to matching wine with food especially ahead of meeting the customers, it is important to look at the whole dish at every element. then work out how all the elements will work in your mouth from that you can see is a need to both clean the palette as well as add complementing elements to the dish.
Wine list:
What are the key ingredients for creating a wine list for a restaurant and what is your opinion on some ridiculous pricing on wine in restaurants, do you have tips on how to determine markups?
You need to understand two key factors when building a wine list. Your food/ concept of the restaurant and your target demographic, then find the best way to blend these two important factors to give the best wine list for the operation. The last thing to add is a sense of character or style, this will make your list stand out from others that can just read like a plain text document.
I feel that the ridiculous prices of wine in restaurants stem from a few key factors. The first is the prices of wine in the big regions especially in Bordeaux and Burgundy where top producers are sitting in a seller's market because of the high prices they demand. Other top producers around the world use these high Grand Cru-style pricing levels as a marketing tool as well as to increase their profits a great example of this is when Angelo Gaja took over the reigns of the company he increased prices to high levels without dramatically changing his cost of production. The second is the level of tax in the UK not just on the bottle of wine itself but also on the whole business, this forces restaurants that focus on quality over volume to implement very high prices across both food and beverage this is even more predominant in London where the sky-high rents force prices up. The third important factor is the super-rich, why sell a bottle at £1000 when some people will pay £4000?
How do you manage to stay on top of the changes in the wine industry?
Staying on top of the changes in the industry is not complicated, but it is a lot of work. You need to keep reading, studying, networking and attending as many of the big wine tasting as possible even then some things will pass as by. Judging fashions in wine is important as some come and go very quickly while others are longer lasting and can become expectations on wine lists e.g. Bio-dynamic wines.    
How would a new vineyard get the attention of someone like you to notice their wine and what's the best way for producers to improve their chances of being listed?
Getting the attention of Sommeliers and restaurants can be hard work It is mainly done by the importer of the wine in the country and reputations can also be made through critics and winning computations, but there is still a lot of leg involved in going out to country's visiting restaurants to do tastings and speak first hand about your wines. At the end of the day a lot of it comes down Sales and Marketing.
Favourite pick:
If you were a wine, which variety would you be, and why?
If I was a wine I would be most like Cervaro Della Sala, as I started life over the top and enthusiastic but as I get older I am becoming more complex and calmer. Unlike the wine I have not gained colour with age and remain as pale as when I started.
What are the top 3 types of wine (your faves) would we find in your home wine collection and what's your desert island wine?
Of wines in my home collection, my top 3 types would be classic aged Margaux, South African Port-style wine (The Holden Manz Good Sport) and Amarone. If this seems like I am being biased towards reds it just because I have drunk most of the whites in my collection. The Delinea 300 Pinot noir from Sokol Blosser would be my desert island wine because A. I can not really have a white as a desert island has no fridge. B. it's a light easy drinking Pinot so it will go with fish, meat and veg. C.Its a wine that is hard to get bored with.
Any interesting suggestions about magazines or online platform?
Anyone looking for some other ways to learn about wine I would recommend the UK wine show with Chris and Jane Scott it has are large back catalogue of podcasts on all different subjects about wine so you can pick and choose what you like. It is always nice to take a step away from books for a change.
Jonathan Kleeman
@ by Dominik Kozlik – Zeitgeist Sommeliers – International Sommelier Positions – www.sommelier-jobs.com