Name: Kristina Long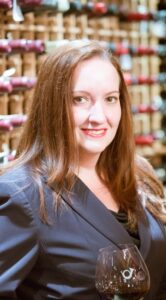 Nationality: USA-California
At the moment: Canada
Sommeliere
Prerequisite:
Please, tell us a little bit about your first encounter with wine & the wine industry? Any particular mentors at that time?
Wine never played an important role in our family dinners but I do remember being fascinated by the German Riesling my mother always had a bottle of tucked away. She only drinks Spatlese from the Mosel and I can still recall being mesmerized by the intricate label and begging for a taste. It's probably what set my palate and my personal preference for wines today – anything elegant and crisp with racy acidity and beautiful crystalline stone fruit.
Although I worked at several establishments that had a wine program or sommelier on staff the first place I was fortunate enough to work at that took it to an art form was the Montage in Laguna Beach, California. The dedication of the sommelier staff to wine and the role that it plays in the dining experience was amazing and inspired me to undertake the training to become a sommeliere myself. There was an incredible sense of detail to every aspect of wine, service and most importantly the guest experience.
Although the entire beverage staff at Montage inspired me each day there were two people who made an impact on becoming who I am today. The first is Troy Smith who is now the Beverage Director, his depth of knowledge, patience and ability to take something difficult and break down so it's easy to comprehend in unparalleled. The second was Wayne Marshall who worked as a sommelier at the Studio Restaurant. His incredible love for wine and for life reminds me to never take wine too seriously. At the end of the day wine is a pleasurable experience and it's important to remember that role it plays in dining and in life.
What specific traits or skills should a Sommelier(e) possess for professional performance and is there any person with that qualities you especially admire within the wine industry?
The ability to work well under pressure, to quickly assess a situation and to interact with a variety of personalities is crucial when working the floor. Also one should have a genuine thirst for knowledge, the best thing about being a sommelier(e) is the fact that there is always more to learn. I think these along with uncompromising standards are qualities I find in all the great sommelier(e)s that I have had a pleasure to meet and work with.
What would be your advice to a young Sommelier(e) i.e. Commis Sommelier(e) where to look finding an adequate position at home or abroad? Any further tips?
I think the best advice is to find a position where a solid team and a culture of learning exists. A large collection is wonderful to work with but means nothing if all you do is clean and organize it. Find a place that inspires you and seek out people that push you to learn and excel at your chosen profession.
When looking abroad the same thing should be taken into consideration but also think about what experience you are looking for – and look for a country that is going to meet those expectations. Be patient – sometimes work visas can take forever…..and be open minded as you will be working with many different personalities – in the end it make you a well rounded and much more patient and understanding person.
Active:
When a customer asks for advice on selecting wine what's in your opinion would be the best approach?
The best approach is to ask a few questions to see what the guest is interested in and then guide them in the right direction. I always think about narrowing down the list rather than just throwing out recommendations. What are they having for dinner? Are they looking for a glass, half bottle, bottle, pairings? What do they like to drink? It's a conversation you have with your guest. Triangulation is a wonderful term a sommelier used once when explaining the process. You have two points – what do they like and what kind of experience are the looking for? It's up to you to come up with that third point – where they will go, and then complete that experience for them. Never try to force your own palate or preferences on a guest. Remember it's not about you – it's about them.
What's your philosophy about glasses? Are you working with well known brands or are you considering new brands as well and how do you determine?
Offer the best glassware you can that is within your budget. If high end glassware is not in your budget then use something lower end that still has enough room for the wine to breathe. The worst thing is having your wine served in a warm glass fresh from the dishwasher because the restaurant doesn't have enough to get through service. And always, always give the same love to your glassware that you give to your wine, make sure it is sparkling clean, free of lint and there are no residual smells from the dishwasher or your polishing cloths.
I love working with Riedel although I'm always open to new products in the market. I find that Riedel takes great pride in offering the best glassware possible and I love the fact that they offer quality glassware in all price points and levels. With the breadth and depth they have on the market there is no reason to not have quality glassware in your wine program.
What advice would you give people on pairing wine with food?
To me this is where it's most important to take the time to dine at establishments who have a great sommelier on staff. Putting yourself in someone else's hands can be one of the most eye opening experiences ever. We all come from different backgrounds and have different palates. No one can think of everything and seeing someone else's take on something can be mind blowing. Also experiment when you're at home. Many of the most unlikely but perfect pairings come from being open to trying completely unexpected combinations. More then likely you'll come up with some horrible combinations but it will give you an in depth understanding on why things work – and some unlikely but fantastic combinations you would never think of!
Wine list:
What are the key ingredients for creating a wine list for a restaurant and what is your opinion on some ridiculous pricing on wine in restaurants, do you have tips on how to determine markups?
When creating a list be aware of your budget, your menu and last your target guest. Everyone wants an amazing list of hard to get boutique wines from stellar vintages but there are very few establishments where that is even relevant to their program. You should be generating profit while providing quality product and hopefully broadening and expanding your guests palate.
Your pricing should be dictated by your market. You should be visiting your local restaurants on a regular basis and be aware of the products they're offering and at what price. I had the opportunity to work with a rather remote cellar that had an incredible collection of back vintages. They were priced well below what you might find in a major international city but it worked for our location. Make sure what you're offering is fairly priced for your market and that older vintages are priced at a point where guests can still have the pleasure to explore them. Don't ever fall in the trap of pricing something with an exorbitant markup just because you think you can, eventually someone will catch on and you lose your integrity.
How do you manage to stay on top of the changes in the wine industry?
I find the best way to stay on top of the changes in the wine industry is to always continue your education. Each time you go to a different tasting, lecture or class you connect with others in the industry and are introduced to a different point of view. I also scan all the major publications. Some people scorn the mainstream magazines like Wine Spectator or Robert Parker but writers for these publications have an incredible background – and most importantly your guests are reading those publications as well. Also try to be well rounded. My next projects are to work on the Cicerone program and the Sake Sommelier Academy. The world of fermentation is all connected and you can never know too much.
If you were a wine, which variety would you be, and why?
Champagne!  I love Champagne, there is so much love and care that goes into it. If you've ever tasted the raw product before it's blended it's amazing how it coalesces from these bitter separate components into an elegant beautiful masterpiece. It's such a versatile wine and can stand up to so many preparations and cuisines. Plus I've never seen someone turn down a glass!
What are the top 3 types of wine (your faves) would we find in your home wine collection and what's your desert island wine?
In my home collection you always find some manner of bubbles (of course) although I am rather partial to Red Burgundy and Syrah in any form. My favourite desert island wine would have to be Madeira as it would be the only thing to stand up to the elements. Unless a refrigerator magically came along with it – then it would be Pierre Gimonnet, and hopefully cases of it!
Any interesting suggestions about magazines or online platform?
I'm always searching for new publications to look at. Right now my favourites are a blog by MS Tim Gaiser  www.timgaiser.com – Tim has truly taken the art form of tasting to a level beyond anyone else while still retaining all the love and mystery that captivated us when we first started. Also I find The SOMM Journal to be something that I read cover to cover I always find something new and interesting each time I read it. It rides that fine balance between being technical while still being informative. There is always something for everyone from the novice to the jaded professional!
Kristina Long
@ by Dominik Kozlik – Zeitgeist Sommeliers – International Sommelier Positions – www.sommelier-jobs.com