Name: Melroy Steve Fernandes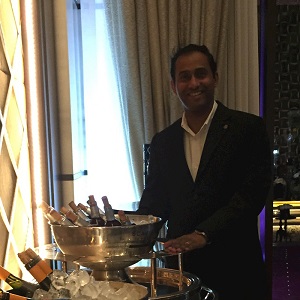 Nationality: Indian/Portuguese
Currently: Abu Dhabi
Head Sommelier
Prerequisite:
Please, tell us a little bit about your first encounter with wine & the wine industry? Any particular mentors at that time?  
During my hospitality management in the year 2000 I was intrigued by the topic of wine. The history of of wine, it's evolution and versatility in growing around the world, the cultures associated with it, and its uniqueness to every terroir fascinated me. My hunger to learn cultures, had found its way, through the topic of wines and that put me on an amazing journey through the World of Wine. My mentors to whom I'll forever be grateful to would be Ms. Gauri ( My professor), Mr. Sylvain Charrier ( My Sommelier/ Rest. Mgr at Kempinski) and Mr. Nicola Pitzalis (Chief Sommelier at One & Only)
What specific traits or skills should a Sommelier(e) possess for professional performance and is there any person with that qualities you especially admire within the wine industry?                                                                                                
I feel the most important trait would be Passion for wines and a hunger to learn. Pride in the Role, yet Humility is a subtle quality that accentuates growth. With experience Salesmanship, Management, and other qualities develop.  Gerard Basset
What would be your advice to a young Sommelier(e) i.e. Commis Sommelier(e) where to look finding an adequate position at home or abroad? Any further tips?                                                                            
A sommelier is a well rounded individual just like a fine wine, with knowledge and skill not just limited to Wine or hospitality. His/her knowledge and abilities must have ample of General knowledge, great conversations and stories to tell, that would come from Extensive traveling and experience. A certificate in Hospitality and Wines combined with Traveling and new Challenges will strengthen and mould you into a fine Sommelier.
Active:
When a customer asks for advice on selecting wine what's in your opinion would be the best approach?      
Know your Guest is a common yet vaguely utilized phrase in Hospitality. Reading the customer would be the most important task as that would tell you largely about:-
1) Their preference- whether white, red, dry, off dry etc.
2) Their moods, temperament that would play a huge part in satisfying their need or blowing them away.
3) Their willingness to try confidently what you recommend.
Stick to the basics of wine and food pairing but be willing to diversify and experiment a bit too. Everyone loves a good game.  
What's your philosophy about glasses? Are you working with well known brands or are you considering new brands as well and how do you determine?
"Right glassware for the right wines", have a lot to do in increasing the guest experience. Having a decent selection of Bordeaux, Burgundy, Riesling glassware, depending on the style of the restaurant, yet not too many that would cause chaos, would do well in highlighting the restaurant. I've worked with Schott Zwiesel, Riedel and Zalto previously. Looking at low Carbon glasses for Organic restaurants.
What advice would you give people on pairing wine with food?  Depending on the person my advice would be, "You know yourself better than anyone else, choose what style of wine you like, then  go about with the basics of food and wine pairing. Match the body, aroma, texture and taste and don't hesitate to experiment. You may be surprised."
Should a Sommelier(e) taste the guest's wine?
Yes, a sommelier should taste a guests wine for faults. It assists a sommelier in couple of ways.
1) It helps Sommelier's determine if the wine is good and without faults.
2) It re-assures the guest that the wine he is drinking is good.
3) It gives the sommelier the upper hand and confidence to talk more about that wine, and avoid embarrassing situations where the wine has turned unfit for consumption.
4) It provides the sommelier the opportunity to learn a new wine.
Wine list:
What are the key ingredients for creating a wine list for a restaurant and what is your opinion on some ridiculous pricing on wine in restaurants, do you have tips on how to determine markups?           
Wine list's are among the first Point of Sale for any Restaurant. Key ingredients in creating a good wine list would be:-
1) Matching the style and cuisine of the restaurant/ hotel with the wine selection. Eg's being:- a) Some of the most fascinating Organic/ Bio dynamic wines that are enlisted at the Six Senses Property clearly matching their Sustainable Philosophy.
b) And some of the most sought after, un-obtainable first growths at the One and Only clearly matching their style of Luxury beyond Imagination.
2) A good range of 250-400 labels depending on the location, size and business of the hotel.
3) Knowledge of guest average spend, sales and history helps frame a moving wine list with 60:40 new world:old world balance.
4) Correct pricing with the company's assigned costing and profit will assist in establishing Guest loyalty and trust. Ridiculous prices dishearten guests from trying good wine, and damage the name of the restaurant. They reduce sale drastically in the long run.
How do you manage to stay on top of the changes in the wine industry?                                                                                         
Reading and Travel provide you with Knowledge and experience. Trends in the wine industry are changing constantly. Being updated via wine magazines or internet websites, help in staying updated.
How would a new vineyard get the attention of someone like you to notice their wine and what's the best way for producers to improve their chances of being listed?           
Talk to me- If I'm in need of that style or if the wine intrigues me, let me try it, taste it and then decide.
Favourite pick:
If you were a wine, which variety would you be, and why?                      
If I were a wine I'd be Condrieu. Being Viognier, a bit difficult to cultivate, would need an experienced winemaker to do so. And only the finest would appreciate. Not meant for everyone.
What are the top 3 types of wine (your faves) would we find in your home wine collection and what's your desert island wine?
For a sommelier to determine his favorite wine is like asking s mother, which is her favorite baby. But depending on situations and mood, and considering my small home collection, the Amarone Dal Forno 2006,
Pouilly Fume Pur Sang DD 2005, Raritas 1996 Terlano and Cheval Blanc 2000. As for being in a deserted island- I spent 5 years in Maldives and my favorite wine being Chateau D'Esclan 2014.
Any interesting suggestions about magazines or online platform?
Wine spectator's, Decanter, Wine Searcher, Cellartracker and Google.  
Melroy Steve Fernandes
@ by Dominik Kozlik – Zeitgeist Sommeliers – International Sommelier Positions – www.sommelier-jobs.com