Name: Jacques Lukusa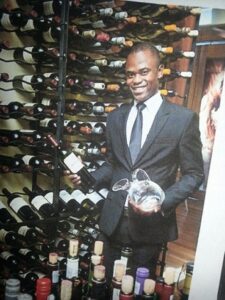 Nationality: Democratic Republic of Congo
At the moment: South Africa
Group Sommelier
Prerequisite:
Please, tell us a little bit about your first encounter with wine & the wine industry? Any particular mentors at that time?
I am originally from the Republic Democratic of Congo, meaning we don't have any vineyards at all but however we have lots of European wines and South African wines are also now available on the market. My parents never drank wine but mainly beers so my first connection with wine was a self experiment! I probably had some vino tinto (box wine from Italy) and loved wine since then which had become my favourite drink, at this stage to be honest I was just drinking wines……… and did not know exactly what was I drinking so no mentor at that stage.
Moving to South Africa to study Mining, I then found a part time job in a Restaurant as a waiter. So through my appreciation of good food and obviously I had much more access to wines as well. this where my passion grew much more deeper. I was lucky enough at that time as I had secured a job as a wine telesale consultant at one of the largest South african wine club! This position was demanding and challenging in terms of wine knowledge. So I quickly enrolled for a wine course certificate with the Cape wine Academy. I found the course fascinating and decided to say goodbye to Mining and focusing on studying wine. I was trained as a Sommelier at Singita Private Game Reserve by Francois Rautenbach whom I consider being my mentor.
What specific traits or skills should a Sommelier(e) possess for professional performance and is there any person with that qualities you especially admire within the wine industry?
Constant learning, learn as much as possible and taste as much as possible., Always have your hands on the industry overall information. I really admire Gareth Ferreira previously a Sommelier at the Saxon hotel but has moved overseas to complete his CWM.
What would be your advice to a young Sommelier(e) i.e. Commis Sommelier(e) where to look finding an adequate position at home or abroad? Any further tips?
My advise will be first to find a position at home so you can master the local industry then you can seek international exposure and train your palate to international wines and food as well. A further tip will be, if you have a position back at home, try as much wineries to visit as possible, chat to winemakers and join different tasting groups. You need to be active and if possible travel overseas during your leave period or you can also try to save some money in order to purchase some international wines to taste.
Active:
When a customer asks for advice on selecting wine what's in your opinion would be the best approach?
First listen carefully to what your guests are asking and then try to interpret it through i.e style of wine. Also take into consideration the dish and then come up with few suggestions. Do remember that your palate and your likes are not for everyone, so don't impose or patronise your guests as to what they should be having.
What's your philosophy about glasses? Are you working with well known brands or are you considering new brands as well and how do you determine?
I do believe that glasses are a great investment because quality wines deserve a proper glass to express their personality. I am currently working with the Spiegelau range but I would love to move to the Riedel range, should my budget allow me to do so.
What advice would you give people on pairing wine with food?
Wine and food pairing is personal choice, however professional advice is always a plus in order to enhance your dining experience. We all know the basic rules (Red wine for red meat and white wine for seafood) that is a pure theory which will never work in today's ever evolving world of wines and foods. So first of all you need to be creative, I like to use a simple formula: consider the protein content of the dish against the tannins structure of the wine, the texture of the dish against the body of the wine, consider the flavour of the wine and the dish, the acidity of the wine against the freshness or oily, fatty part of the dish then bring the common elements from the dish and wine together!
Should a Sommelier(e) taste the guest's wine?
I personally believe a Sommelier should taste the wine before serving to guests, however there are different opinions on this topic so advice will be first ask the guests if he or she would like you to taste the wine for them then do so and offered them a tasting as well.
Wine list:
What are the key ingredients for creating a wine list for a restaurant and what is your opinion on some ridiculous pricing on wine in restaurants, do you have tips on how to determine markups?
Different wine styles, regional representation, vintages, limited release, try to have as much exciting wines as possible. Expand your by the glass offering as much as possible to allow guests to experience different styles of wine. Pricing should be also a key, have a pricing structure which will accommodate every palate meaning, entry, medium and high end depending on the quality of the wine. There is no single formula on determining markups. I always look out for excellent wines at surprising prices then introduce it to my guests at a reasonable price. Negotiate special deals with your supplier like buy 12 and pay only for 10 this can reduce your costs dramatically!
How do you manage to stay on top of the changes in the wine industry?
Stay connected with what is happening in the industry through social media or other ways. Taste as much as possible. Visit vineyards, chat to winemakers, go to other restaurants to see what is happening, chat to other Sommeliers on their latest exciting wines they have tasted recently, attend launches etc….in brief I will say be active!
How would a new vineyard get the attention of someone like you to notice their wine and what's the best way for producers to improve their chances of being listed?
A new vineyards should really work hard to improve their relationship with restuarants by visiting, seeking an appointment to introduce their wines for tasting, invite Sommeliers to your vineyard to showcase what is happening, have something different to say about your wine, have a unique story to tell and above all, your wine should meet my requirements before listed.
Favourite pick:
If you were a wine, which variety would you be, and why?
I will be a Pinotage, it is very unique and special! You can do anything with Pinotage…….it can stand up in different competition of international wines and reflects the South African identity.
What are the top 3 types of wine (your faves) would we find in your home wine collection and what's your desert island wine?
Mouton Rothschild 1994, Simonsig Redhill Pinotage 2009, De Wetshof Bateleur Chardonnay 2006. If I am stuck on an island I will be drinking De Toren Fusion V for the rest of my life!
Any interesting suggestions about magazines or online platform?
Wosa (Wine of South Africa), Winemag, Decanter…….
Jacques Lukusa
@ by Dominik Kozlik – Zeitgeist Sommeliers – International Sommelier Positions – www.sommelier-jobs.com