Name: Raj Seedeeal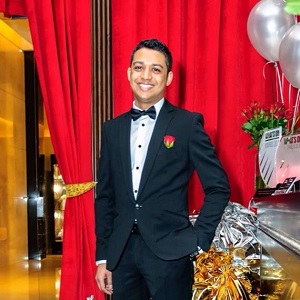 Nationality: Mauritian
At the moment: UAE-Dubai
Sommelier
Prerequisite:
Please, tell us a little bit about your first encounter with wine & the wine industry? Any particular mentors at that time?
I started back in Mauritius in a french gastronomic cuisine at Royal Palm Hotel where I was gifted a Hugh Johnson's Pocket Wine Book 2005 by a good friend of mine. Between those lines of that book I found my passion and desire to enter the world of wine how vast it can be. As a mentor I had my Chef de rang in the outlet who always guided, trained and quizzed me along way preparing the start of this journey. Funny though he even taught me how to remember all the Beaujolais Village Crus in a simple french song.
What specific traits or skills should a Sommelier(e) possess for professional performance and is there any person with that qualities you especially admire within the wine industry?
My personal opinion to be a professional Sommelier you require just a simple word "Passion" about wines as well as a very sharp memory will be extremely helpful to accomplish that. I really admire Hugh Johnson and Jancis Robinson wine critics, as once said by either one of them, a Sommelier is an individual who sacrifice and dedicate all his time in studying wines and shares with those he doesn't have the time to do so.
What would be your advice to a young Sommelier(e) i.e. Commis Sommelier(e) where to look finding an adequate position at home or abroad? Any further tips?
I will always recommend new young Sommeliers to explore the wine world by travelling and meeting people within the wine industry, it is always a good idea to see other market around the world and understand their strategy and availability.
In my current place we frequently invite Winemakers and distributors around the world and conduct masterclasses along with tasting their wine portfolios. It can be wine which already exist in UAE market or can be new introduction of new producers.
Active:
When a customer asks for advice on selecting wine what's in your opinion would be the best approach?
Advising a customer on selecting wine, all start with the bond you need to create between you and your customer, getting to them personally. By doing that you kindly invite them to trust you, and I always make them feel comfortable and follows with lots of questions with their personal preferences. Or some wines which they came across in life and it left them speechless, based on that and as well as their choice of dishes, I will give my suggestions. Very important not to be greedy and trying hard to sell your most expensive labels but make sure you satisfy your customer's expectation.
What's your philosophy about glasses? Are you working with well known brands or are you considering new brands as well and how do you determine?
Glass wares in my domain is a very important factor, as it reflect and elevate the wine styles and character which you going to serve it into. Currently I am working with brands like Riedel and Zwiesel all over outlets in the whole hotel, and I must say I am pretty happy with the quality and designs.
What advice would you give people on pairing wine with food?
Pairing wine with food is generally based on finding the perfect link and connection in flavours, texture and body of both the wine and the dish. Once understood it is way easy to find the perfect match and always keep room to try some crazy or outlaw pairing, you might get surprised. Respecting classic pairing like Champagne with oysters, today there are lots of options to add on bringing new twist on these classic pairings.
Should a Sommelier(e) taste the guest's wine?
From my point of view, it is very important for Sommeliers to taste the wine. Especially when it comes to a fine dining environment you can't allow any mistake by letting the customer taste a corked or oxidised wine for approvals. It might spoil their first impression or their mood of enjoying the another bottle of the same wine.
In my place we practice tasting wines prior to serving to ensure quality is being delivered at its best to every single customers without any exceptions.
Wine list:
What are the key ingredients for creating a wine list for a restaurant and what is your opinion on some ridiculous pricing on wine in restaurants, do you have tips on how to determine mark ups?
To have a perfect wine list for your venue, first you need to understand your specific cuisine follow by the market demand. For example in Dubai Champagne sells like mineral water everywhere. Understanding this facts always help us to build and create a perfect list to offer our customers.
Ridiculous pricing i believe is everywhere, where you notice most of all re-known wineries goes through pointing system by Wine Advocates  before fixing their prices. The better points you get the higher is the price, this can be a whole day topic of discussion.
How do you manage to stay on top of the changes in the wine industry?
To keep myself on top of changes in wine industry, all kinds of social media's, wine critics and websites with regards to wine world are very helpful in keeping me posted on where the wine market is shooting and what next step should be taken or what is coming in future.
How would a new vineyard get the attention of someone like you to notice their wine and what's the best way for producers to improve their chances of being listed?
Personally for new vineyard and producers, I believe travelling and exposing their wine to different part of the world is the best practice to show what potential they got. For instance in Italy there are so many small producers with really outstanding wines but they never leave the country. Sad but true.
Favourite pick:
If you were a wine, which variety would you be, and why?
My favourite white grape is the undisputed Chardonnay which has so many faces but yet is always enjoyable for different occasions, starting from its minerals and crisp ones till the heavy oaky and creamy ones. For Red, obviously the ultimate Cabernet Sauvignon with its bold arrogant attitude "I am the ONE".
What are the top 3 types of wine (your faves) would we find in your home wine collection and what's your desert island wine?
I am a big fan of Super Tuscan, for sure you will find, Sassicaia, Ornellaia and Tignanello, on a hunt for Masseto now. Rather than that I appreciate lots of American reds and leave the best for last my Pomerol in Bordeaux.
Any interesting suggestions about magazines or online platform?
Wine platform I always follows Wine Spectators and Decanter. And now got introduced to www.sommelier-jobs.com so here I am.
Raj Seedeeal
@ by Dominik Kozlik – Zeitgeist Sommeliers – International Sommelier Positions – www.sommelier-jobs.com