Name: Philippe Perreault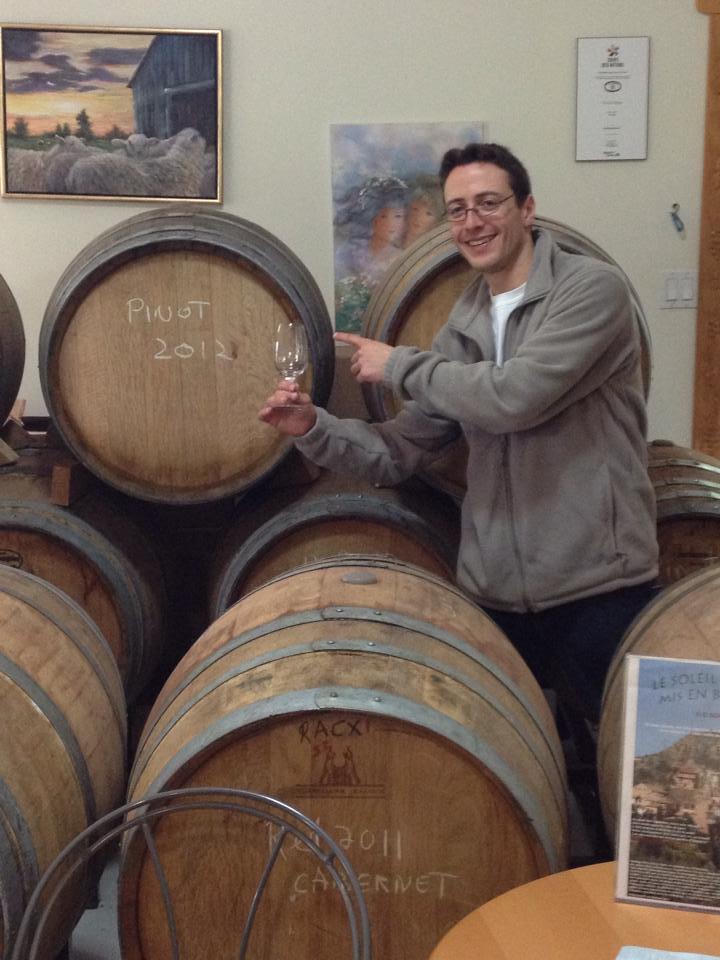 Nationality: Canadian
At the moment: Canada
Sommelier
Prerequisite:
Please, tell us a little bit about your first encounter with wine & the wine industry? Any particular mentors at that time?
I was 17 years old and I was traveling in British Columbia, Canada, where I met a passionate guy. His name was Richard. I talked a long time with him and at some point, he asked me: "Do you enjoy wine?" I told him that not yet really, since I was underage to drink wine! He then asked me how old I was. I said that I was 17 years old. That's when Richard told me to come with him, that he had to show me something. I followed him; he brought me to a beautiful winery located on the shore of Okanagan Lake.  The winery's name was Quail's Gate Winery. (http://quailsgate.com/). He asked the wine steward to pour me a glass of wine and he told me to try it, that in Europe people started drinking wine very young! I was impressed by my first wine tasting-with him. When I came back home to Montreal Canada, I was with my parents sitting at the table with a good meal and a glass of wine and my parents asked me: "Do you know what you want to do in life?" I told them that I had no idea! At this time, I watched my glass of wine, and I told them that I enjoyed wine very much and that it would be better to have a career related to wine! That is when I decided to become a Sommelier. At the Sommelier school, I had a special mentor; my teacher. His name was Don-Jean. He knew a lot about wine. He was like a model to me.
What specific traits or skills should a Sommelier(e) possess for professional performance and is there any person with those qualities you especially admire within the wine industry?
A sommelier must have a good knowledge of wine all around, including wine region, winemaking process, grape variety, soil variety, as well as good wine-tasting senses, of course. He must have good communication skills to meet with guests and a good knowledge of food. I personally admire Andreas Larsson for such skills (http://www.blindtasted.com/andreas-larsson).
What would be your advice to a young Sommelier(e) i.e. Commis Sommelier(e) where to look to find an adequate position at home or abroad? Any further tips?
My advice to young Sommeliers who want to get into this profession is; don't stop at the difficulties you encounter. If you are passionate and persevere, all the doors will remain open for you. The profession of Sommelier allows you to make beautiful travels and meetings if you have the taste for discovery. At 20 years old you can apply to work on a cruise ship, in a high-class restaurant, or private club. You can even be a wine columnist. Between 30 and 35 you can become a teacher if you enjoy teaching or you can be an investor. Why not be the owner of a wine store or a restaurant? If I can give you another advice, always remain open, never close your mind.
Active:
When a customer asks for advice on selecting wine what in your opinion would be the best approach?
I think that the best thing to do is to ask him if he prefers old-world or new-world wines. Is he open to a new discovery? Depending on the answer, I can suggest an excellent wine to match his food and preferences. This way I have a better chance to make him happy.
What's your philosophy about glasses? Are you working with well-known brands or are you considering new brands as well and how do you determine?
My philosophy is simple. A white wine like Chardonnay needs a glass with a rounded base, wide and close to better keep the aromas. A red wine like Cabernet Sauvignon needs the highest type of glasses, and a thinner glass, to allow the wine to make it more approachable, which can help reveal some more aromas]. A red wine made of Pinot Noir needs a rounder glass, so it can deliver more of its natural fruitiness. Each wine has its own personality I work mainly with Schott Zwiesel but I also like to try new brands.  
What advice would you give people on pairing wine with food?
I would keep it simple. It always depends on what kind of food the customer will choose. For example, if my client chooses lobster. The best advice I can give him then, is that lobster has delicate and tender meat and he should choose a delicate white wine on my wine list accordingly, like a Pinot Blanc or Riesling.
Should a Sommelier(e) taste the guest's wine?
In a fine dining restaurant or in a private club there's no problem. Almost everyone knows what a sommelier is but in a regular restaurant, it is more delicate. I think we better ask the guest if he allows us to taste the wine to make sure everything is ok.
Wine list:
What are the key ingredients for creating a wine list for a restaurant and what is your opinion on some ridiculous pricing on wine in restaurants, do you have tips on how to determine markups?
In my opinion, the key ingredients for creating a wine list are simple. I must look first at what type of restaurant it is and what customer type they have. For example, if it is an Italian restaurant, I mainly choose Italian wines and I will even take some New World wines. My opinion on ridiculous pricing on wine is that it's good to have a few more expensive wines on your list, but not over 5% of the wine list, because most of the guests are not ready to pay a high price for wine. In Canada wine is expensive. I suggest trying to mainly buy wine that we can sell for between 30 and 40$.
How do you manage to stay on top of the changes in the wine industry?
By tasting regularly, reading wine magazines, and sharing with my Sommelier colleagues.
How would a new vineyard get the attention of someone like you to notice their wine and what's the best way for producers to improve their chances of being listed?
A new vineyard gets my attention if it develops a complex wine made in small amounts, a curiosity, or by his choice of location. Producers get better chances to be listed if they make me taste and discover their wines in the first place.
Favourite pick:
If you were a wine, which variety would you be, and why?
I would be a Riesling because I love traveling like the Riesling itself, which is an international grape. I am resistant to harsh winters, like those of the Canadian climate, and like the Riesling is in Germany.
What are the top 3 types of wine (your faves) we would find in your home wine collection and what's your desert island wine?
In my collection, you can find some of my favorite sparklings as well as red and white wine from all over the world.
My desert island wine is a Sardon del Duero, Pago Negralada cuvée of Abadia Retuerta, Spain.
It is one of the finest Tempranillo.
Philippe Perreault
@ by Dominik Kozlik – Zeitgeist Sommeliers – International Sommelier Positions – www.sommelier-jobs.com