Name: Venkatrathinam Shunmugasundaram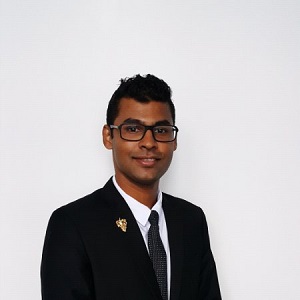 Nationality: Indian
At the moment: Vietnam
Head Sommelier
Prerequisite:
Please, tell us a little bit about your first encounter with wine & the wine industry? Any particular mentors at that time?
I really come to know about wine and existing of huge wine world when i was a trainee in "The Saison" gastronomic restaurant of Paul Bocuse. I learn the very basic things about wine however Mr. Stephen Towler (My Mentor) show me the way into the wine industry and taught me a lot about wines. I still remember that "when i give my hand to shake my greetings of the day, he hold my hand and ask me the AVA of Napa Valley". He brings the passion in to my life about wine.
What specific traits or skills should a Sommelier(e) possess for professional performance and is there any person with that qualities you especially admire within the wine industry?
As a  wine professional, you should have full of passion and wine knowledge. It is important to make your guests happy by giving right choice of wine to make his meal experience unforgettable. Be kind & humble to your colleagues who always supporting and behind you.  consider every situation and challenges are your learning curves. I learnt from Mr. Dimirar Dimitrov how to approaching guest with kindness and being helpful to them to choose their wine ( not just as a wine seller). I learnt the wine business and tactics from Nicolas Murcott (Trust is good but control is better).
What would be your advice to a young Sommelier(e) i.e. Commis Sommelier(e) where to look finding an adequate position at home or abroad? Any further tips?
Dedication of time, passion to learn about wines and share your knowledge with others to create another wine enthusiastic. Find your right mentor to lift you up in the wine industry.
Active:
When a customer asks for advice on selecting wine what's in your opinion would be the best approach?
First i create a trust between me and my guest, that's make you both comfortable. I always ask my guest preferences about his palate, his style of wine and recommend accordingly. Even though my guests prefer to have white wine with Beef fillet, Yes i do the best closest choice of his wine to make him happy.
What's your philosophy about glasses? Are you working with well known brands or are you considering new brands as well and how do you determine?
Wine glasses are very important to taste and enjoy the wine and plays vital role on your palate. My best choices of Glasses are Riedel, Schott Zwiesel are the best i ever tasted. However there are more boutique handmade glasswares are appreciate to enjoy wines.
What advice would you give people on pairing wine with food?
Food and wine pairing is harmony of taste in your palate which compliment each other. Everyone has their own ideas and skills to pair the wines. From the basic standard of pairing you can create your own tasting philosophy to entertain your guest with very unique taste of wine with your cuisine.
Should a Sommelier(e) taste the guest's wine?
I would recommend the sommeliers to nose all the wine that you open in the restaurant before you serve the guests but recommend to taste if its necessary.  Doesn't matter is it wine by the glass or bottle or even screw cap closure.
Where would you suggest a young Sommelier start searching for Sommelier positions on the internet in your country?
sommelier industry is just beginning in Vietnam, I suggest to search by www.sommelier-jobs.com, linkedin or else recommended by people to people to choose the best one.
Wine list:
What are the key ingredients for creating a wine list for a restaurant and what is your opinion on some ridiculous pricing on wine in restaurants, do you have tips on how to determine markups?
To create your wine list you should know your cuisine, concept of your restaurant and type of guests to your restaurant and where they are from.
Price is very important on the wine list .you should know the market value of your wine and how it will reflect your wine sales. The wine list should have balance between wine ranges, quality and prices.
How do you manage to stay on top of the changes in the wine industry?
I study most of the day in my week and i stay tuned on wine market news via decanters, I travel to wine countries every year, dine almost on all the top restaurants to develop my knowledge and stay on top of it.
How would a new vineyard get the attention of someone like you to notice their wine and what's the best way for producers to improve their chances of being listed?
wine is something will give you pleasure and an experience to each customer in different way. As a winemaker he should travel a lot and meet lots of sommeliers in each countries and big town to share the philosophy of his wine.
Favourite pick:
If you were a wine, which variety would you be, and why?
I am mostly like the chardonnay and Pinot Noir, Naturally elegant, vibrant and easy going however depend upon the place and the winemaker wants to treat me rich creamy, minerality, robostic, earthy strong like rich Burgundian style.
What are the top 3 types of wine (your faves) would we find in your home wine collection and what's your desert island wine?
Riesling from everywhere, Pinot Noir and Chardonnay. I prefer to have Riesling with me when i am in Desert
Any interesting suggestions about magazines or online platform?
There are lots of platform and magazines available nowadays and most reliable are Decanters, Guild somm.
Venkatrathinam Shunmugasundaram
@ by Dominik Kozlik – Zeitgeist Sommeliers – International Sommelier Positions – www.sommelier-jobs.com