Name: Andrea Franchetti
Country:   Italy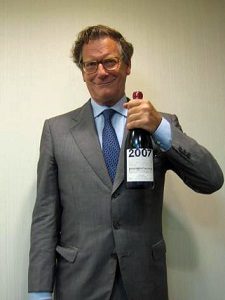 Currently: has created two unique properties, Tenuta di Trinoro, located in the confluence of southern Tuscany, Lazio and Umbria, and Passopisciaro which sits on the volatile volcanic slopes of Sicilys Mount Etna.
Website: www.passopisciaro.com & www.tenutaditrinoro.it
Questions:
Please, tell us about how you got into wine, the wine industry and how your career developed?
I got into wine because I had moved to a fantastic place in an empty valley of Tuscany where days were long and so inspiring that I wanted to stay and in order to stay I had to find something that I could do there. So I called friends I luckily knew in Bordeaux, went there; that's how it all started.
After a few years I started making the first vintage and the wine was sold out of the Bordeaux primeur system and was very successful; I allways made smallish quantities and then ten years later in 2000 I moved to a second operation on Mt Etna, my approach was to highlight the different crus, or lava-spills and formations that changed the taste of the wines on that vulcano. That too has been very well accepted as Etna also became all the rage, as a territory. In the process I started some other wineries by consulting with some people.
What is your philosophy to making wine and viticulture?
Low yields, small amounts. focus on cru-differentiation, careful and long pickings, close-planting, low fertilizing, no consultants!
Which cultivar is your favourite to work with and why?
Though a grape chosen depends on other things like latitude, soil, and the image of the wine that you are forming, one does plant what one likes best. Among six or seven grapes that are the top white and red grapes I prefer Cabernet Franc. Because of how it ages, it's many possible flavours, a sense of centrality it finds among the other grape's taste.
How do you see the future of wine production and what are the challenges and the opportunities?
Commercially, the future is uncertain if you move towards volume. In small productions the only challenge is that you start messing up if you lose concentration for any reason. The opportunities are that of high quality wine the recognition with time will always grow.
Andrea Franchetti
@ by Dominik Kozlik – Zeitgeist Sommeliers – International Sommelier Positions – www.sommelier-jobs.com