Name: Annegret Reh-Gartner
Country: Germany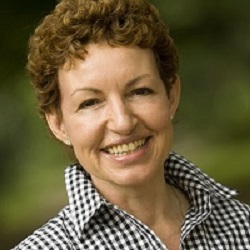 Currently: Winery Manager of Weingut Reichsgraf von Kesselstatt
Website: Reichsgraf von Kesselstatt
Questions:
Please, tell us about how you got into wine, the wine industry and how your career developed?
My father bought the "Reichsgraf von Kesselstatt" estate in 1978 from the counts of Kesselstatt. I was very interested in the wine business and started to work as a trainee at other estates in Germany and the US in order to take over the estate one day. My family has always been in wine business, but not in Domaines like Kesselstatt, but sparkling and negociant. My sister Eva Reh-Siddle runs the estate Domaine Bertagna in Vougeot/Burgundy, also an estate we bought in 1982.
What is your philosophy to making wine and viticulture?
I am not the winemaker, this is our cellarmaster Wolfgang Mertes.
Further details you find enclosed in our brochure with some details on our philosophy.
How do you see the future of wine production and what are the challenges and the opportunities?
In my opinion the future is on environmental awareness, such as bio-dynamic and/or sustainable wine production. Though those are also our biggest challenges in particular on our steep slopes, as the costs raise immensely and the type of soils, (slate, rocky) are pretty challenging. The labor costs and getting the workers in the steep slopes are the biggest problems. The biodynamic fascinates me however not only for environmental reasons but also as those wines seem to taste better.
We start this year with one vineyard on the Saar and will decide from there what we will be able to do in the future to produce even better wines.
Our opportunities are very good here due to climate change. The Mosel-Saar-Ruwer wines are still relatively light with alc. content around
12,5 for dry wines, contrary to most other southern regions. The minerality is a huge strength due to the red, blue or grey slates and rocky selection – relatively poor soils. Those create wines with a very firm, flinty, light and elegant structure.
Who else is that good at it? They do represent a style every wine freak is looking for – which are harder to achieve as they used to be. Our huge chance and our future….
Where do you see the global wine market in 2025?
I think the difference between "Domaine Wines" and "convenient good made wines" will become bigger. The domaine wines should be very individual wines with edges and corners, otherwise they lose respect and attention.
The global wines will be very well done and if we are not able to make the consumer understand that being different, and slower developed might also be the more exciting/challenging wine, we will lose market share or even might not even survive. The future for us might also be (again) that we are able to produce wines with a huge ageing potential, something we have always been good at with Riesling from the Mosel region.
Annegret Reh-Gartner
@ by Dominik Kozlik – Zeitgeist Sommeliers – International Sommelier Positions – www.sommelier-jobs.com