Name: Carol Duval-Leroy
Country: France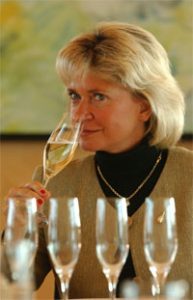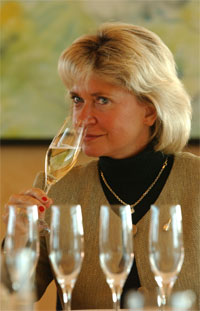 Currently: President of Champagne Duval-Leroy / Chef
Website: www.duval-leroy.com
Questions:
Please, tell us about how you got into wine, the wine industry and how your career developed?
It was not a choice to develop a career in the wine industry. I have always dreamed about becoming a chef. Yet the death of my husband in 1991 pushed me into the wine business. He was director of Champagne Duval-Leroy. He asked me to run the family owned business in order to transmit it to our children in the best possible conditions. I stepped up to the challenge, probably without knowing it will be such a hard task. Nevertheless, I am happy to see that the company grew under my impetus and that our three children joined the company.
What is your philosophy to making wine and viticulture?
My philosophy is that we borrow the land from our children. At Duval-Leroy, we did not wait that environment issues became popular to conduct our vineyards the best possible way. We have also worked on the development of excellence. We produce wine from grand cru and premier cru in far greater proportions than our competitors, with more than 40% of our supply. And there is no secret. The best cuvees are coming from the best "terroirs".
Which cultivar is your favourite to work with and why?
Chardonnay! We are located in the Cote des Blancs, the best place to cultivate chardonnay. Chardonnay represents only 30% of the grape variety in Champagne, but it is 60% for Duval-Leroy. The floral and fruity aromas are even better when aging with evolution towards brioche. The cuvees I like the most are predominantly chardonnay from 1er and Grand Cru. This is why we put the emphasis on several Blanc de Blancs cuvees with only Grand Cru. I must admit I love chardonnay not only in Champagne but also in Burgundy!
How do you see the future of wine production and what are the challenges and the opportunities?
Progresses have been made on all continents, the knowledge of the soil and grape varieties will continue to develop. I am not worried about the quality of wine, at least for top appellations. The future and challenges for us and some others will be to stay independent in an area with gigantic players. Production is not the main challenge for me, distribution is.
Where do you see the global wine market in 2025?
The global wine market will be less European focus. Wines from the new world will be produced and consumed. The issue will be for growers to survive in an environment that is becoming more and more complicated. Another trend might be a market split between grand cru wines (or main appellations) and others, with top quality wines and, on the other hand, generic wines.
Carol Duval-Leroy
@ by Dominik Kozlik – Zeitgeist Sommeliers – International Sommelier Positions – www.sommelier-jobs.com