Name: Ernst & Herbert Triebaumer (Father & Son)
Country: Austria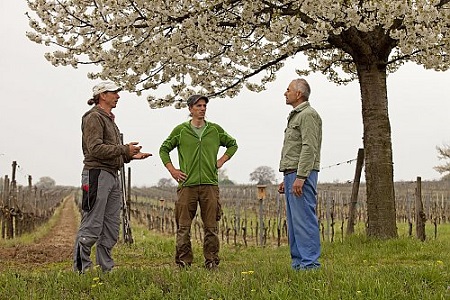 Currently: Winemakers
Website: www.triebaumer.com
Questions:
Please, tell us about how you got into wine, the wine industry and how your career developed
Trough 300 years of family tradition and by luck, thoughtfulness, trial and error, and always being ready to learn. (Herbert Triebaumer)
I was born in 1947 and after I finished school I've worked for 2 years with my parents in the business, then attended wine college and a further qualification. Our family has lived in Rust since 1683, working as craftsmen and smallholders. my father, who was born in 1906, was one of the first to learn professionally post phylloxera how to graft the european vine varieties onto american rootstock. Throughout his career this was always an extra income for him. Through this work he developed a thorough knowledge and feeling for the suitability and potential of different grape varieties in our region. Until 1961 we were a typical mixed farm business with livestock, animals to pull the farm equipment, and crops, although as is traditional here in rust, winemaking was our main income. Over the years from 1965 to 1995 we gradually dropped the crops and livestock. it was the time when tractors took over cultivating the vineyards. (Ernst Triebaumer)
What is your philosophy to making wine and viticulture?
I make wines that taste right though depending on grape variety, vineyard, region and year, without trying to intervene. We treat the wines and the vines like long-standing neighbours who enjoy living here, not as critically ill people in intensive care.(Herbert Triebaumer)
We are now an extended family with four children, their partners and our grandchildren active working in the company. So now we are diversifying again. alongside the wine business we breed free-range pigs and we also have a vegetable garden and we keep poultry and bees, as well as a little flock of sheep in the vineyards. We have radically reduced our use of tractors. selective harvesting by hand with qualified staff has always been and always will
be a pillar of our philosophy. (Ernst Triebaumer)
Which cultivar is your favourite to work with and why?
Thanks to my father, the Blaufränkisch grape is our most important variety, and we have several parcels with 60 to 65 year old vines still in production. (Ernst Triebaumer)
How do you see the future of wine production and what are the challenges and the opportunities?
Ecological sustainability, climate change, degradation of the soil, social aspects, health: we positively try to influence all these attributes by the unconventional way we work. and there is no alternative. (Herbert Triebaumer)
For a long time the market has already been split into two basic types- polished, easily understandable mass market wines and on the other hand individually produced, strikingly and original prototypes. (Ernst Triebaumer)
Where do you see the global wine market in 2025?
If nothing seriously changes, there will be a few giant corporations and their uniform wines, and hopefully a lot of small specialist producers making the best wines of their region. But I hope that the paradigm will shift by then having advanced to such an extent that the economic system will have evolved from competition to cooperation, following the way nature is showing us. (Herbert Triebaumer)
The global wine market is heavily related to social and economic developments and we hope for various reasons that no catastrophes lie in front of us! (Ernst Triebaumer)
Ernst & Herbert Triebaumer
@ by Dominik Kozlik – Zeitgeist Sommeliers – International Sommelier Positions – www.sommelier-jobs.com