Name: Josef Umathum
Country: Austria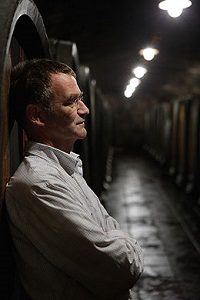 Currently: Winemaker at Umathum Winery
Website: http://en.umathum.at/
Questions:
Please, tell us about how you got into wine, the wine industry and how your career developed?
My parents founded the winery in the 1950ies and after studing landscape architecture and volunteering in wineries in France and Germany, I joined the winery in 1985 and from the beginning I had a free hand for my philosophy of making wine.
What is your philosophy to making wine and viticulture?
To stand with both legs in the vinyard, to feel how the earth breed and the vines singing, this is the spirit for me of making wine.
Which cultivar is your favourite to work with and why?
The red Austrian variety Saint Laurent is not easy in the vineyard and in the cellar and also not easy for consumers, so it's a big job for everbody, but this wine can be a great thing in the glass.
How do you see the future of wine production and what are the challenges and the opportunities?
We should going the way of handmaking wines with personal characters. New breeds with natural resistance against meldow, better adapted to climate changing will be a big chance for individual producers.
Where do you see the global wine market in 2025?
We will see a lot of big industrial wine players with a lot of "pretty wines" and high marketing buget. There should be a chance for individual winemakers with a close contact to their wine customers.
Josef Umathum
@ by Dominik Kozlik – Zeitgeist Sommeliers – International Sommelier Positions – www.sommelier-jobs.com