Name: Maria Luz Marin
Country: Chile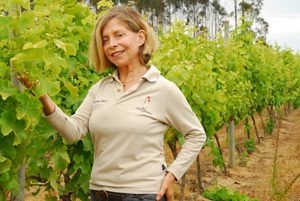 Currently: Winemaker of Casa Marin
Website: www.casamarin.cl
Questions:
Please, tell us about how you got into wine, the wine industry and how your career developed?
I am a winemaker who studied at the Chile University in Chile.I started to work as an employee winemaker in big companies during many years, when I realized that I loved the all wine industry ,not only making wines but also looking after the marketing and commercial side of the business and I also realized that at that time all Chilean wines were more less the same in qualities and characteristics and all the vineyards were in the central part of the country. People were not interested in developing new areas, new wines, new varietals etc. I have realized at that time and after so many trips abroad watching different viticulture areas and knowing my own country very well that we have such a fantastic diversity in climatic conditions not only from North to South,but mainly from East to West (mountains to our ocean),and also knowing that the plant Vitis Vinifera is also so adaptative to different conditions. I started having my own dream to create my own wines in an unique place. The place where I have my vineyard, Lo Abarca , in San Antonio Valley was until now, after 14 years that I planted the closest to the Ocean in South America, only 4 km to the Pacific Ocean.
What is your philosophy to making wine and viticulture?
The idea is to produce wines with sense of place , unique but at the same time delicate and elegant wines, with high natural acidity, unique wines, that cannot be reproduced in any other place in Chile.
In order to do that ,we respect the conditions we have in our terroir for making a viticulture according to our reality, without trying to force the natural conditions. Same idea with our wines in the winery, by handling them with minimum intervention.
Which cultivar is your favourite to work with and why?
All the whites varietals that we have in the vineyard, especially the Sauvignon Blanc and the Riesling, because they suit very well to our terroir, in a extreme climatic conditions wich is cold, strong wind, foggy mornings, poor soil, steep hills, resulting in a low yield but with excellent quality. The most important thing is the sense of place, for both varietals, showing the real extreme terroir that we have.
How do you see the future of wine production and what are the challenges and the opportunities?
Very difficult for small and family wineries like Casa Marin. The wines from Chile, that are known for good wines but cheap wines also. The economy of scale is a big disadvantage for us. We export 90% of our production and only 10% remain in our country. This means that we have to be always going around the markets opening and developing new markets and travelling is high cost. We are far away from the important markets and if you are selling small volumes in each one of them it is really not worth at all. Ideally we would like to sell most of our production at home, meaning in Chile, but that is impossible, at least for a long time.
Where do you see the global wine market in 2025?
I see some changes in the future: more demand for wines with less alcohol, less concentrated and more drinkable, high demand on organic wines, wineries will focus more on carbon footprint seeking sustainable environment.
Also a lot of wines coming from countries not usually producers of wines, such as China, Rusia, Canada, England according to the climatic changes that the world is suffering. Some wines coming also from different environments in higher elevations
Maria Luz Marin
@ by Dominik Kozlik – Zeitgeist Sommeliers – International Sommelier Positions – www.sommelier-jobs.com