Name: Mia Klein
Country: USA-CA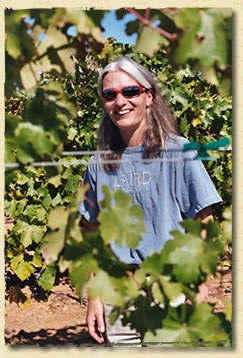 Currently: Winemaker at Selene Wines and Consultant Winemaker at Bressler, Cimarossa and Palmaz.          
Website: www.selenewines.com/welcome.html, www.bresslervineyards.com, https://cimarossa.com, www.palmazvineyards.com
Questions:
Please, tell us about how you got into wine, the wine industry and how your career developed?
I became interested in wine when I was working in a restaurant kitchen, pursuing one of my first loves, cooking. From there I worked in a small wine retail shop, became completely hooked, earned a degree in oenology from U.C. Davis, and since graduating in 1983 have been working in Napa Valley, California, USA. I started out as an oenologist, working in both the cellar and lab of a small winery, then became assistant winemaker, and then winemaker. In 1991, I started out on my own doing both consulting and starting my own wine company, Selene Wines. Some past clients include Araujo, Dalla Valle, and Spottswoode and presently I work with Bressler, Cimarossa, and, of course, Palmaz.
What is your philosophy to making wine and viticulture?
Both wine making and wine growing are first about the people involved and then the place. The personalities and energy of the owners surround and influence the place, the way the grapes grow, and the wine is created and develops. Everything flows down from that.
Which cultivar is your favourite to work with and why?
I love Cabernet Franc. It has both a lot of personality and a lot of personalities. Challenging and fun at the same time.
How do you see the future of wine production and what are the challenges and the opportunities?
Especially here in the states, but also elsewhere, there are fewer middle men between the wineries and the consumer. It is overall a good thing for wineries, the fewer middle men, and consumers as well but it is more difficult too. I think wineries and the middle men who represent them need to give consumers the overall EXPERIENCES they want.
Where do you see the global wine market in 2025?
More consumer knowledge and interest that is broad and inclusive of local regional, new world and old world.
Mia Klein
@ by Dominik Kozlik – Zeitgeist Sommeliers – International Sommelier Positions – www.sommelier-jobs.com