Name: Miljenko 'Mike' Grgich
Country: USA-CA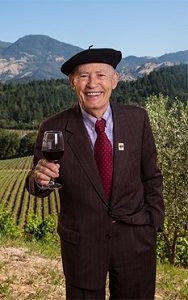 Currently: President and Winemaker of Grgich Hills Estate
Website: www.grgich.com
Questions:
Please, tell us about how you got into wine, the wine industry and how your career developed?
I was born in Croatia in 1923. My father owned a vineyard and winery. At the age of 2 ½ my Mama switched me from breast milk to a drink called 'Bevanda' which was ½ water and ½ wine, and that was my only drink at that time. At the age of 5, I was already drinking pure wine! At the age of 3 I started to stomp grapes during harvest. My parents would put me in a large wooden tank from which I could not escape – I was safe while they were harvesting grapes. Then they would dump grapes from the top of the tank for me to stomp and make me busy. If I was thirsty there was grape juice to drink and if I was hungry there were grapes to eat and I was therefore safe and supplied. Later, I studied Enology and Viticulture at the University of Zagreb. I then had to leave Croatia to escape communism. I eventually arrived in Napa Valley in August 1958, with knowledge in winemaking but no money, just in time for crush to begin. I was lucky to have worked for and learned the art of winemaking from some of the legends of Napa Valley: Lee Stewart of the original Souverain Cellars; Brother Timothy at Christian Brothers; André Tchelistcheff at Beaulieu Vineyards for nine years; and Robert Mondavi.
At Chateau Montelena, where I was Winemaker and limited Partner from 1972 to 1977, my knowledge and art of winemaking started to produce results. The Chardonnay I crafted in 1973 won as 'champion' of the famed 1976 Paris Tasting.
On Independence Day 1977, Austin Hills and I broke ground in Rutherford, California, to establish Grgich Hills Cellar. It was a great feeling because my dream was realized.
What is your philosophy to making wine and viticulture?
Making wine is like a long chain, from the vine to the glass, naturally! Every link – every step – is important. If one or two links are missed or don't hold together, the whole chain falls apart. That means paying close attention to every link, from pruning and trellising to applying compost and disking in the vineyards to smelling and tasting every barrel to monitor the progress of the wine. There is no step in the growing and making of wine that is too small to ignore. My father taught me, "Every day do something a little better," and that's not only good advice for winemaking but for living.
Which cultivar is your favourite to work with and why?
If I had to choose, it would only be Chardonnay. Because we've had some success with it and it goes perfectly with Mediterranean food, which I love. It all began with the 1976 Paris Tasting, where the 1973 Chardonnay I crafted for Chateau Montelena came out the champion of the Paris Tasting.
The worldwide recognition from that tasting allowed me to start my own winery with my partner, Austin Hills. I felt my destiny was so shaped by the Chardonnay varietal that when we were designing our label, we used a Chardonnay cluster as our emblem and we still use that same cluster today.
In 1980 "The Great Chicago Showdown" brought together 221 Chardonnays for a historic first: the largest blind tasting ever held of wines made from a single varietal. The 1977 Grgich Hills Chardonnay, in its first vintage, emerged triumphant with a first place ribbon. It proved that winning the Paris Tasting was not an accident.
President Ronald Reagan was the first American President to serve a French President an American wine. President Reagan selected the 1979 Grgich Hills Chardonnay to serve French President Mitterrand at the dinner at the United States Embassy in Paris on the occasion of his State visit to France.
How do you see the future of wine production and what are the challenges and the opportunities?
When I started, winemakers were happy to make good wine. Today, the winemakers are more highly educated and more enthusiastic than ever. There is a real focus on quality. Now, everyone is shooting for crafting exceptional quality wines. I'm very optimistic that the next 50 years will see even higher quality wines!
Where do you see the global wine market in 2025?
I've made wine in America for more than half a century but I'm afraid I cannot see that far out into the future.
Miljenko 'Mike' Grgich
@ by Dominik Kozlik – Zeitgeist Sommeliers – International Sommelier Positions – www.sommelier-jobs.com