Name: Chris Phelps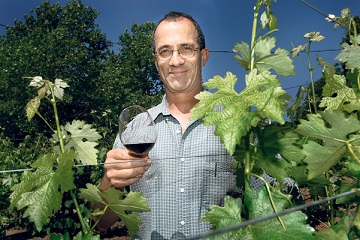 Currently: Winemaker Swanson Vineyards & Chris Phelps Wines
Website: www.swansonvineyards.com  & www.advivumcellars.com/
Questions:
Please, tell us about how you got into wine, the wine industry and how your career developed?
I had the very good fortune of being born to parents in the 1950s who tended to drink wine, as opposed to just liquor. They drank mostly the local wines of the Livermore Valley near San Francisco where I grew up, but also appreciated the wines of the world when they could try them.
They made a barrel or two of Cabernet Sauvignon or Zinfandel every year, and I became fascinated by the process, from vineyard to bottle to glass. A local wine family, the Concannons, made the sacramental wine for our church, which I also thought was pretty cool. In fact, I make the sacramental wine for my church in Saint Helena, Napa Valley, where I live. I grew up believing that wine was magical, mystical and just downright fun.
I did my Enology studies at UC Davis in California, then spent a year studying at the Université de Bordeaux, which led to an internship in the great Bordeaux vintage of 1982 with Christian Moueix and Jean-Claude Berrouet, 2 of my strongest mentors. I became the first winemaker at Dominus Estate, Christian's Napa Valley property where I worked for 12 years. The experience in Bordeaux expanded my interest in wine from fascination and academia to passion and a livelihood. My timing to enter the Napa Valley boom was impeccable, even though I was basically just lucky to be there at the right time, with the right skill set. I spent 7 years at Caymus Vineyards, and have now been the day-to-day winemaker at Swanson Vineyards in Rutherford. Napa Valley has been my home for 30 years.
Beginning with the 2007 vintage, I experienced a truly watershed moment, when all of the pieces came together for me to finally create my very own brand, AD VIVUM, which is a single-vineyard, very pure, very focused Cabernet Sauvignon from Sleeping Lady Vineyard, just south of Dominus along the slope of the Mayacamas mountain range.
What is your philosophy to making wine and viticulture?
Perhaps it will sound funny, or contrived to you, but I truly believe that we can develop a strong sense of identity, of intimacy with a specific vineyard site. There is a feeling of excitement when one steps into a terroir for the first time. It takes years to nurture the human-terroir relationship, but it is well worth the wait. My role is the interpret the innermost strengths and weaknesses of a given vineyard block, and create a wine that represents the highest potential of that given block, that given terroir. From pre-planting decisions to the basic philosophy of vine training, pruning, canopy and crop management through harvest, the entire process is an art and a science, as is winemaking. We cannot rely on data and theories alone, a lot of the most important decisions are based on instinct and feeling, rather than hard data. This is what makes grapegrowing and winemaking both fascinating and challenging.
Which cultivar is your favourite to work with and why?
Napa Valley is known best for Cabernet Sauvignon. However, Merot, the most widely-planted red grape in France and in Bordeaux, is fantastic when planted in the right place. At Swanson, this is my favorite variety with which to work. It's a winemaker's wine, since it takes very little, if any adulteration, in the process of winemaking to coax it to its highest potential quality. We make one of the most enjoyable red wines in Napa Valley at Swanson, and it is labeled Merlot. We also make 3 excellent Cabernet-based wines at Swanson, Alexis, Face and the Salon Selection.
AD VIVUM is 100% Cabernet Sauvignon, and you will understand when you enjoy a bottle with me why it is so close to my heart. If Napa Valley is the mecca for wine in the U.S., Cabernet Sauvignon is the go-to variety, and the best wines of each vintage for me, the crème de la crème, are Cabernet Sauvignon wines.
How do you see the future of wine production and what are the challenges and the opportunities?
Wine has virtually exploded in the world, in terms of production, the plethora of brands, and consumption per capita.
With great expansion inevitably come great challenges. Look at the explosion of Merlot in California – it grew too fast and many insipid Merlot wines were made. Now the market has largely self-corrected, as it always does. The same thing is happening with Pinot Noir now, which has enjoyed a tremendous spike in popularity, forcing production up, up, up with the expected drop in average quality coming soon thereafter.
The challenge remains to captivate the consumer with a sense of authenticity, inclusiveness, and integrity on the part of the producer. People don't want hype, they want to connect directly with the grower, the producer, the folks behind the brand.
How to accomplish this remains the crux of the challenge. I want to connect directly with as many consumers and retail/restaurant buyers as possible to express my thoughts and to share my wines with them.
Where do you see the global wine market in 2025?
We have experienced 30 years of handholding by a couple of major wine writers. I see wine drinkers and wine buyers relying much more upon their own palates, and while grateful for the role the critics, the scores, the data, the hype have played in providing information and exposure, are more and more willing to think for themselves. Folks want to try a lot of wines and choose for themselves what they will drink. There are many, many options, and this choice is more easily talked about than accomplished. Even as wine professionals, we are intimidated by the sheer number of choices. So many wines, so little time. Ah, but so much pleasure. Visit wine regions throughout your country, your continent and beyond. Experience as much as you can. Then share it with others, that is truly what wine is for, to share with others.
Chris Phelps
@ by Dominik Kozlik – Zeitgeist Sommeliers – International Sommelier Positions – www.sommelier-jobs.com