Name: Elisabetta Gnudi Angelini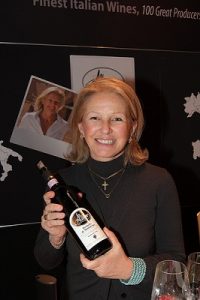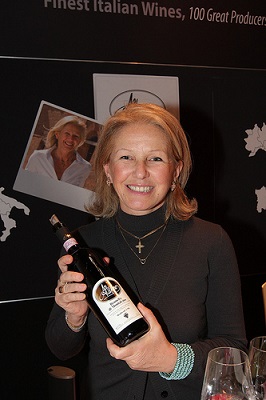 Currently: Winemaker & Oenologist of Altesino, Borgo Scopeto, Caparzo, Doga delle Clavule
Website:
www.altesino.it/ita/azienda.php
www.borgoscopeto.com/en/azienda.php
www.dogadelleclavule.com/en/vigneti.php
Questions:
Please, tell us about how you got into wine, the wine industry and how your career developed?
My family was not doing wine. I got into wine business after so many other different types of work. I was a manager in a pharmaceutical factory, I was producing movies…I was managing a Relais & Chateaux in USA. I have to say that I started in the right place at the right moment (about 16 years ago) and my carrier developed quite well with a lot of good results.
What is your philosophy to making wine and viticulture?
I love to eat and to drink and my wine as to be PERFECT for me first. I don't go after prizes. For so many years my wine (because I try to respect the most traditional Tuscan way of doing wine, big oaks, no concentration) in the major guides it was almost forgotten. With a phrase that was the same every year . . . ' too low in color . .' but sangiovese has to be low in color , like pinot noir!
Which cultivar is your favourite to work with and why?
My favourite cultivar is of course SANGIOVESE so unique , no similar to any other clone, and especially so faithful, it grows and gives fantastic results only in Tuscany!
The whole world try to imitate our wine but sangiovese sticks to us, not like merlot or cabernet that are coming out good everywhere!
How do you see the future of wine production and what are the challenges and the opportunities?
More and more the world is turning into wine and thank god the world is so big. In the past France and Italy conquered USA and all over Europe. Then Canada and South America and now the Orient: Japan, China, Korea and Australia too!! It is a challenge and there is nothing more exciting than to find your bottle of wine wherever you travel!!
Where do you see the global wine market in 2025? The old world will be able in 2025 to enter also into Arabic countries !!
Elisabetta Gnudi Angelini
@ by Dominik Kozlik – Zeitgeist Sommeliers – International Sommelier Positions – www.sommelier-jobs.com