Name: Hätsch Kalberer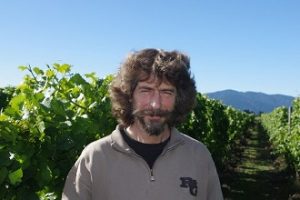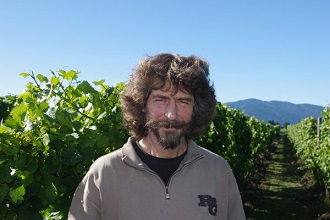 Currently: Winemaker at Fromm Winery
Website: www.frommwinery.co.nz
Questions:
Please, tell us about how you got into wine, the wine industry and how your career developed?
A long story short. While still living in Switzerland I had a wine cellar well before a driver's licence. Wine was my hobby besides travelling (hitchhiking in those days). In 1982 during the cold war I moved to New Zealand and started without any formal winemaking qualifications to work in a winery. Following the motto "experience is knowledge, everything else is just information", I started the never ending apprenticeship of winegrower.
What is your philosophy to making wine and viticulture?
Growing the best grapes and then work with them like a good coach (rather than a controlling winemaker). Emphasising vineyard and vintage expression but above all, truly fine wine will provide understated pleasure to the consumer without the need for high scores and awards.
Which cultivar is your favourite to work with and why?
Pinot Noir. No other grape variety I know is so responsive to the slightest environmental variation and the input in the vineyard and gentle handling in the winery. As a single variety Pinot Noir has an unmatched completeness and transparency and its greatness is all about finesse and refinement. Despite that, Pinot Noir at its best can gracefully age and mature for many decades.
How do you see the future of wine production and what are the challenges and the opportunities?
Today there is the beverage end of wine production, bit like fast food, everything is slightly sweet and sour, polished and often enhanced with oak products and tannins (disguised flavourings), cheaply packaged and finished with a screw top.
Then there is the serious end of modern wines, often bigger is better, awards, Parker points and other ratings a driving force for the style. They are of high quality but often forceful.
Lastly there are still the wines made by winegrowers rather than winemakers, faithful that the quality of the grapes they produce will result in fine wines of integrity in terms of terroir and vintage expression without the need of modern winemaking interference. The challenge for the future is not to lose this segment of wine production.
Where do you see the global wine market in 2025?
I really don't know. If the current trends continue we will have more standardised international wine styles, driven by price point, current fashion and preconceived ideas of how wines from certain regions should taste. Particularly in the New World, this often relates to styles of a low common denominator, easily achievable by most with a more industrial approach to viticulture and winemaking. Wine will even more become a brand driven commodity with little appreciation for its cultural value. Fine wine of great terroirs will still be made but it will be difficult to source honest, true everyday wines at a fair price point that are not manipulated by modern technology.
Hätsch Kalberer
@ by Dominik Kozlik – Zeitgeist Sommeliers – International Sommelier Positions – www.sommelier-jobs.com