Name: Jean-Pierre Marty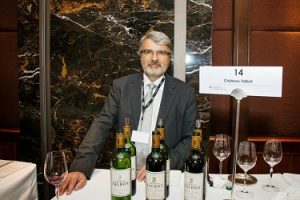 Currently: General Manager at Chateau Talbot
Website: www.chateau-talbot.com
Questions:
Please, tell us about how you got into wine, the wine industry and how your career developed?
I am the third generation of winemaker in my family and when I finished my studies as agronomist engineer and oenologist I went abroad in Australia for Remy Martin cognac.
I had the opportunity to work in the different aspects of the wine business :
– production in a Bordeaux estate , developing vineyards in Australia, China, South Korea, Marocco and general management of estates in Provence
-modern wine merchant and traditional négociant in Bordeaux with purchasing and production departements
I joined Talbot in 2006 which is for me the most sophisticated challenge and I know that I am simply accompany Talbot for a short step towards excellence.
What is your philosophy to making wine and viticulture?
Although I have made wines in very different locations and tackled different styles I came back to the very traditional point of view that basically the terroir is making the wine and we are just doing our best to get the most elegant expression of this terroir vintage after vintage.
How to explain why Talbot has passed trough three centuries of fame?
Which cultivar is your favourite to work with and why?
Definitively Cabernet Sauvignon because it is able to produce outstanding wines with a great potential for aging. Above all Cabernet Sauvignon in cool climate and on gravel soils is a challenge every year but will allow you to find the right balance with fruit, power and freshness.
How do you see the future of wine production and what are the challenges and the opportunities?
World wide the industry will be split between commodity wines heavily supported by marketing and speciality wines which will be successful only by the high end and will become more and more exclusive.
Where do you see the global wine market in 2025?
I am convinced that the wine consumption will progress supported by branded wines, the challenge will be for the middle of the range wines produced by a mosaic of small wineries, premium wines will remain difficult to source.
Jean-Pierre Marty
@ by Dominik Kozlik – Zeitgeist Sommeliers – International Sommelier Positions – www.sommelier-jobs.com