Name: Kirk Venge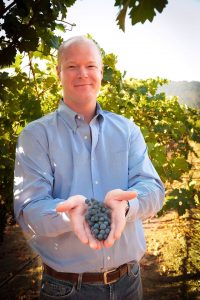 Currently: Winemaker at Venge Vineyards
Website: www.vengevineyards.com
Questions:
Please, tell us about how you got into wine, the wine industry and how your career developed?
I grew up in my family's cellar at Saddleback Cellars in Oakville, Napa Valley. Learning how to make wine at an early age inspired me to attend UC Davis where I interned and later worked at Mumm Winery Napa Valley, where I was their still-wine producer. I started making wine for our family under the Venge Vineyards brand in 1992 and later bought the brand in 2008 on my 32nd birthday from the family to start my own winery.  
What is your philosophy to making wine and viticulture?
Less is more. We dry farm in an organic method from berry to cellar with minimalist and non-invasive practices. The winery is 100% gravity fed using a combination of concrete, stainless steel, and open top fermenters. Mostly native fermentations and 100% native yeast in secondary/malo-lactic innocs. Slow, cold fermentation of whites and thin skinned reds, and medium heat and once per day pump-overs during fermentation and extended maceration of thick skinned reds. Some co-fermentation of experimental varietals as well, such as Charbonno and Sangiovese.
Which cultivar is your favourite to work with and why?
Cabernet – because we are in Napa Valley and Cabernet is king. We are starting a new project with the 2012 vintage called "Croix" – it is a Sonoma project focusing on Pinot Noir and Chardonnay and it is very, very exciting and challenging. We are currently contracting with five prominent growers in Russian River Valley, Green Valley, and Sea View appellations and are seeking vineyards to purchase and build a dedicated winery in the Occidental/West County area. Just beautiful findings in that area.
How do you see the future of wine production and what are the challenges and the opportunities?
Wine production will see a divergence of haves and have-nots. As a producer, you will either invest in state of the art practices and equipment to continually improve quality or you will get left behind. Straight up. The consumer is growing more sophisticated than ever and cutting corners will only burn those producers that assume the average wine drinker won't notice the difference between high quality and no-quality wines. The ecosphere of the wine industry is very, very competitive and challenging financially. It takes a ton of cash to build something that will endure decades of competitive pressure. However, the opportunities are endless, especially when we consider Pinot Noir and Chardonnay coming from Sonoma Appellations such as Green Valley and Sea View. We are aiming to produce some of California's most sought after, collected, and consequently, most expensive Pinots and Chardonnays over the next decade. There is no reason we should not have a DRC equivalent in CA. It will take hard, consistent, and brutally honest work, but the rewards will be stunning.
Where do you see the global wine market in 2025? Starving for water.
Kirk Venge
@ by Dominik Kozlik – Zeitgeist Sommeliers – International Sommelier Positions – www.sommelier-jobs.com