Name: Chuck Jackson Jr.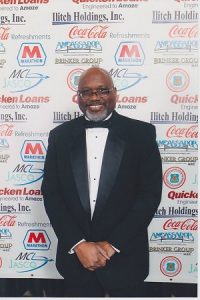 Nationality: American
At the moment: USA-Michigan
Currently: Independent Wine Consultant
Website: Vino Papi
Prerequisite:
Please, tell us a little bit about your first encounter with wine & the wine industry? Any particular mentors at that time?
My first encounters with wine and the wine industry were with Midwestern wineries, inside their tasting rooms. My mentors were John Burtka at Cherry Creek Cellars, Kip Barber at Lone Oak Vineyard Estate, the O'Keefe Family at Chateau Grand Traverse and John Jonna at Merchant's Fine Wine.
What specific traits or skills should a Sommelier(e) possess for professional performance and is there any person with that qualities you especially admire within the wine industry?
Awareness that every person is on a journey seeking wine that they like. Know your customer and where they are in their personal wine journey. I look up to Madeline Triffon because she is accessible and a wealth of knowledge.
What would be your advice to a young Sommelier(e) i.e. Commis Sommelier(e) where to look finding an adequate position at home or abroad? Any further tips?
Social networks are a wonderful source to find mentors who can help you in your search. Network, network and network some more.
Active:
When a customer asks for advice on selecting wine what's in your opinion would be the best approach?
Go to wine tastings. Learn to trust your palate, not someone else's description of a wine.
What's your philosophy about glasses?
Stemware is very important. I prefer Riedel because they are varietal specific.
Are you working with well known brands or are you considering new brands as well and how do you determine?
I work with different brands at different price points, to give my customers choices.
What advice would you give people on pairing wine with food?
You never want your wine to overpower your food. You want it as an enhancement, not a distraction.
Wine list:
What are the key ingredients for creating a wine list for a restaurant and what is your opinion on some ridiculous pricing on wine in restaurants, do you have tips on how to determine markup?
My markup is determined by my intent to encourage purchases of bottles of wine with a meal.
How do you manage to stay on top of the changes in the wine industry?
I Network globally.
How would a new vineyard get the attention of someone like you to notice their wine and what's the best way for producers to improve their chances of being listed?
Quality and price point. Good or great wine should never be restricted to the affluent. Provide quality wine at all price points.
Favourite pick:
If you were a wine, which variety would you be, and why?
Pinotage. Complex, yet approachable.
What are the top 3 types of wine (your faves) would we find in your home wine collection and what's your desert island wine?
Pinot Noir

Pinotage

Gewurztraminer
Desert Island Wine: Cote du Rhone
Chuck Jackson Jr.
@ by Dominik Kozlik – Zeitgeist Sommeliers – International Sommelier Positions – www.sommelier-jobs.com