Name: Brilliant Rendani Mathelumusa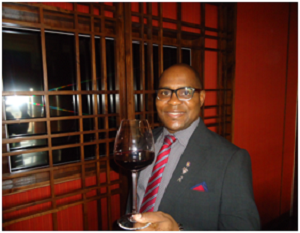 Nationality: South Africa
At the moment: United Kingdom
Head Sommelier
Own Website: The Secret Vineyards
Prerequisite:
Tell us a little bit about your first encounter with Wine & the Wine industry?
I could say l was born in a wine cellar; my Dad was and still is an avid wine collector of vintages from all over the world with good appellations in his wine cellar. I have had a somewhat unorthodox career path. I originally trained as an accountant and worked every now and then in bars and restaurants in hotels. As time went by, I wanted to get away from my computer, and I started pursuing my passion full time in the vineyards in Cape Town – Stellenbosch at Zorgvliet Vineyards training as a Winemaker, and that made me want to pursue it even further through professional training courses. I took up an accelerated training at a Professional Institute at Cape Wine Academy in South Africa, in 2005 ( Cape Sommelier & Diploma) and then l moved to England for the International Sommelier Course with Court of Master Sommelier ( Certified Sommelier). Wine to me is a confluence of the natural environment, farming, science, art, travel, and poetry. It speaks to my soul and reflects who I am as a person.
Who are your mentors?
Zorgvliet Vineyards Winemaker : Neil Moorhouse
Cape Wine Academy CEO : Marilyn Cooper
Court of Master Sommelier : Francis Krone (Certified Sommelier)
Chef Patron : Phillipe Wangenferre
What specific traits or skills should a Sommelier (e) possess for professional performance?
It's nice to be able to go to school and learn all about the grape varieties, how to make wine and all the rest of the theory behind being a Sommelier, but at the end of the day there's no substitute for practical experience. You have to go to the vineyards and work in a restaurant if you want to learn how to do the job properly.
What would be your advice to a young Sommelier (Commis)?
Whenever availed of the opportunity, travelling particularly to countries with strong wine cultures can really broaden one's horizons. But even from home, it's vital to attend tastings as often as possible. Read all the relevant publications: Wine Spectator, Decanter, Wine and Spirits, they're all very good to keep one up to date on current trends. The biggest thing with sommeliers right now, for some reason, is that it's become very, very popular. So it's become quite competitive. But there's something that has to be remembered, too. It's a service profession; therefore, it's important to understand the reasoning behind being a sommelier. It's to help the customer.
Active:
When a customer asks for advice on selection wine what's your opinion would be the best approach?
The real skill lies in understanding the customer and finding out what he or she wants to drink rather than imposing your own views on them. Even if the customer asks for something that seems like an inappropriate match-say asking for a Sauternes with a steak when you know they'd be better off with a good red wine-you can't dictate your own taste. You are there to give your customers a good time and leave them with good memories of your restaurant and you are not going to do that if you dictate your own tastes to them-doing so will make you appear arrogant. If a customer feels intimidated, they won't go for your advice and they won't come back. Remember, after all, that it's the customer who is paying the bill and, ultimately, it's the customer who is responsible for the success of your restaurant.
What's your philosophy about glasses?
The pleasure of enjoying wines starts with the glass. You need to have sufficient glassware. For those of who have experienced my Power Entertaining dinner event, they know that I always serve two wines, side-by-side for taste comparisons. I call this the "intellectual component" where you can teach your guests something about different wine styles (Oregon Pinot Noir vs. California Pinot Noir). For example, if you entertain six people and choose to serve them in this fashion you will need two glasses per person (12 glasses). I feel that the Sommelier should upgrade the quality of glassware for maximum appreciation. Simple wines need simple glassware; complex wines deserve complex glasses. My choice of glassware is Riedel, the Rolls-Royce of fine crystal glassware. The correct pronunciation of this is easy: it rhymes with "needle." Riedel has an unbelievably vast collection of superb wine glasses to choose from.
What advice would you give people on pairing wine with food?
The essence of pairing wine with food is about creating balance. It is about creating an experience that is greater than the sum of its parts. It is about synergy.
The Rules for Matching Wine with Food:
Weights and bodies:
The essence of this rule embodies the age old 'red wine with red meat, white wine with fish and white meat". In its simplest form, make sure the weight and body of the dish is consistent with the weight and body of the wine.
Acidity levels:
When pairing food with wine make sure that the acidity level in both are about the same. A good example is a dish like lemon chicken paired with a high acid Vernaccia from Italy.
Flavors and complexities:
Food and wine shouldn't fight one another for your attention. Instead they should help one another achieve synergy, complimenting each other's best traits. NOTE – There is a corollary to this rule that suggests looking for contradictory, but balancing flavors and complexity. If done correctly, the wine and food match will work, but this approach is much more complex and demands that the chef really knows the dish and the wine very well. Approach the corollary with caution.
Wine List:
What are the key ingredients for creating a wine list for a restaurant?
A wine list is not just a menu with aesthetically laid out items and prices. Apart from being the face of any wine program it is also a document which demonstrates an organization's wine vision. The question is? What do l wish to achieve from my wine program? Is it just revenue which drives my wine selection or are the intangibles also equally important? Does my portfolio indicate a special focus on quality and professionalism? And above all, how do l differentiate the quality of my wine offerings from that of my peers and competitors?
Following are the five key points: to keep in mind (among some general ones) while compiling a restaurant wine list aiming to be in the top league:
Focus on your niche & USP: Every wine program must find its niche to be able to stay relevant in a highly competitive market. It can be just one unique feature or combination of features, but something that sets your wine program separate from the rest is key to achieving the first step to credibility in a market flooded with run-of-the-mill offerings.
What does your wine selection excel in? What do you offer different from your competition which creates a positive impression in your guests mind? And finally, what role does the wine list play in creating an exceptional dining experience?
The possibilities are many; one has to decide what works for them the best considering the business objectives, customer profile and the overall F&B concept of the restaurant.
Achieve that elusive balance: One of the hallmarks of best wine lists is the all-important balance of vital components which go into their making. Be it a synergy between regions/appellations, a proportionate distribution of grape varieties and blends, a fair representation of styles and types or even a good mix of price points.
Of course a lot depends on the restaurant's profile and the cuisine served but on the whole a well-harmonized wine list adds immensely to the organization's wine culture. It also heightens your guests' comfort level while navigating through the list and in deciding about which wines to choose.
Move beyond clichés: Some wisdom about wine lists is well and truly past their use-by date, while a few are overused to the extent of being monotonous and predictable, and some fall under the veritable 'one size doesn't fit all' adage. Sticking to them can prove to be a hurdle in creating great wine offerings.
Take for example the most widely held view about the size of inventory/portfolio – lot of menus, in the name of depth and variety, offer thousands of choices to guests. But is it really necessary to carry so many labels to achieve your business goals (remember a large inventory not only locks in valuable cash but can also proves to be a logistics and maintenance nightmare)? Not if your wine team has perfected the art of deriving the most from a lean but well-balanced menu.
Ensure flawless & effective communication: Imagine a wine list which scores big on design, layout and product offerings but lacks in its ability to effectively communicate and connect to the reader because of sloppy mistakes – mostly owing to negligence but also due to ignorance. The most common irritants are the spelling errors (Voignier, Romani-Contee, Marlboro, Bordeux & Cabernet Suavignon are the most common ones I have encountered). This is followed by inaccurate categorization of wines, like a Pommard listed under Côte de Nuits, all sparklings under Champagne, a rich and oaky Napa Chardonnay under 'Light white wines' etc. And finally, vague and inaccurate descriptions of menu items and their characteristics. Consider the following description for Sauvignon Blanc's flavor profile in a wine list I came across during a recent conversation on twitter.
Promote: Lastly, you have a great wine list which your guests keep raving about but are you promoting it enough to think beyond the word-of-mouth element? Let's face it; a wine list is only as good as its standing in the market and the results it brings to the business, both tangible (revenue) and intangibles (goodwill, stature, luxury quotient etc.).
What is your opinion about on some ridiculous pricing on wine in restaurants?
My strategy is three-fold:
Look for an

alternate variety on the wine list. Most of those obscene prices are placed upon Cabernet Sauvignon and Pinot Noir, since they are the

most popular reds these days, and most good lists will include other

options. A Malbec from Argentina or a Tempranillo from Spain would

be good alternatives, and may even be better food-pairing partners.

If you've been to the restaurant before and you know the wine prices are high, ask about its corkage policy when you make your reservation. Even when the corkage is as high as $30 (another pet peeve for another journal

entry), you can still save a lot of money when you bring your own bottle.

Order iced tea instead. And before you leave, be sure to seek out the owner or manager, and let them know why you didn't order a bottle of wine. If enough diners voted with their wallets, restaurant owners would get the message. A reasonable mark-up on wine is appropriate, especially if the restaurant provides nice stemware. Too often, however, the prices charged in restaurants for wine are just ridiculous.
Do you have tips on how to determine wines markup?
The amount that the price of wine is marked up in restaurants varies greatly, depending on the original cost of the wine, the local laws, the type of restaurant you are dining at, and more. However, it is not unusual to see a mark-up as high as 400% on wine.
Beverage tabs, including soda, wine, and other alcohols, are typically the highest profit-earning items for restaurants. They can charge less for food, knowing that they will more than make up the difference on beverages. While sodas, tea, and coffee are typically bottomless, or can be refilled at no additional charge, wine is always paid for either by the glass or by the bottle.
What is the perfect markup on wine?
The perfect markup on wine maximizes profitability but is well below the maximum price someone would pay for the wine. Wine list aficionados say that the restaurants that make the greatest total profit from their wine list do not have the highest wine list prices, and actually their wine list prices are on the low side of average.
These restaurants instead understand that it is better to sell at a profitable price quickly, than to hold a bottle of wine in the cellar for three years, hoping for a buyer. Also, the by-the-glass price needs to be high enough that the business does not suffer a loss if no one orders within 72 hours of when the bottle is opened, but low enough to encourage purchasing.
Pricing it low enough to encourage sales will minimize the number of bottles lost because only one, or two, servings were poured after it opened. This will increase profits and lower overhead costs, by eliminating waste in the long term.
How do you manage to stay on top of the changes in the wine industry?
In any profession it is imperative that you read up on your specialty as well as immerse yourself in it fully. For me that means working closely with other wine professionals to make sure that I am constantly tasting new vintages, grape varietals, etc. of wines both well known and virtually unknown, consistently look for feedback from members on wines that we have recommended as well as wines that they have selected themselves, travel in a small part to wineries and vineyards to see, hear, touch, taste and smell what it means when someone for example says Napa Valley, visit the competition, go to wine tastings, read, read, read…taste, taste, taste…and finally to speak on topics and host special events and wine dinners constantly keeps me on my toes because you never know what someone might ask and you ALWAYS want to be prepared.
How would a new vineyard get the attention to someone like me to notice their wine and what's the best way for producer to improve their chances of being listed?
I go to tastings all the time, but every once in a while, a representative will drop off a bottle for me to sample, and call me back for my feedback. And I have found some interesting wines that way. Even if they're interesting wines that I can't fit in, they're interesting in their own right; so sometimes there are occasions when I can sell to other restaurants where it does suit that type of cuisine.
Favourite pick:
If you were a wine, which variety would you be, and why?
I will be Pinotage grape, Pinotage can be presented in a dramatic range of styles, ranging from a fairly cheap, light-bodied red wine with some funky aromas (read: acetone, paint, rubber and at times banana) all the way to a full-bodied red wine with balance, elegance and fully developed fruit flavors and an enduring finish.
In general, Pinotage tends to take on a rustic profile and often shows earth-driven notes on both the nose and the palate, followed by berries, smoke and on the extreme "burnt rubber" or even acetone characteristics. With a profile like that, people either tend to have a "love it or hate it" relationship with Pinotage. If you fall into the "love it" camp, then this wine can be a fairly flexible pairing partner, going well with the likes of game, steak, brats, burgers and pizza.
So this is how Pinotage describe me as a Sommelier and l am falling in love with the variety.
What are the top 3 types of wine (your faves) would we find in your home wine collection?
1)      Lots of sparkling wines
2)      Cold rose
3)      Full of Pinotage
What's your desert island wine?
Riesling! Because you're going to be on the island a long time and it ages well. You could chill it in the water so it stays cold. There's a lot of seafood and tropical fruit – it's an island, right? You've got to think about food pairings with your desert-island wine.
Any interesting suggestion about magazine or online platform?
Sommelier magazine
Brilliant Rendani Mathelumusa
@ by Dominik Kozlik – Zeitgeist Sommeliers – International Sommelier Positions – www.sommelier-jobs.com