Name: James Alcock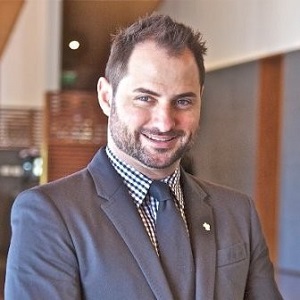 Nationality: Australian
At the moment: Australia
Sommelier, Wine Educator, Wine Distributor
Website:
http://instagram.com/sommjimmy
Prerequisite:
Please, tell us a little bit about your first encounter with wine & the wine industry? Any particular mentors at that time?
I started out as a 'bar back' when i was 17 and my first encounter with wine was around that time. It was a bottle of 1996 St Hallett Merlot from the Barossa Valley that first gave me interest in wine but it wasn't until 2001 when i was living in spain and drank Ribera del Duero wines that gave me the wine bug. Back in those days there were no real 'Wine mentors' for me, i had to learn on my own, However I do have one now, Peter Scudamore-Smith MW who helps me with my blind tastings.
What specific traits or skills should a Sommelier(e) possess for professional performance and is there any person with that qualities you especially admire within the wine industry?
I admire all Sommeliers. I know first hand the amount of study, money and time you have to put in to become one. Skills needed include; The ability to be able to work under pressure in a demanding environment, Mixology bartending and high level waitering skills, maître'd skills, the ability to sell, the ability to be able to match wine with specific dishes, the ability to be able to match wine to a guest's palate and budget, humility, teaching and training and restaurant management skills
What would be your advice to a young Sommelier(e) i.e. Commis Sommelier(e) where to look finding an adequate position at home or abroad? Any further tips?
I would recommend looking at large operations or top rated restaurants as these restaurants usually require a team of sommeliers or at the least wine waiters. There are a few websites and linkedin groups that specialise in international sommelier jobs, so i would also start there. If i had any advice for anyone wanting to know how to first start their careers as sommeliers i would recommend starting off in a cocktail bar as learning all of the spirits and liqueurs and what goes with what helps kick start your palate and beverage experience. Working as a section waiter also gives valuable skills and is easy to move from there to a wine waiter role. Books are your source of knowledge but i would highly recommend working your way through the WSET Levels until you complete Level three before looking for any 'Sommelier' jobs.
Active:
When a customer asks for advice on selecting wine what's in your opinion would be the best approach?
It depends on the situation. If the customer is looking for wine to go with their food, it comes down to the most practical match but if the customer is wanting a wine just to drink regardless of food pairing then there are a few factors to consider. The first and most important is to find out from the guests what style of wine they usually drink and how much they want to spend. This narrows the field down majorly. I like to offer varieties or regions that act as an alternative to what they usually like to drink. For instance if they tell you they usually like a Chablis AC you could show them a high quality cool climate chardonnay that has seen no new oak or if they usually like an italian pinot grigio you can offer them up a spanish albarino or austrian gruner veltliner as an alternative. I always push a wine i know is drinking exceptionally well and believe the guests would truly love.
What's your philosophy about glasses? Are you working with well known brands or are you considering new brands as well and how do you determine?
I always work with Riedel Varietal glasses. I have been working with varietal glasses for so long now it would feel strange to put chardonnay in anything but a chardonnay glass. My 'go to' tasting glass is a Riedel Restaurant series Riesling glass. I also use Riedel decanters of different shapes and sizes for different wines. I would consider other brands for sure, i just haven't come across any glasses i liked as much.
What advice would you give people on pairing wine with food?
Pairing structural elements in the wine to work with the dishes is the most important factor for me. Acidity is King when performing a contrast pairing. I use acidity to 'cut' rich or salty elements in a dish (which i find make up the majority of restaurant dishes!) Wines heavy in Tannin like nebbiolo or cabernet can make excellent pairings with dishes rich in protein especially if the dishes have any charred or bitter elements to them. Sweet wines should always be sweeter than the dish and can provide an excellent pairing to spicy asian cuisine. One of my favourite pairings is an Alsatian or New Zealand off dry gewurztraminer with my Thai inspired spicy duck and lychee curry. As another general rule i always match wine and food equal in weight. When possible i work with the chef and offer suggestions to a dish that can make it a little more wine friendly and always try my thoughts out with the food before i match it up on tasting menu.
Wine list:
What are the key ingredients for creating a wine list for a restaurant and what is your opinion on some ridiculous pricing on wine in restaurants, do you have tips on how to determine markups?
A few factors for me when creating a list is to first assume the demographic and the style of the food. Then get your opening stock budget and desired holding numbers ie. how many champagnes, whites, reds, fortifieds and what the ratio split will be. With all of this adhered too you get to work on the products. i always try to showcase some local wines to show support but also try to represent the key wine regions of the world with an emphasis on emerging regions. Style, vintage and regional balance is a key factor. I would much rather spread the qtys across regions and varietals rather than say listing 20 Barossa Valley Shiraz from the same vintage. Its also great to have a decent half bottle and large format selection. The 'wines by the glass' list is where you need to apply most of your pairing 'hero' wines to as this will minimise wastage and a lot of pairings need to be done by the glass. Most Restaurants in Australia have a mark up of 300%. So if the wine costs you $10 (inc taxes) then it would be sold for $30. however when you are buying in wine for over $100 per bottle then you should put a dollar mark up on it rather than applying the same percentage. There may seem like there is ridiculous mark ups on wines in restaurants but you need to consider the labour for say glass polishing, the Sommeliers wages, the cellaring costs etc.
How do you manage to stay on top of the changes in the wine industry?
To stay on top of changes in the wine industry I subscribe to a few publications and websites. my two main ones are Jancis Robinson's Purple Pages (UK), The Guild of Sommeliers (USA), Australian Gourmet Traveller Wine Magazine and have joined a few online discussion groups.
How would a new vineyard get the attention of someone like you to notice their wine and what's the best way for producers to improve their chances of being listed?
Winemakers and Wine sales rep who book in appointments for a tasting with the sommelier is a sure fire way to get their wines listed if the wines suit that particular establishment and list. The 'word of mouth' of a new vineyard being discussed and praised by wine professionals surely gets my attention and curiosity. It's always a good place to start by inviting sommeliers down to the vineyards to check them out.
Favourite pick:
If you were a wine, which variety would you be, and why?
Nebbiolo because i can provide a very attractive heady perfume for your nose and give you great structural elements to pair with your food. Also, I get to live for a very very long time.
What are the top 3 types of wine (your faves) would we find in your home wine collection and what's your desert island wine?
You would always find Champagne, Godello and Nebbiolo. My desert Island wine would be the 1974 vintage of Vega Sicilia's Único from Ribera del Duero but i better be on that island soon before it's too late. JA
Any interesting suggestions about magazines or online platform?
NO
James Alcock
@ by Dominik Kozlik – Zeitgeist Sommeliers – International Sommelier Positions – www.sommelier-jobs.com