Name: Jean-Charles Botte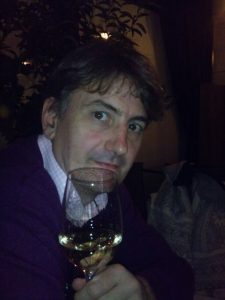 Nationality: French
At the moment: Norway and for the rest of my life…….
Sommelier & Wine Writer
Website: www.vinpur.com
Prerequisite:
Please, tell us a little bit about your first encounter with wine & the wine industry? Any particular mentors at that time?
No Mentors, just beautiful meet with Claude courtois natural winegrower from Loire Valley. this a great tournant of my life. I began in 92 like assistant sommelier in Chateau de Gilly – Burgundy. After 6 month, i told at my sommelier chef : «  why i find always the same aromas in the nose of white burgundy » Never answer by my chef sommelier. But after 6 years in my job, Claude Courtois said me : « but they are added yeast who made the same nose, standardization of aromas». But i have a very big problem, i'm very sensitive with chemical in wine. But i'm not fanatic…………just sensitive.
What specific traits or skills should a Sommelier(e) possess for professional performance and is there any person with that qualities you especially admire within the wine industry?
Like a great sportsman who has a good quality; this is very important :
do not be an alcoholic
not smoking
do not drink milk and Coke
eat natural homemade meals
What would be your advice to a young Sommelier(e) i.e. Commis Sommelier(e) where to look finding an adequate position at home or abroad? Any further tips?
the best way : begin in France, in region of vineyard. But take your time, because the job of restaurant in France is very difficult.But i have a dream : protect the name "sommelier". For me a "sommelier" is just a man who serve the wine in restaurant. And when you has the master sommelier or BP sommelier; you don't know your job. The best way, during 2 years in a restaurant, you are assistant sommelier. And after 2 years, you meet a committee of great sommelier, and you past a test to know your knowledge. But it is just utopia than i will propose for the day of french sommelier in January.
Active:
When a customer asks for advice on selecting wine what's in your opinion would be the best approach?
Always listen the client about his opinion of wine. Maybe, he like great wine and expensive, or natural or cheap wine. If you give him cheap wine, and he wanted expensive wine , or he wanted natural and you give him classic wine : this is not good. The most difficulty of our job : is listen the the client. It is important to have a few of psychology
What's your philosophy about glasses? Are you working with well known brands or are you considering new brands as well and how do you determine?
I   have no philosophy about glass, because you can break glass. If you are 10 people is in service of restaurant, and you use frail glass every day. And if everybody is tired, you can have by day 10 glasses broken. I choose solid glass wine and big solid glasses for great wine. Notice important : choose the glass with wash machine; if the glasses don't correspond with the machine, the dishwasher can broken many glasses.
For me my philosophy of service :
to serve the wine with a good temperature : 15 ° for the red, 10° for the white. It is very important to have a good wine fridge. When it  is an powerful white wine like Meursault or Corton-Charlemagne : i left it on the table and i explain the reason : serve this wine too cold it is a bad service for this kind of wine. During the meal, i can put the bottle in basket with lit ice. For the summer, i put red wine in basket with cold water. For red Beaujolais always in cooler with cold water. Many sommelier forgets our principal job : serve the wine in best condition.

A boss told  me many years ago  : « But jean-Charles  you are not in the bottle » Of course, but it is very important to know the contents in the bottle. if the wine is borderline because it is too old, it is very important to sell in wine package by example. But if the wine is dead : it is important to say that at your boss. When the wine is very closed and out of sync : don' t touch and taste the wine later. Then, often for organic wine vinified with natural yeast, this kind of wine is closed, you  always must put it in decanter. And take your time, it is very important for the client.

For the expensive and the old vintage : i never  recommend expensive wine : it is always the choice of client. An example : «  What about your thinking for Yquem 1945 » My answer : "It is a very good year sir without chemical in wine, because it was the end of the war. But i never tasted, because the purchase of my boss ». "But if  the wine is not good, you change the bottle…. » « this is your responsibility sir…but if you don't take this responsibility, i can propose you an youngest vintage that i know »
What advice would you give people on pairing wine with food?
Always try all. In my asian restaurant; the client try auslese 1991 on halibut or duck. The sauce are a few sweet and spicy. At the last job, nice combinaison between light red wine from loire valley and wild river fish with red fruit sauce. In my apartment i cooked reindeer with port sauce and blue cheese….and i served Port dalva vintage 2004. Yes i know I'm crazy sommelier……
Wine list:
What are the key ingredients for creating a wine list for a restaurant and what is your opinion on some ridiculous pricing on wine in restaurants, do you have tips on how to determine markups?
the best way : you sell few appellation than know the client. by example : in France : Sancerre, Chablis, Côtes-du- Rhône Bordeaux. I'm not a sommelier of money, my pleasure is not to sell the most expensive wine but i want people are happy with good value for money
"When I worked at the Mediterranée restaurant in Paris , we sold Meursault and Chassagne-Montrachet between 70 and 90 euros for a ratio of 2.2, Cheap wine were between a ratio of 4 and 5  . One day a father and his son come to eat. It was 8:30 p.m. the restaurant was full, I gave the last table near to the bar. They sit and look at the list of wine. "Sir , for the Corton-Charlemagne , there is an mistake, it is not 115 euros" "  Yes Mr. " "But 2004 is not good vintage « « For me, you don't have good and bad vintage, but just bad or good winegrower" "Wine is not good then ? " « No the wine is good; my boss want to offer great wines at affordable prices " The Mr. took a bottle of Corton Charlemagne and the next day he returned , he took   a second bottle. For the same wine in a star michelin of Paris, it was worth 165 euros . With this practice, you build customer loyalty. » from my article the rule of sommelier
How do you manage to stay on top of the changes in the wine industry?
why ? I m on the top in wine industry….ah ah ah ah ah
How would a new vineyard get the attention of someone like you to notice their wine and what's the best way for producers to improve their chances of being listed?
Organic farming with natural yeast and lit sulfur – or without- during the winemaking. When i test this kind of wine, i can taste the wine opened during one week. And you see….if the winegrower is good…..
Favourite pick:
If you were a wine, which variety would you be, and why?  
Organic farming with natural yeast and a few sulfur – or without- during the winemaking. because when i taste this kind of wine : the aromas change every time, and the retro-olfaction is very long – 4 and 5 minutes-
What are the top 3 types of wine (your faves) would we find in your home wine collection and what's your desert island wine?
Old Dom Perignon or Comtes de Champagne before 70 : it is the date of arrival of chemical on farming in France.  I can't drink this wine, because i find too much sulfur. I'm very sorry to be sensitive with chemical in wine. Old Corton Charlemagne or Meursault and many wines without sulfur as My friends Michel Augé, Jean-Frick, Olivier Cousin and La Stoppa – Italie-.
Jean-Charles Botte sommelier of Xich Lô Norway and wine writer vinpur.com
@ by Dominik Kozlik – Zeitgeist Sommeliers – International Sommelier Positions – www.sommelier-jobs.com