Name: Jorge Alberto Trejo Monroy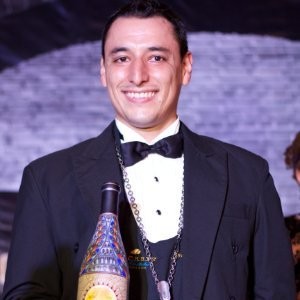 Nationality: Mexican
At the moment: Mexico City
Head Sommelier
Prerequisite:
Please, tell us a little bit about your first encounter with wine & the wine industry? Any particular mentors at that time?
My first contact with the wine was in college, I am a graduate in Tourism from Tepeyac University, here the preparation of graduate taught sommeliers what is taught  the Sommelier Pedro Poncelis, one of the most recognized Sommeliers in Mexico. My contact with the wine industry was working when I entered the Hotel Presidente Intercontinental Mexico City, then I start all my passion for wine. Sommeliers excellent hand as Pedro Poncelis and Gerardo Tellez I learned the most importantly the service and wine knowledge.
What specific traits or skills should a Sommelier(e) possess for professional performance and is there any person with that qualities you especially admire within the wine industry?
The main qualities of a sommelier are perseverance and experience, which must be acquired over the years. Restaurants, wine lists, customers, different spaces are expanding our vision and refine our service.
I admire the Sommelier Gerardo Tellez, he started from scratch and today is the world's best sommeliers in Mexico and all thanks to perseverance.
What would be your advice to a young Sommelier(e) i.e. Commis Sommelier(e) where to look finding an adequate position at home or abroad? Any further tips?
The advice I would give to young sommeliers is getting ready to always follow, stay in school and really enjoy your work, it's a great hobby that can take us to places we have never imagined. You never know where you may end up working. They must be given the opportunity to experience.
Active:
When a customer asks for advice on selecting wine what's in your opinion would be the best approach?
My first question is always customary What variety? and my second question is Do you want to try a Mexican wine? I am Mexican and I like to promote our wines.
What's your philosophy about glasses? Are you working with well known brands or are you considering new brands as well and how do you determine?
I always say that a proper cup is the best for enjoying wine to the fullest, today work the Schott website, I like big buddy where wine can oxygenate and go slowly showing changes. The cup based on cost and quality is determined.
What advice would you give people on pairing wine with food?
It is a complicated issue to explain. Just tell them that your dinner will become a great experience. If I have the opportunity always recommend pairing with cheese Roquefort Sauternes good, it's very clear the pairing.
Wine list:
What are the key ingredients for creating a wine list for a restaurant and what is your opinion on some ridiculous pricing on wine in restaurants, do you have tips on how to determine markup?
A wine list must always contain the essential elements of the label, name, variety, year, winery, country of origin and designation of origin or specific region, price and quality of the wine.
It's ridiculous prices of some wines but also because there are customers who buy them.
Favourite pick:
If you were a wine, which variety would you be, and why?
Funny question, I think it would be an Alsatian gewurztraminer, very fragrant when young, always with a little sweet and over the years show more complexity and elegance in the aromas but always with that sweet touch.
Also to be always on the lips of a woman.
What are the top 3 types of wine (your faves) would we find in your home wine collection and what's your desert island wine?
The cellar of my home is very focused wine to share with my wife. Fruity young wines with good aging in barrels, which are not very complicated and have many pairings. Casa Madero 3V, Crianza Viña Pedrosa, Marchesi Vineyards Viña Cobos Malbec.
And for wine Desert Island, is complicated and have many names in my head, I can not decide for one.
Jorge Alberto Trejo Monroy
@ by Dominik Kozlik – Zeitgeist Sommeliers – International Sommelier Positions – www.sommelier-jobs.com