Name: Liora Levi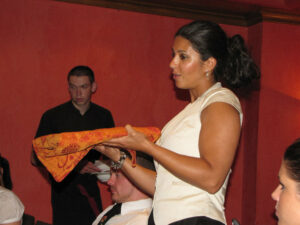 Nationality: Norwegian
At the moment: Norway
Sommeliere & Mediator of wine knowledge, Wine Writer
Website: www.liora.no
Prerequisite:
Please, tell us a little bit about your first encounter with wine & the wine industry?
Any particular mentors at that time? My first encounter with wine was while working at a Steakhouse where the management were not particularly interested in the beverage part of the industry. However, after I started my sommelier education I moved on to a fine dining restaurant where the head sommelier was in the middle of his Master Sommelier studies and turned out to be the perfect mentor. His name is Stefano Pagani, originating from Milan, having worked in star restaurants in Spain (El Bulli), France (Le Clos de la Violette) and England (Fat Duck) as well as good restaurants in both Germany and Norway.
What specific traits or skills should a Sommelier(e) possess for professional performance and is there any person with that qualities you especially admire within the wine industry?
A great sommelier should both be humble and able to «read» the guest. It is so much more important that guests leave the restaurant with a feeling of having had a great wine, fitting both their palate, their food and their budget than that the sommelier got to sell an expensive or rare bottle of wine. I think that Mr. Arvid Rosengren (current European Champion for sommeliers) has all of these qualities.
What would be your advice to a young Sommelier(e) i.e. Commis Sommelier(e) where to look finding an adequate position at home or abroad? Any further tips? Be prepared to work very, very hard, long hours as well as left over time that needs to be spent studying wine and guest psychology.
Active:
When a customer asks for advice on selecting wine what's in your opinion would be the best approach?
Firstly to establish what the guests will be eating and then from there on to their budget and preferences/knowledge on types of wine.
What's your philosophy about glasses?
Glasses are extremely important to the wine experience and with the wrong glasses the guests might never try that type of wine again.
Are you working with well known brands or are you considering new brands as well and how do you determine?  
I have been working with Riedel for a long time, but I am also interested in other types of glasses, I know the Zalto glasses have gained fame and credit now but I have not tried them out yet.
What advice would you give people on pairing wine with food?
To look for similar elements in the food and the wine, here it is very important that the young sommeliers have enough knowledge on the wines available and the food served before they even consider advising a guest. And then also to think about balance in the food and the wine. (Was that too unspecific??)
Wine list:
What are the key ingredients for creating a wine list for a restaurant and what is your opinion on some ridiculous pricing on wine in restaurants, do you have tips on how to determine markup?
In Norway it is not uncommon for restaurants to price wines up to 3 times the shop/monopoly rates (Norway has a Monopoly system when it comes to wine, and wine can only be bought from any of the 300 Government owned shops).  This is very high and makes going out for a nice meal an extremely expensive affair if you happen to be more than average interested in wine. I think that pricing a «house wine» with double the price from the shop would be reasonable, and then to have a fixed mark on the more expensive wines would be a better structure. This way there would be a better rotation in the wines too.
How do you manage to stay on top of the changes in the wine industry?
This is very hard, and it takes incredibly much time to at all times be updated. I believe that hardly anyone, apart from sommeliers competing in Championships, can be on top of all the changes at all times seeing that the wine industry is in rapid change. However, it is always good to have one of the big wine magazines as your default web page and that way always get the latest news. And then there are also forums on internet, however I am always a bit skeptical to info found online and always make sure to double check these date with many more sources before believing everything.
How would a new vineyard get the attention of someone like you to notice their wine and what's the best way for producers to improve their chances of being listed? Norway is a country under extremely strict alcohol regulations when it comes to advertising etc. as well as having the Monopoly structure. This way it is very hard for producers to enter the market. They are totally dependent on working with an import company from Norway to promote and sell their wines, either to the Monopoly or directly to the HoReCa trade. Importers in Norway are always trying to get sommeliers (and journalists – the latter at the only ones who are publicly allowed to review wines in magazines for the regular consumers) attention by inviting to tastings with wines from their portfolio. Importers are always trying to be bigger and better than their competitors when they conduct their tasting events and parties for sommeliers are a very popular way of getting the sommeliers attention.
Favourite pick:
If you were a wine, which variety would you be, and why?
I would probably want to be a Chardonnay, because of its diversity and ability to adapt to its terroir.
What are the top 3 types of wine (your faves) would we find in your home wine collection and what's your desert island wine?
Well, with me this changes regularly, and I do not have a big collection since I am more for enjoying the wine now than having to wait a bunch of years. I would say that right now for my everyday choice of wines I'm very much into southern Burgundy whites (for their delicate slimness and freshness) and new world pinots (for being so fruit driven and juicy). I always love a good bottle of Champagne and when it comes down to it, this is my favorite type of wine. And the Vintage Champagnes are also more or less the only ones that I do keep for aging. So my desert island wine would have to be a Champagne, maybe a nice bottle from Selosse 🙂
Any interesting suggestions about magazines or online platform?
As earlier mentioned, I am always a bit reserved when it comes to the online platforms, however, i have always been using Decanter magazine myself for updates and news, as well as the official wine organizations from the various countries, like Wines from Chile, the TTB for the US, Deutsches Weininstitut etc. however, not all the national sites for all countries are updated. And Jancis Robinsons is always nice reading.
Liora Levi
@ by Dominik Kozlik – Zeitgeist Sommeliers – International Sommelier Positions – www.sommelier-jobs.com