Name: Massimo Sacco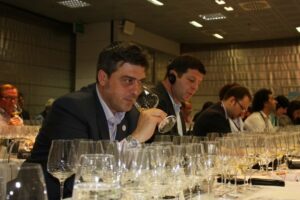 Nationality: Italian
At the moment: Monaco
Chef Sommelier & Premier Maitre
Website: http://vinieterroir.wordpress.com/
Prerequisite:
Please, tell us a little bit about your first encounter with wine & the wine industry? Any particular mentors at that time?
First time I"met the wine was in London: at that period I was working there as a chef de rang and I started to get involved with wine passion. I was get involved by a French Sommelier Yves Desmaries MS and I started to complete the Wine and Spirit Education Trust Diploma and since then I always have been in the wine industry.
What specific traits or skills should a Sommelier(e) possess for professional performance and is there any person with that qualities you especially admire within the wine industry?
In our job we have never stopped to learn: the wine is alive and always have something new to know. So get to improve everyday. In the wine industry I have a special admiration for Paolo Basso and Gerard Basset (sommeliers world champion in 2013 and 2010) very humble persons with an incredible knowledge.
What would be your advice to a young Sommelier(e) i.e. Commis Sommelier(e)where to look finding an adequate position at home or abroad? Any further tips?
Young Sommelier starting the business have to humble: we have never stopped learning and we could find people who know more than us so get the best from every people you meet . I personally started my career abroad and I would encourage people to make an international experience especially now with the globalisation of the wine.
Active:
When a customer asks for advice on selecting wine what's in your opinion would be the best approach?
First of all I should "read" the customer : usually you can see if the person in front of you is looking for a wine "decouverte", in that case you can drive the guest into couple of wines with good value and interesting varieties, or for a wine from classic region, here I have to find until where the guest could arrive in term of spending. Just have two or three wines to propose with different range of price.
What's your philosophy about glasses? Are you working with well known brands or are you considering new brands as well and how do you determine?
I'm choosing glasses that fit with my selection of wines. I like to have glasses for every kind of wines . Actually I'm working with Riedle and new brands as well because so I can have a classic and very high quality and something new to develop and to play with.
What advice would you give people on pairing wine with food?
Eat and drink local……Mainly stay with wine and food of the same region. I don't like classic wine and food pairing, I like to "invent" something new. I remembered once I have made a winemaker's dinner with a famous vigneron of Chateauneuf du Pape: we selected several wines matched perfectly with the menu, for a dessert ( a red berries millefeuille with a touch of dark chocolate) I proposed a Young red wines from AOC Lirac. The vigneron at the beginning was surprised and we had many discussions about it. At the end of the story the dessert pairing was a success and he is proposing the same pairing at his winery!!!
Wine list:
What are the key ingredients for creating a wine list for a restaurant and what is your opinion on some ridiculous pricing on wine in restaurants, do you have tips on how to determine markup?
My Keys points are to stay mainly with local wines. In my case I'm working in Monte Carlo and I can have huge selection of Provencal wines, we are not too far from Italy so section dedicated to italian wines is quite important too. And all the classic from Bordeaux to Burgundy and New World's wine. We have two restaurants, one mainly japanese and other mediterranean, so I have to select wines that fit with the two cuisines. Talking about the prices is difficult. In my perfect world I will apply a very low coefficient in order to push people drinking wines and even to approach the grands crus with a reasonable cost. When you work for a big Hotel Group you have to carefull to a lot of costs , from the stocks in the cellar to a number of staff employed in the restaurant and of course price will be higher. Important is to stay in the price line guide of the Others hotels of the region.
How do you manage to stay on top of the changes in the wine industry?
Always get informed, never stopped to get information about wine industry. Voilà the key to stay Always "tuned" into the wine
I'm not stopping just at wine service: the sommelier is a job evolving very quick, we have to communicate the wine not just in the restaurant. Personally I'm writing in my own blog and I'm organising wine events in Europe. Our mission is to communicate the wine.
How would a new vineyard get the attention of someone like you to notice their wine and what's the best way for producers to improve their chances of being listed?
I am quite open to new wines. I am always looking for something different and I am proud to give a chance for new vigneron. Close to my region we have a lovely red wine, Rossese di Dolceacqua, an indigenous grape variety which give Amazing wines. Most of production is sold in the region and is unknown to most of world drinkers.
Favourite pick:
If you were a wine, which variety would you be, and why?
I love Champagne and if I have to choose this is the wine!!! It is more complicated about varieties but for sure I am Pinot Noir Champagne fan
What are the top 3 types of wine (your faves) would we find in your home wine collection and what's your desert island wine?
Three types of wine I like are : Champagne, whites wines from Rheingau and Pinot noir wines from all over the world. If I have to stay in a desert Island, far from my places, for long time certainly I would bring with me several bottles of Rossese di Dolceacqua, an indigenous variety from Liguria, other be a very good wine it will remember my region !!!
Any interesting suggestions about magazines or online platform?
I read Decanter, La Revue du Vin de France, Euposia in Italy. Most of them have online Platform.
Massimo Sacco
@ by Dominik Kozlik – Zeitgeist Sommeliers – International Sommelier Positions – www.sommelier-jobs.com