Name: Anushka Pandkar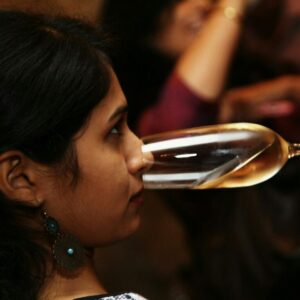 Nationality: Indian
At the moment: India
Sommeliere
Prerequisite:
Please, tell us a little bit about your first encounter with wine & the wine industry? Any particular mentors at that time?
My first encounter with wine was in the 2nd year of my hotel and hospitality graduation program when we were introduced to wine and spirits. I found it interesting right from the beginning. The fact that a tiny berry (or grain for spirit) can produce such sought-after products and command such high prices was something that fascinated me. And I went on to learn more about it.
My first encounter with the industry was when I joined a wine & spirit consultancy in Mumbai. I was beginning to see and notice how the trade works. Later I joined another consultancy called Wi-Not Beverage Solutions and that was a job that taught me a lot of what I know today. Here I got the opportunity to work with three of the best sommeliers in the Indian industry and from them I learnt how a balance between confidence, poise, knowledge and business tactics is essential for the personality of a good sommelier.
What specific traits or skills should a Sommelier(e) possess for professional performance and is there any person with that qualities you especially admire within the wine industry?
Traits – 1) Personality – s/he should come across as friendly but dynamic when they approach the guests, interactive and eager to tell the little tales behind every label. Some guests have a perception that we are there only to sell them the expensive stuff and they would shy away from asking for help. I try to appear friendly to them and show that I'm only there to help select the best wine possible for them. 2) Know the food served in the restaurant. Method of cooking, sauce served along, etc. 3) Aware of operations and procedures like pricing, menu engineering, purchase, etc. 4) MOST IMP – being humble and a team player.
I really admire Geoff Kruth MS though I have never gotten a chance to meet him but I have seen him in documentaries and every time he seems very down to earth, with a subtle sense of humour along with tremendous knowledge.
What would be your advice to a young Sommelier(e) i.e. Commis Sommelier(e) where to look finding an adequate position at home or abroad? Any further tips?
The definition of an adequate position changes from person to person. But my advice to a budding sommelier in India would be to work here for a while during which you get a hang of wine service, and try to study as much theory as you can. Then if you feel you need to spread your wings more, do try your luck at positions in other countries because once you're good at theory all you need is to taste and taste a lot of wine. At the moment that looks difficult in India because of heavy taxes and expensive wines. If going abroad is not on your cards due to some reason, stick to a 5 star hotel (chain) in a metro city and work your way up to bigger responsibilities like a beverage manager, corporate sommelier and so on.
Active:
When a customer asks for advice on selecting wine what's in your opinion would be the best approach?
My approach is always guest oriented. I start by asking the guest a few questions to identify what they are looking for. Questions like white or red? Light bodied or medium-full bodied? Any specific grape they like? What food they are getting? And then I give them a few options from the list. I try to make sure that I suggest wines from all price points i.e low, mid and high priced.
What's your philosophy about glasses? Are you working with well known brands or are you considering new brands as well and how do you determine?
At the moment where I work we have Schott Zwiesel glasses. I would not mind working with new brands provided the quality and finish of the glasses is excellent. For restaurant service, durability and ease of working with also plays a part. In my previous job the restaurant changed the glasses one day and got these beautiful and big wine glasses. They looked elegant but soon we were having a hard time because it was difficult to store them due to the tall stem, and we had to take extra care and time while moving them during a busy restaurant operation.
What advice would you give people on pairing wine with food?
Wine and food pairing is quite subjective as preferences change from person to person. One of the major tasks of a sommelier is to avoid disastrous pairings! Sticking to the rules is a good thing but I never shy away from experimenting. Of course while choosing for the guests I give them options – one a traditional and another unconventional while I tell them that this is not a classic pairing but I personally like it. When possible I offer them a tasting of these wines first.
Should a Sommelier(e) taste the guest's wine?
Only if the guest permits or asks him/her to do so.
Where would you suggest a young Sommelier start searching for Sommelier positions on the internet in your country?
Currently, using conventional job hunt sites may not be enough as this is still an upcoming profession in India. Use of social media to connect with people who are in the wine industry or working as Sommeliers already is I think, the best way to know about openings in this field. The wine circle in India is comparatively small so personal connections done through Facebook or LinkedIn can be used to introduce yourself or even ask for help.
Wine list:
What are the key ingredients for creating a wine list for a restaurant and what is your opinion on some ridiculous pricing on wine in restaurants, do you have tips on how to determine markups?
An ideal wine list is balanced in terms of the variety offered and also having wines for all budgets. One should also keep in mind the restaurant concept or cuisine for e.g. For an Italian restaurant it is a good idea to have a majority of Italian wines on the list. Pricing is something that can make or break a guest's experience. The extremely high mark ups in a few restaurants are definitely ridiculous but in most cases I guess it is because of management/ owners and their expectation of increasing revenue. I feel the guests should enjoy themselves during as well as after their dining experience is over. If the guest spends even a few minutes later thinking about how big a hole this wine and dine outing has made in his pocket, it is not a good experience overall. Determining markups mostly depends upon the organisation you're working at but when it comes to me I like to examine the wine list along with the cost prices and determine margins for the wines based on whether they are fast moving or slow moving, if the price seems worth for the wine style offered, etc. I also like the idea of having more markup on wines with lower cost price and have a lesser  markup on wines with higher cost price, but simultaneously it's important to keep the total average cost percentage within the cost limit given by the organisation.
How do you manage to stay on top of the changes in the wine industry?
I try my best to go through magazines and websites like Decanter, Wine Spectator and follow their social media news feed. Currently I am a subscriber to Jancis Robinson's newsletter which lands in my inbox a lot of information. I also try to follow all the popular wine personalities in the world on social media, as their posts give me a lot of updates and info.
How would a new vineyard get the attention of someone like you to notice their wine and what's the best way for producers to improve their chances of being listed?
Being present and seen is very important for new brands. That does not always mean a big marketing budget, you can keep the spend to a minimum and try to focus on being in front of your target audience. For someone like me, I would love for a rep of the new winery to come down to my outlet and introduce their product and allow me to taste it. A small factor that matters to me is how well does the rep know his product. "Our product is very good, it's the best" is what every brand says. But I like it when some of them are honest about where exactly their product stands in market and able to explain to me why my restaurant needs this product – be it an expensive single malt or an everyday average priced wine.
Nowadays social media has become a very important platform for wineries and spirit producers, I actually enjoy following their pages and getting to know what's happening with them.
Favourite pick:
If you were a wine, which variety would you be, and why?
Hmmm I would probably be a Chardonnay. It is a versatile grape and you can make it in a variety of climates. I think I too am flexible in a similar way and try to make the best result out of every situation.
What are the top 3 types of wine (your faves) would we find in your home wine collection and what's your desert island wine?
New Zealand Pinot Noir, Italian reds and whites from Austria and France. My desert island wine would be a Tokaji Aszu to have a sweet ending in case I die there!
Any interesting suggestions about magazines or online platform?
Decanter, Wine Spectator and local wine magazines. Social media – Try to follow all the winery and distillery brands you have available around you. #winelover is also an excellent online community to get in touch with wine enthusiasts from around the world.
Anushka Pandkar
@ by Dominik Kozlik – Zeitgeist Sommeliers – International Sommelier Positions – www.sommelier-jobs.com