Name: Leonor Soza de la Carrera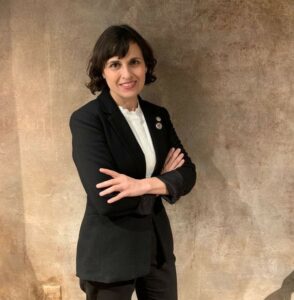 Nationality: Chilean
At the moment: Chile
Sommeliere 
Prerequisite:
Please, tell us a little bit about your first encounter with wine & the wine industry? Any particular mentors at that time?
I started working in wine tourism in 2012. I was abroad for a while, so when I was back in Santiago I took a job as a tour guide in a winery. When I was offered another job in wine tourism I was already studying a tourism management diploma, but quickly grasped the idea that actually want to become a Sommelier, so I started the school (Escuela de Sommeliers de Chile). Everything was a challenge for the next 2 years. In 2014, I earned the "Sommelier Professional" degree. I was also able to get a scholarship. It wasn't easy, I had no clue about wine or service, I was never a waitress or bartender before, I have not connections in that world, so I was going forward all by myself, but, I have to say that a lot of people on the road encouraged me to keep going in my career.
What specific traits or skills should a Sommelier(e) possess for professional performance and is there any person with that qualities you especially admire within the wine industry?
Every Sommelier should be passionate about the profession and devoted to customer service. As a characteristics: empathetic, educated, avid to learn, and final but no less important, good foreign language skills, all of this in order not to be only the "wine server". English language, especially in emerging countries like Chile, should be mandatory. I had been working with a couple of tourism manager in some wineries that didn't speak english! That's A shame!. I studied other languages since I was living abroad, spanish is my mother tongue, but I am fluent in english and italian, I have basic knowledge in german and I'm currently studying portuguese. A lot of brazilians visit Chile, they go in the wine shops, wineries and restaurants and I feel this will make the difference in hospitality. It is part of the expertise.
Another important trait is to hold a certification from your hometown sommelier school or an international course.
I feel admiration for those that comes from these very far away countries and succeed. For example, Mr. Hector Vergara, a very humble Master Sommelier; also, my colleague Marcelo Pino who became top 1 in Chile with a lot of effort and dedication, and crossing the Andes, Paz Levinson, she is from this latitude and went very far in her career.
What would be your advice to a young Sommelier(e) i.e. Commis Sommelier(e) where to look finding an adequate position at home or abroad? Any further tips?
First of all I will tell them to look up for something that help them grow in their career. It is very important to commit with the boss and negotiate a way to create spaces in order to continue developing knowledge, skills and experience in the field. Unfortunately in Chile the "Sommelier" title is been mistaken, industry call everyone "Sommelier", we need the "commis" term in here. Must be exist another position, like wine consultant, I will say "asesor de vinos" in spanish. It is all about the appropriate training for the job. I will ask each Sommelier to make a contribution to this growing industry, get motivation and set goals.
Active:
When a customer asks for advice on selecting wine what's in your opinion would be the best approach?
Empathy and intuition. Keeping in mind the importance of educating customers and create and excellent experience for them. From the cost of the wine to pairing advices, a Sommelier must be approachable, confident without being arrogant, intimidating or impositive.
What's your philosophy about glasses? Are you working with well known brands or are you considering new brands as well and how do you determine?
Well….is not the main concern of the costumer or the restaurant owner, at least they are really into wines. Will be nice to have the appropriate glassware everywhere, there is not all-purpose glass, the idea is make each drink taste the way it is supposed to be.
Not so long ago, people still believed that ISO glass was the standard glass for tastings, but now we know that there are many researches about wine and the way we feel it, and this is correlated straight to the diameter, height and volume of the glass. At the school we use Chef & Sommelier glassware for all classes and course evaluations, they sponsor world's sommeliers competitions.
What advice would you give people on pairing wine with food?
I will say: do whatever you want whenever you want after you know and try the basics. You've got to know the rules well to break them. Anybody can learn.
I often use regional pairings as an example when I'm at the school, that also add some value to local food.
Should a Sommelier(e) taste the guest's wine?
At least some of them, but in the restaurants is still a practice that customers need to get used to.
Where would you suggest a young Sommelier start searching for Sommelier positions on the internet in your country?
The most effective way today is the word of mouth, due to the size of the industry, but on the internet, there is a job board available in the Escuela de Sommeliers website.
Wine list:
What are the key ingredients for creating a wine list for a restaurant and what is your opinion on some ridiculous pricing on wine in restaurants, do you have tips on how to determine markups?
A few months ago I was talking with some colleagues about put the Sommelier´s signature on the wine list. The thing is, sometimes a distributor buy the entire list and in that case there is nothing Sommelier can do, not even take part of the negotiation. There are very few restaurants working with and adviser Sommelier when they don't have one working on the floor.
For me the key is a diverse but not so extensive wine list with a nice "btg" (by the glass) selection, taking in consideration smaller great quality producers and also renowned wineries.
Markups are calculated in such a wide margin, sometimes double or triple the cost of the retail bottle price, I think should be less, and also is good to have lower markups for premium and iconic wines, at the end we will increase good wine consumption.
How do you manage to stay on top of the changes in the wine industry?
I keep reading local press, magazines, newsletters and wine sites, look after the trends in restaurants worldwide. Studying a lot, taking part in wine fairs and exhibitions, tasting with colleagues.
Living in a country that produce wine could be a real advantage, but we need to get more wines from other regions.
Unfortunately due to personal reasons I missed last year Chile's Best Sommelier competition, however I will keep working. One of my plans for the future is take the Advanced Sommelier exam, that will be next year. Since I passed the Certified Sommelier exam in 2016 (level 2 of the Court of Master Sommelier) I feel the need of a full immersion experience visiting the major wine regions prior to take the next step.
How would a new vineyard get the attention of someone like you to notice their wine and what's the best way for producers to improve their chances of being listed?
Well…let the wine speak itself! I always happy to try something new, nowadays is a good moment since more restaurants and shops are open to work with small wineries that do not use the regular distributors. But the only way is to knock every door.
Favourite pick:
If you were a wine, which variety would you be, and why?
Definitely, I would be a Syrah!. It is all about personality: versatile and adaptable.
What are the top 3 types of wine (your faves) would we find in your home wine collection and what's your desert island wine?
Crispy whites, Syrah, because is my favorite variety, and the ones that in Chile we call – right or not, term still under discussion – "patrimoniales". If I would be on a desert island, I will go regional, some very easy drink "País" variety, produced in the traditional winemaking way.
Any interesting suggestions about magazines or online platform?
www.guildsomm.com
And of course, www.sommelier-jobs.com, thanks for the interview!
Leonor Soza de la Carrera
@ by Dominik Kozlik – Zeitgeist Sommeliers – International Sommelier Positions – www.sommelier-jobs.com