Name: Gunther Schultz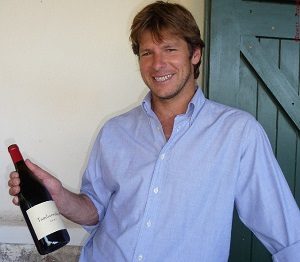 Currently: Winemaker at Tamboerskloof
Website: www.kleinood.com/wines/
Questions:
Please, tell us about how you got into wine, the wine industry and how your career developed?
I am from a family of 5 boys. My father was a school headmaster and his field of expertise was Botany – 4 of us 5 became involved in the wine industry. We are 3 winemakers and 1 viticulturist. As I was the youngest and my brothers to this day have a large influence in my life, studying Wine and vineyards was an obvious choice. I worked in Australia, USA, New Zealand and in Chile gaining experience and this has influenced my wine style immensely.
What is your philosophy to making wine and viticulture?
My philosophy is simple, keep it simple. Stay in touch with the vineyards as much as possible. My position entails my concentration be divided between vineyards and winery. I would say 70% of my working day happens in and around the vines. Stay in touch with foreign wines and styles as to keep in touch with new trends and ideas.
Which cultivar is your favourite to work with and why?
I am very passionate about Syrah. The grape has a rich history and has been mutating itself for thousands of years adapting to conditions. I have been making Shiraz since 1996 and everywhere I have been I have seen or made it in a different style. It is an unbelievably versatile grape. As I have changed in the last decade so has my style of Shiraz. Today I enjoy Cote Rotie style Shiraz with a hint of the new world involved. My other favourite would be Mourvedre, I have been working with this grape for about 10 years and it is one of the toughest to master. When you do get a good vintage however, it can be an unbelievably beautiful wine.
How do you see the future of wine production and what are the challenges and the opportunities?
Wine production in South Africa remains in a growth phase. I feel we will remain in this phase for a long time as a large sector of our population is only now discovering the joy and culture behind wine.
Where do you see the global wine market in 2025?
I have no idea, 11 years from now is a long time. If I had to predict, I would think that we are looking at global slowdown. The world economy is not healthy. The countries economies where wine is being produced are under much larger stress than the countries where the majority of wine is being consumed. This unbalanced system is not very sustainable. I think China will be taking over the mass production low cost sector before 2025.
Gunther Schultz
@ by Dominik Kozlik – Zeitgeist Sommeliers – www.sommelier-jobs.com