Name: Rita Ferreira Marques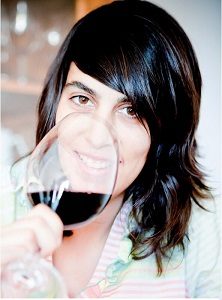 Currently: Oenologist of Conceito
Website: www.conceito.com.pt/index.php
Questions:
Please, tell us about how you got into wine, the wine industry and how your career developed?
I started by studying mechanical engineering, but was quickly fed up with my studies, so decided to take on winemaking. Already in mind was my family heritage, we own quite a few vineyards, and I dreamt of running them in order to bottle our own wine and add value to our grapes. As soon as I made my first spell as apprentice winemaker during harvest, I knew I had made the right decision. The finer and finer wines I was tasting and drinking only strengthened that conviction. My degree was in UTAD (Univ. Trás-os-Montes e Alto Douro) but I took my final schooling year in Univ. Bordeaux, where I had the privilege of studying and later working with Denis Dubourdieu. His rigour, knowledge and passion were very influential to me. I then took jobs in South Africa, California, New Zealand, and also in Douro. I started to do my first red and fortified wines in Douro in 2005, and my first whites in 2006. Later I travelled again to New Zealand and South Africa, to make my own wines there, profiting on the fact they harvest during a calm season in Douro. I also made some wines in Minho (a Vinho Verde from Alvarinho), and some experiments in my home Douro. I don't think this phase ended yet, but my main focus remains with the reds, whites and fortified.
What is your philosophy to making wine and viticulture?
I know this sounds cliché, but my main goal is to understand and respect the grapes and the soil that renders them, and ultimately to make a wine that I take pleasure in drinking. This pleasure comes from lightness, freshness, and balance. In Conceito Wines, our motto is "purity, elegance, authenticity" and I think this pretty much sums it up. I don't make wines to get high ratings, but I am naturally happy when I get them. But I have tasted too many high rated wines whose bottle remains full in the end of the meal, while the "lesser" wines get drunk to the last drop. My goal is that my wines get drunk to the last drop, perhaps even that people ask for a further bottle. Those are the wines that give joy, that belong on our table and in our lives. To this purpose, I have some principles I follow in the vineyard and in the cellar. I don't ever use herbicides, and keep sanitary treatments to the very lowest possible extension. For all purposes I run organic farming, but do not care to get a diploma stating this. I try to understand the vine as a living plant and seek to its well being. So I prune to get a balanced load, and reasonable yields. Not too much, not too little. Too much does not ripe and results in watery wines, too little offers concentrated but harsh and unbalanced wines. I try to understand and respect the influence of terroir as well. Being in a dry and hot region, I try to pick early, to preserve the acids that make the wine refreshing. I cannot remember the last time I added acid to my wines. I also try to use the oenological products to the minimum. I taste my wines very frequently to follow their evolution in the cellar before I bottle with minimal intervention. I am somewhat obsessed with oxidation, and as I design my wines for the long haul, I try to be very rigorous with details concerning conservation, bottling, etc. I also try to taste my previous vintages as often as possible, to try to understand better and better the wines, the grapes, the places, so that I can do a better job in every harvest.
Which cultivar is your favourite to work with and why?
I would have to say "vinhas velhas." In Douro, our traditional blend is made in the field. And the difference between grapes coming from old vines, where everything is mixed up, and new vineyards planted by blocks of different cultivars is huge. Our climate is extreme, and our traditional viticulture has a particular conduction that defends the bunches against excessive sun exposure. Moreover, the distribution of cultivars is only apparently random. The old vineyards carry out their own internal coherence and balance. Some varieties might ripen sooner in one year, and are compensated by others that ripen later and provide an overall equilibrium to the final blend. Moreover, with their roots going deep after the scarce water supplies (in Douro Superior the average precipitation is similar to the Sahara's) the vineyard preserves a good integrity from one year to the other, allowing the winemaker to keep a consistent style for the wines.
How do you see the future of wine production and what are the challenges and the opportunities?
This is the million-dollar question. I think there's much road to be run in what concerns technical progress in winemaking. We still see too many sloppy wines based on so-called typicality that is only ignorance in disguise. When all wines are made properly, then we can speak about typicality, in particular respect for tradition and terroir, and only then about personal interpretation of what those concepts mean. The main challenge remains the same, to build strong brands that support what is nevertheless a business, and must be run like one.
Where do you see the global wine market in 2025?
I think consumers will show an increasing thrive for authenticity, seeking and paying a prize for wines that show integrity and terroir. This tendency is slightly paradoxical, as the strong trends that reject globalisation and mass production could easily drive people towards a more down-to-earth consumption of locally produced aliments. This said, wine is a culturally strong food product, traditionally sent and consumed far from its own origin, and people respect that tradition and face wine as a civilizational trait, that brings people together in their most basic and intimate needs: food, comfort, peace.
Rita Ferreira Marques
@ by Dominik Kozlik – www.sommelier-jobs.com – Zeitgeist – Sommeliers.at