Name: Rod MacIvor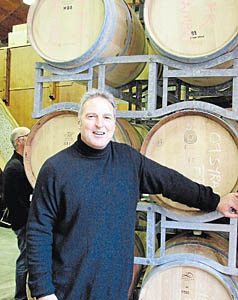 Currently: Winemaker of Marsden Estate
Website: www.marsdenestate.co.nz
Questions:
Please, tell us about how you got into wine, the wine industry and how your career developed?
We decided to plant grapes in 1993 after tasting Northland wines from Okahu and what was then know as Continental. Both Cindy and I have always enjoyed wine and we wanted to produce something we could control from the ground to the till. We realised we needed to make the wine and create a venue for direct sale.
Brent Marris did some costing for winery plant and we decided it was achievable. I started a diploma winemaking course at Hawkes Bay and we planted our first 1500 vines in 1993. Our first harvest was 2005 and the grapes were processed at Okahu. We started building our winery and our first harvest here was 2007. We shared a contact winemaker with Okahu till 2000 when I took over the winemaking. Since then hopefully we've got a better understanding of the challenges of the grape growing and winemaking challenges in our region.
What is your philosophy to making wine and viticulture?
Good wines are grown not made. You can't cut corners in the vineyard. Cropping levels need to be about quality not volume. Health vines with a large leaf area have the best chance of ripening fruit. Quality winemaking is about getting good grapes and not mucking it up, often less is best. The fruit will talk for itself. Making sure the developing wines are kept clean and don't have air contact. Winery hygiene with a robust tasting and testing procedure in place to avoid faults. No excuse in the vineyard or winery, the focus has to be on making the best wine possible.
Which cultivar is your favourite to work with and why?
I love Chardonnay. It's easy to grow consistently and you can produce so many different styles. However red wine such as Syrah are more fun. There more hands and aren't closed away in the cool-room. You can't fake a quality red, it needs a good season to bring the best out.
That won't happen every year so when they do its special.
How do you see the future of wine production and what are the challenges and the opportunities?
We're outside the loop in Northland and aren't recognised as a wine growing region. Therefore I probably have a different perspective.
The New Zealand industry is predominantly Sav Blanc for export and we don't fit that mould. We're lucky being next to NZ's largest population base with strong visitor numbers. Only a small percentage of wine consumed in Northland is locally produced so plenty of room for expansion.
I feel extremely positive about Northland's future. Better sites are being planted, young local winemaker are finding full time jobs and the quality of the wines are increasing. We tend to be able to ripen a wide range of grape varieties. We don't get frost and have the ability to direct sell a large percentage of our wines. The future for Northland wines is just beginning.
Where do you see the global wine market in 2025?
I have a friend who recently tasted wines in China, India and Japan and was impressed with the quality. Most of the planet can grow grapes so the global wine market in 2025 will allow the best to drive, the average to survive and the rest will just be a commodity.
Rod MacIvor
@ by Dominik Kozlik – Zeitgeist Sommeliers – www.sommelier-jobs.com