Name: Arneis Wu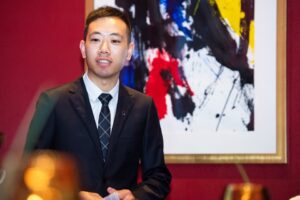 Nationality: Chinese
At the moment: China – Shanghai
Senior Sommelier
Prerequisite:
Please, tell us a little bit about your first encounter with wine & the wine industry? Any particular mentors at that time?
My major is vin and wine engineering at university and then I took WSET and CMS courses.
What specific traits or skills should a Sommelier(e) possess for professional performance and is there any person with that qualities you especially admire within the wine industry?
Incredible wine knowledge, outstanding floor service, sharp saleship on the floor. Bruce Lee Head Sommelier from China World Summit Hotel from Shangri-la Hotel Group.
What would be your advice to a young Sommelier(e) i.e. Commis Sommelier(e) where to look finding an adequate position at home or abroad? Any further tips?
Try to work with top sommeliers or work at the best fine dining restaurants/hotels which have the best wine lists. If you have a wonderful wine list, it is very important for a sommelier, especially for a young somm to grow up.
Active:
When a customer asks for advice on selecting wine what's in your opinion would be the best approach?
First, you should know which dishes that the customer had ordered. Second, you should talk with customers, what kind of type wines would like to enjoy, light fruity red or Heavy red and so on and last think of customers budget and then do few recommendation…
What's your philosophy about glasses? Are you working with well known brands or are you considering new brands as well and how do you determine?
Glasses are very important for serving the wines. Different grapes should use different glassware, that will bring customer better dining experience. We work with Ridel. Yes, I do like Zalto very much personally.
What advice would you give people on pairing wine with food?
The rule is balance. Wine + Food >2  
Should a Sommelier(e) taste the guest's wine?
Yes, it's our standard before serving to the guests. Sommelier need to check the wine and make sure the good condition before serving. We don't like serving corked to guests if you don't check first.
Where would you suggest a young Sommelier start searching for Sommelier positions on the internet in your country?
Hotel and Restaurants website, Linkedin, social app, and contact famous restaurant and hotels directly
Wine list:
What are the key ingredients for creating a wine list for a restaurant and what is your opinion on some ridiculous pricing on wine in restaurants, do you have tips on how to determine markups?
You need think of the type of food and the average check , local people like to taste trendy drinks. Try to avoid the ridiculous pricing and markup should be reasonable, otherwise you will sell nothing. If don't sell certain wines, I would take them off the list.
How do you manage to stay on top of the changes in the wine industry?
Reading wine news and changings around the wine world, wine trips  and somm competitions and exams.
How would a new vineyard get the attention of someone like you to notice their wine and what's the best way for producers to improve their chances of being listed?
Somm Master class, high marks from famous critics or wine institutions.
Favourite pick:
If you were a wine, which variety would you be, and why?
Riesling, actually it can be any wines, sparklings, dry white, aging white, sweet wines
What are the top 3 types of wine (your faves) would we find in your home wine collection and what's your desert island wine?
Champagne, Burgundy and Riesling.
Any interesting suggestions about magazines or online platform?
Decanter and Guildsomm Web for sommeliers
Arneis Wu
@ by Dominik Kozlik – Zeitgeist Sommeliers – www.sommelier-jobs.com