Name: Adriana Valentini –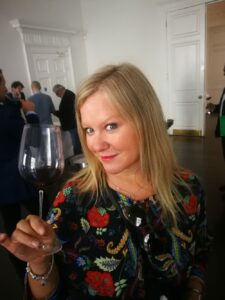 Nationality: Italian –
At the moment: United Kingdom
Head of Beverage / Head Sommeliere / Wine Judge
Prerequisite: 
Please, tell us a little bit about your first encounter with wine & the wine industry? Any particular mentors at that time? 
I was born and raised in Milan, Northern Italy, and I have never had any family members involved in the wine business. In Summer 2003 I went to Burgundy, for a leisure trip where I attended a wine course in English in Beaune. This was my very first encounter with the wine tasting process whose sensory evaluation I found being so interesting. If I go back with my memory, I can easily say the seed for a deep passion in the wine was starting to sprout.
In Milan, I chose then to get to know more and to start a wine course with AIS, Associazione Italiana Sommelier, the oldest and most renowned Sommelier Association in Italy. When I got my diploma, more than 11 years ago, I started working as a part-time sommelier. By that time the owner of the Company, I was working for as a translator decided to go through a dismissal process due to the economic crisis of the time and advised me that my job was also on the edge. I decided then that was time for me to resign and to turn to the wine world and to invest my time, energy, and money in a new life: the professional Sommelier. The best decision I could possibly take! The rest is history: After taking my WEST certification, in 2014 I moved to London to pursue an international carrier where I worked as Head Sommelier, as F&B Executive, and recently as Head of Beverage in an exclusive Private Members Club.
I have a fond memory of two mentors who I would like to mention here, two of the Best Italian Sommelier of the latest 20 years: Nicola Bonera and Luisito Perazzo who led my way to start my very own carrier; and Hosam Eldin Abou Eleyoun, a very special person to me, the Delegate and now President of the Lombardy Region Sommelier Association. He constantly supported me and let me thrive till my decision to move to work abroad.

What specific traits or skills should a Sommelier(e) possess for professional performance and is there any person with those qualities you especially admire within the wine industry?
I personally believe that nowadays to be a professional sommelier you should be well prepared, attentive, and full of personality.
This job is a very complex one, and by performing it you constantly need to: 1) show to be humble in front of your guests and in front of senior colleagues who have more experience. 2) be curious and knowledgeable: never stop learning as there will always be new products coming up on the market either a new wine or a new drink. 3) be able to see the big picture: try always to exceed your guests' expectations, and lastly 5) be and remain open-minded: what you liked the most in the past might change alongside with your palate and your wine preferences which may evolve into new ones!
I do admire any Master of Wine who achieved this milestone in their wine carrier. I simply love to be in London and be able to meet many of them while attending their masterclasses. One among all is the late Gerard Basset who was the most successful sommelier of his or any previous generation.
What would be your advice to a young Sommelier(e) i.e. Commis Sommelier(e) where to look finding an adequate position at home or abroad? Any further tips? 
First of all, I would tell him/her to always try to start their wine journey by getting a position in established places, where you could learn straight from the best colleagues. Second, to study for a WSET or a Court of Master Sommelier international certificates which are always a good start.  
Lastly, I would tell a junior colleague not to stop if they fail in their very first job: this experience would build up the backbone of their self-esteem. Without losing once, you will never be able to appreciate the long journey to success. Do always look toward your goals and you'll reach great results in your carrier. Once you feel confident in your position, then share your experience with new young colleagues.
But remember: If you aren't truly, madly, deeply passionate, and curious about this world, you won't ever be successful.
Active: 
When a customer asks for advice on selecting wine what's in your opinion would be the best approach? 
I like to consider myself and any colleague sommelier like a "speed dating psychologist" and I do recognise myself 100% in this quote:
We as a sommelier can work out what sort of person you are, how well off you are and what you really fancy most within a very short period of time, maybe with only a few sentences into a chat — and then take you there quickly, picking up on any hints you drop along the way!
A great sommelier can meet everyday people from all over the world, with so many need and drinking habits… and be able to find a good option for all of them before they even start to eat, that's fascinating and drives me in my job. So, I would say my personal approach is to listen a lot, and do my best for my guests even if I personally disagree with their wine choices and I would never go for such a wine pairing.
What's your philosophy about glasses? Are you working with well-known brands or are you considering new brands as well and how do you determine?
Definitely well-known brands, I am quite picky about glasses I must admit. They have high standards and offer a constant quality (they break less in the glasswasher and by polishing them a thousand times!)
What advice would you give people on pairing wine with food?
So, unless you are in Uk, it would never happen to see a "criminal violation" in terms of drinking like the pairing of a premium Bordeaux red with a pineapple pizza. Indeed, I personally think that if customers want to try some creative, and very personal, combinations between food and wine, I will certainly not complain or try to change their mind. If I was asked instead to give my piece of advise on pairing, I would certainly go for playing with contrasts: food natural bitterness or sweetness with big freshness in wine like German Rieslings, a real explosion of flavours and sensations.
Should a Sommelier(e) taste the guest's wine?
I would say yes, in this way you make sure your guests receive the wine in the best conditions
Where would you suggest a young Sommelier start searching for Sommelier positions on the internet in your country? 
There are also a lot of good opportunities on line like with
www.indeed.co.uk/Sommelier-jobs
or by making direct contact with the restaurant/hotel you would like to apply to and sending your cv together with a letter for the job vacancy
Winelist:
What are the key ingredients for creating a wine list for a restaurant and what is your opinion on some ridiculous pricing on wine in restaurants, do you have tips on how to determine markups?
I personally believe that having on the list wines in a wide price range – from entry-level to premium ones – to choose from is essential, the presence of classic wine regions is important to deliver a sense of authenticity to the list and to have an adequate yet interesting selection of wines by the glass which put every guest at ease while not feeling obliged to have an entire bottle.
The mark up on wines should be fair and not be so high nowadays, especially in a luxury or Michelin star restaurant. Wine connoisseurs and customers in general starts to be very well informed on prices, as they are likely to have on their smartphones dedicated apps, and paying too much for a bottle of wine, doesn't convey the message to be a good restaurant where they can find good value for money wines and they might decide not to come back for a second visit.
How do you manage to stay on top of the changes in the wine industry?
Not considering the unprecedented time we all are living in with the Covid pandemic, I would say by visiting wine exhibitions and attending wine Portfolio tastings at least on a monthly basis, by being always open-minded and ready to any change and taste of the current market and its clientele.
How would a new vineyard get the attention of someone like you to notice their wine and what's the best way for producers to improve their chances of being listed?
For a wine producer definitely by achieving effective communication with their audience and possible customers, by having a very well made website, and by investing in the quality of your product at all stages of production
Favourite pick: 
If you were a wine, which variety would you be, and why?
I would go for being a Champagne, maybe a Blanc de Blanc, because of my bubbly character!
A chardonnay with its typical aged chardonnay aromas of Butter, baked bread, brioche, vanilla, nuts, and cream which reminds me of the comfort of my hometown. And I would be as energetic and gentle as its texture!
What are the top 3 types of wine (your faves) would we find in your home wine collection and what's your desert island wine? 
At home, I tend to have in my wine rack at least a Franciacorta DOCG dosage zero, a premium Puligny Montrachet and a Mendoza Malbec (and a vintage Port, my fav fortified wine)
My desert wine island would be a Nebbiolo wine like Giacomo Conterno Monfortino Barolo Riserva DOCG, Italy 2010. Start, drink, repeat… till rescue comes!
Any interesting suggestions about magazines or online platforms?
Honestly, as a platform, I use myself "wine searcher" as I find it very well made and professional.
About magazines there's a wide range of choices to look for: Decanter, Imbibe magazine and the Drinks Business are my favourite ones.
Adriana Valentini
@ by Dominik Kozlik – Zeitgeist Sommeliers – www.sommelier-jobs.com