Name: Valeria Tenison –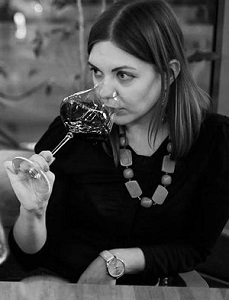 Nationality: Russian –
At the moment: Russia
Sommelierè / Wine Journalist
Wine Gossips: click
Simple Wine News: click
Prerequisite:
Please, tell us a little bit about your first encounter with wine & the wine industry? Any particular mentors at that time?
I started my professional career as a bartender, so I worked with drinks in general. The wine was always something interesting for me as it allowed me to travel and discover new places without leaving your working place.
What specific traits or skills should a Sommelier(e) possess for professional performance and is there any person with that qualities you especially admire within the wine industry?
I think one of the most important skills is curiosity. Sommelier is learning all the time. If one is not curious and does not like to study, it would be difficult to keep a high level of knowledge as the wine world is constantly changing. I am a big fan of Paz Levinson because she is permanently searching for new drinks, pairings, and tastes. On her Instagram, she writes about sakes, teas, coffees, etc.
What would be your advice to a young Sommelier(e) i.e. Commis Sommelier(e) where to look finding an adequate position at home or abroad? Any further tips?
Obviously, there are few special websites (including sommelier-jobs.com) which help to find vacancies all over the world. Unfortunately, finding a job abroad could be difficult because of visa issues, so one should always keep it in mind and does not get upset if things are not going as desired. I also follow the accounts of my favourite restaurants and sommeliers, sometimes you find interesting job offers there.
Active:
When a customer asks for advice on selecting wine what's in your opinion would be the best approach?
I normally customers ask what they usually drink. I think this is the best and fastest way to understand their preferred style of wine. If they become regulars, then I can go further and offer to try something new, out of the "comfort zone". I am not shy to ask about their budget for the wine, so I am able to offer the best possible value for money.
What's your philosophy about glasses? Are you working with well-known brands or are you considering new brands as well and how do you determine?
In real life, we usually work with what we have in the restaurant. If I choose the glasses, I prefer to go the classic way and have 5-6 different types of glasses, not more. I am not a big fan of having a special glass for each grape variety, I think this is a game for wine geeks, but most of the guests do not notice these slight differences. The glass should be thin enough and elegant but also resistant and durable. The restaurant is a business and it cannot afford buying new glasses every month.
What advice would you give people on pairing wine with food?
To be honest, I do not believe much in food and wine pairings. I worked in many countries with different cultures where people have completely different tastes and eating habits. Chinese food goes better with white wine but the Chinese in general prefer reds, so sommeliers should always adapt to these traditions. There are no universal rules.
Should a Sommelier(e) taste the guest's wine?
Yes, for two reasons. First, to check the quality, of course. It happens sometimes that guests are not able to detect or too shy to speak up about the defects in wine. Sommelier is there to make each guest's experience perfect, so it is important to check the wine. Secondly, it is a way to study, especially for a young professional and if a wine list is huge. In this way, gradually, a sommelier will know all his wines well and will be able to give better recommendations.
Where would you suggest a young Sommelier start searching for Sommelier positions on the internet in your country?
I am Russian but I live in France, though everywhere it is more or less similar. Social media and connections work the same in every country.
Wine list:
What are the key ingredients for creating a wine list for a restaurant and what is your opinion on some ridiculous pricing on wine in restaurants, do you have tips on how to determine markups?
Every restaurant is different and targets different clients. The most important for the sommelier is to create a wine list for these particular guests. Very often I see that wine lists are made to impress fellow sommeliers which is a complete fail from a business perspective. Mark ups also depend a lot on the style of the place, its location, etc. Obviously, BTG and other popular items normally have higher margins but there is not a single recipe. In general, customers become more aware of the market prices and are not anymore willing to pay for overpriced wines.
How do you manage to stay on top of the changes in the wine industry?
Following all major wine magazines, wine experts and sommeliers is the best way to keep your knowledge up-to-date.
How would a new vineyard get the attention of someone like you to notice their wine and what's the best way for producers to improve their chances of being listed?
Difficult question. In an entry-level segment, value for money will be the most important. Talking about premium wines, the storytelling of the producer becomes crucial as many people now are buying stories, not wines.
Favourite pick:
If you were a wine, which variety would you be, and why?
I would love to say Riesling or Pinot Noir but I hate cold weather, so I would probably be a Grenache )) preferably from Château Rayas!
What are the top 3 types of wine (your faves) would we find in your home wine collection and what's your desert island wine?
I love sparkling, so there is always a bottle of Champagne or Corpinnat around. I live in Bordeaux, so there are a lot of Bordeaux reds in the collection but I rarely open them at home, just give them as presents. My recent discovery is skin-contact wines from aromatic varieties like Muscat. We love spicy food and this style works really well with it. I am super practical, so I would probably prefer a substantial supply of clean, fresh water on a desert island.
Any interesting suggestions about magazines or online platform?
I recently started playing quizzes on somm360.com. I think it is a great way to learn new things in an entertaining way.
Valeria Tenison
@ by Dominik Kozlik – Zeitgeist Sommeliers – www.sommelier-jobs.com