Name: Tatiana Selivanova –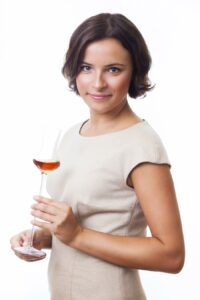 Nationality: Russian –
At the moment: Russia
Head of Wine School
Fort Wine School: click
Prerequisite: 
Please, tell us a little bit about your first encounter with wine & the wine industry? Any particular mentors at that time? 
I've started my wine way in 2004 as a wine consultant in a big supermarket in the center of Moscow. The job and the place were chosen by occasion, I was looking for part-time work to combine with my University classes. During the first month or two I paid almost no attention to differences between the wines, it was quite odd for me, all these names and regions. And then a customer came with the question about two Saint-Emilion wines, and I had nothing to tell, and I was so ashamed at this moment that the same evening I took the wine textbook and started to study French wine. The name of my first Russian wine educator is Yuri Zybtsev. My first international mentor was Robert Parker, I spent so many hours with his book and wine notes. Now I love Oxford Companion by Jancis Robinson and wine regions descriptions at www.wine-searcher.com.
What specific traits or skills should a Sommelier(e) possess for professional performance and is there any person with that qualities you especially admire within the wine industry?
I always think about two things — love to wine and love to people, even if it sounds pathetic. All you do is for people, and the wine itself should be shared with people, it's part of communication, human civilization, and historical heritage. Besides these, I expect good memory, perfect communication skills, and at least bilingualism (the more languages you can read and speak — the better, especially in terms of international practice and travels).
What would be your advice to a young Sommelier(e) i.e. Commis Sommelier(e) where to look finding an adequate position at home or abroad? Any further tips? 
I suppose you'd better start at home to gain the experience easier and faster in your native language and within your local environment. But abroad practice means a lot and after you achieve your goals in your land, the time comes to widen the horizons and to interlace with the global wine society. Be ready to study again and be ready to come back home with new experience and a higher level of expertise.
When a customer asks for advice on selecting wine what's in your opinion would be the best approach?
I can tell you my solution. First of all, I ask about the preferences in taste. Usually, people have some wine tasting experience and they can explain, that they love «delicious red from California — Zinfandel? — I don't remember, it was a heavy bottle with bison on the label». Then I understand the category and offer some wines of this oaky flavorful style from different price categories. In case the customer can say nothing about wine preferences I ask him (her) about coffee and tea preferences: do you like it strong or weak, milk and sugar or straight? And then I understand the level of perception. For strong drinks lovers I would go to aromatic varieties and American oak. To weak and milky drinks lovers I offer tender off-dry wines like Rose, Pinot Noir, Kabinett Riesling, etc.
What's your philosophy about glasses? Are you working with well-known brands or are you considering new brands as well and how do you determine?
I have a range of glasses from four producers for different occasions.
Spiegelau Venus and Authentis go perfectly for everyday dinners with everyday wines.
Riedel Performance and Chef & Sommelier Reveal Up — for professional tastings, for considerations above the wine, for serious judgment of wine.
Grassl — always for the best moments of life, for the oldest vintages, for the most precious cuvee`s from my cellar, for the coziest evenings, and for the longest talks.
What advice would you give people on pairing wine with food? 
Trust yourself, not the rules. Always try something new in search of new brilliant discoveries. Don't be afraid to change your preferences.
Should a Sommelier(e) taste the guest's wine? 
I strongly agree that Sommelier should do it. It's not about stealing wine from guests, it's a part of service and care.
What are the key ingredients for creating a wine list for a restaurant and what is your opinion on some ridiculous pricing on wine in restaurants, do you have tips on how to determine markups?
The key is to offer wine for different taste preferences and price categories. In terms of ridiculous pricing, I would say that it happens less often each year due to growing competition in the HoReCa market/ Also keep in mind the growing wine culture of restaurant guests who have wine scanners in pockets and can easily compare the prices. The funniest thing I've recently seen was the price for sparkling Tokaji: in the wine list of Moscow bar, the price was 2990 Rub., while the price in importer's list was 2450 Rub. How could it be? And it turned to be a mistake finally, but I had some time to send my friends to this bar to enjoy this beautiful sparkling with mistakenly low price.
How do you manage to stay on top of the changes in the wine industry?
You need to stay aware of the latest news, continue studies, and be open-minded to new trends and laws.
How would a new vineyard get the attention of someone like you to notice their wine and what's the best way for producers to improve their chances of being listed? 
By sending the information to my mail, by invitation to tasting, by invitation to press-tour to their winery.
Favourite pick: 
If you were a wine, which variety would you be, and why? 
I would be Riesling — cool-climate lover, high in acidity aka energy, various in styles, low-alcohol and suitable for aging and almost all cuisines of the world.
What are the top 3 types of wine (your faves) would we find in your home wine collection and what's your desert island wine? 
Champagne — forever and ever, the more the better, both RM and NM.
Barolo.
Cru Bordeaux.
The most favorite sweet is Tokaji 5 Puttonyos — the perfect balance of pronounced flavors, low alcohol, amazingly complex, and long finish. Modern Russian sweet winemaking also shows good results and I try to keep some rare samples or Russian Late Harvest or botrytized categories in my cellar.
Any interesting suggestions about magazines or online platform?
I follow all the traditional ones — Decanter, Wine Spectator, James Suckling, and most of all I love Vinous because of its friendly, modern, and very professional style.
Tatiana Selivanova
@ by Dominik Kozlik – Zeitgeist Sommeliers – www.sommelier-jobs.com