Name: Melissa L. Smith –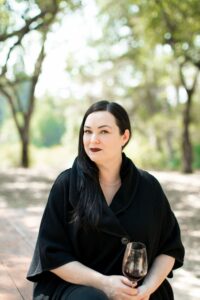 Nationality: American –
At the moment: USA/CA –
Sommeliere / Wine Consultant & Founder at Enotrias Elite Sommelier Services
Prerequisite: 
Please, tell us a little bit about your first encounter with wine & the wine industry? Any particular mentors at that time? 
I had moved to Napa Valley the week that I graduated high school to become a chef. I was working as the pastry chef in the Wine Spectator Greystone Restaurant and knew nothing about wine. I was only 18, and never got carded, so I'd spend my days off in tasting rooms, trying to understand wine and develop my palate. The first time a wine really spoke to me was that first year when I picked out a bottle of Chateau Montelena's St. Vincent from a small retailer because I liked the castle on the label. It was a blend of Zinfandel, Primitivo, and a tiny field of low-yield Sangiovese grown in solid rock. It was mesmerizing. Not long after, they tore up the Sangiovese, and the wine was never made again. 
What specific traits or skills should a Sommelier(e) possess for professional performance and is there any person with that qualities you especially admire within the wine industry?
Knowing your wine list front to back is imperative. Price points, producers, and hidden gems. Knowing the producers, the land, and the history all add up to incredible stories you can share and inspire your guests with. 
I've worked with so many incredible people in this industry, but the person that continues to amaze and impress me is Tonya Pitts of One Market in San Francisco. When I was just a baby sommelier doing luxury Bordeaux events at One Market with K&L, she was always so friendly, supportive, and down to earth. Her smile set me at ease no matter how much I felt I was in over my head. It's a decade and a half later, and she continues to wow me. She's a quiet force, and one of the most intelligent, articulate, and welcoming people in hospitality.
What would be your advice to a young Sommelier(e) i.e. Commis Sommelier(e) where to look to find an adequate position at home or abroad? Any further tips? 
My time at K&L remains the most important in my wine career. We were exposed to incredible wines from small producers, and some of the most collectible wines on earth. Because of this exposure, I was able to identify counterfeit wines and thoroughly enjoy the real deals. I was able to meet winemakers and chateau owners from around the world. I traveled extensively and never stopped learning and discovering new wines. Working in a solid and healthy retail shop will give you a lot more exposure than working in restaurants in my experience. Moving to restaurants gives you the confidence to know so many more wines after you've been exposed to thousands or tens of thousands of bottles in a shop.  
The other advice that I think is incredibly valuable in so many ways, is to travel. Get to know the regions and the cuisine first hand. Whether it's a local wine region or spending a month in Europe, no book or course will substitute for in-person experiences. It will enrich your character, and your understanding of the wine and the regions will be unsurpassed by those that spent years with their nose in a book or at a tasting table in their hometown. 
Active: 
When a customer asks for advice on selecting wine what's in your opinion would be the best approach? 
I like to gauge their comfort level. Do they want to play it safe, or are they adventurous and open? What are they comfortable spending? I'd rather wow someone with an affordable pairing than upsell them on something that may or may not impress them, and risk losing their trust for their next visit. 
What's your philosophy about glasses? Are you working with well-known brands or are you considering new brands as well and how do you determine?
Quality glasses are imperative. In the restaurant, I stick with Riedel or Zaltos when appropriate. For my events, I like the Schotts Zwiesel Tritan series. It was one of the first things that I put my foot down when doing these large-scale corporate team building and private events. Wine just does not taste right out of subpar glasses.  
What advice would you give people on pairing wine with food? 
What I encourage all guests, clients, chefs, and sommeliers to do, is to actually sit down with a flight of wines and taste with the food side by side. The pairing may sound great on paper, but the chef may add an ingredient that will throw the whole pairing off. I spent 15 years as a chef before becoming a full-time sommelier, and I am still constantly surprised how wines can affect the dishes, and how the ingredients interact with the wine. Some of the simplest things can be the hardest to pair. But I'm also a bit of a perfectionist when it comes to pairing.
Should a Sommelier(e) taste the guest's wine? 
Great question. I didn't always appreciate this extra step, especially as a guest. I used to think that it was more educational for the sommelier than for the guest's benefit, but in working with older vintages, and because of cork taint, and other flaws that can show up in the bottle, I think it is imperative for the sommelier to make sure that the wine is in pristine condition before pouring it for the guest. Being able to communicate to the guest if there is a perceived flaw is also important and can be backed up if the sommelier has taken the time to sample the bottle before the guest.
What are the key ingredients for creating a wine list for a restaurant and what is your opinion on some ridiculous pricing on wine in restaurants, do you have tips on how to determine markups?
I like to create lists that will open people's eyes to the rest of the world and reflect the local wine regions. In many of the restaurants that I have worked in, we are dealing with a high net worth clientele that has traveled to the region on business. They want to experience the local offerings while order a first growth or other highly sought-after wines that will impress their clients. There should be some fun affordable wines on the list, but you want to push the guest to order something that would signify a special occasion, and match the level of the cuisine. 
The by the glass offerings and half bottles are one of the places that I get hung up. I want a guest to sample glasses, and be able to afford a half bottle if that is in their budget, or if they are dining alone. I want to make sure that I am offering an exquisite sparkling that won't break the bank and food-friendly half bottles that are more of a bargain than a luxury offering. Coravin is fantastic for higher-end BTG offerings. I think the rule that one glass is the equivalent of what you'd pay for a bottle is a bit much. If you get a killer price on something, by all means, mark it up, but if you're getting a $30/bottle Pinot Noir, charging $30 for the glass is excessive in my opinion.
How do you manage to stay on top of the changes in the wine industry?
Constantly reading and going to industry tastings. Having a solid network in the industry is also very important to stay on top of changes and evolutions. 
How would a new vineyard get the attention of someone like you to notice their wine and what's the best way for producers to improve their chances of being listed? 
In-person trips, virtual wine tastings, unique and genuine experiences have been the key to solidifying the wines in my experience. 
If you were a wine, which variety would you be, and why? 
Riesling. From simple and fun and easy to pair, to age-worthy, filled with history, and enjoyed the world over.
Constantly evolving.
What are the top 3 types of wine (your faves) would we find in your home wine collection and what's your desert island wine? 
Pinot Noir from Russian River Valley, Anderson Valley, Willamette Valley, Germany, and the Loire; Gamay from Beaujolais Crus and Loire; and killer Cavas are always on hand.  
Desert Island wine would probably be Krug. Lots and lots of Krug. 
Any interesting suggestions about magazines or online platforms?
There have been a few books that have made a huge impact on me. 
Wine and War by Donald and Petie Kladstrup


The Billionaire's Vinegar by Benjamin Wallace

Adventures on the Wine Route by Kermit Lynch
Melissa L. Smith
*****
LOOKING FOR AN EXITING SOMMELIER POSITION? click
@ by Dominik Kozlik – Zeitgeist Sommeliers – www.sommelier-jobs.com