Name: Domenico Durante –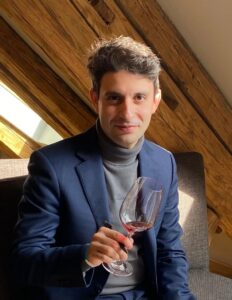 Nationality: Italian –
At the moment: Germany
Maitrè/Sommelier @ Esszimmer by Käfer München
Prerequisite:
Please, tell us a little bit about your first encounter with wine & the wine industry? Did you have any particular mentors?
My first encounter with wine was at a young age during my dad always gave me a half glass of Sangiovese. A good glass of wine always belongs to an Italian lunch.
Later during my apprenticeship, I had the opportunity to work with a wine list with a quantity of over 500 wines, so that "wine passion" gripped me.
Marie-Helen Krebs belongs to my mentors-we worked together for nearly 2 years, I was her assistant Sommelier at Schloss Elmau.
Nicolas Spanier Chef Sommelier at Tantris also belongs to my mentors, I worked at Tantris for 4 years, there is a wine cellar with over 1 000 different labels especially Burgundy with
Different back runs I have learned about.
What specific traits or skills should a Sommelier(e) possess for professional performance and is there any person with those qualities you especially admire within the wine industry?
A Sommelier should be the perfect host. He/She should be a good listener with tact. A little bit of a "best friend"for the guest, never lecturing but advising and suggesting to help to find
The right bottle of wine.
What would be your advice to a young Sommelier(e)? How to find a good position at home or abroad? Any further tips?
Taste! Taste! Taste! This is important to learn about the different types of wine and back runs, to Travel to wine fairs and wineries. To learn from a good chef sommelier. This job needs time!
Start as a Commis Sommelier and work your way up to be a good Sommelier and then Head Sommelier.
Do not forget that we will never stop learning as the wine world is very big and always has new trends.
Active:
When a customer asks for advice on selecting wine what, in your opinion, would be the best approach?
If I do not know the customer I always ask first what he/she likes to drink or if he/she has a country or type of grape that he/she prefers so that I can reduce the selection.
Another important thing is to know how much the guest wants to spend. (e.g. does he prefer to buy a FIAT 500 or a FERRARI 😊, always with tact!)
What is your philosophy about glasses? Are you working with well-known brands or are you considering new brands as well?  How do you decide?
I personally think that the brand "RIEDEL" is one of the top ones in the catering trade. But I also like the VINODY line from Schott Zwiesel.
What advice would you give people on pairing wine with food?
In my opinion, the wine and food should match the bouquet and components. The wine should never be too ruling but always be balanced with the food.
Should a Sommelier(e) taste the guest's wine?
Of course, a sommelier should taste the wine as it´s a service for the guest and tasting the wine. He/she can recognize a "cork" or other imperfections and if later on there will be a complaint the
Trained staff can argue.
Wine list:
What are the key ingredients for creating a wine list for a restaurant and what is your opinion on pricing wine in restaurants, do you have tips on how to determine markups?
The guest will be over-challenged if the wine list is too long so – no long wine list! In my opinion. And also in a  2 Michelin-starred restaurant, the calculation should be fair, the wines are there to be dunk, so fair calculation is also important.
How would a new vineyard get their wine noticed and what is the best way for producers to improve their chances of being listed?
Often autochtone grape varieties are exciting from e as they are not well known. The producers should always have the same quality without varying, then they will have a chance to be listed by me.
You are invited to browse through our Sommelier job platform Zeitgeist Sommelier or create job alert!
Favourite pick:
If you were a wine, which variety would you be, and why?
Nebbiolo – Barbaresco 😊 (as an Italian – I of course the "big Italian wines")
Nebbiolo combined strength, finesse, and elegance (a little bit like "Ying and Yang")
Which top 3 types of wine (your faves would we find in your home wine collection and what's your desert island wine?
A good Champagner (I love Krug Grande Cuvée, for me one of the best non-Vintage Champagne.)
A basic Chianti Classico or a Brunello di Montalcino
Some good Riesling GG of Rheingau Valley or Rheinhessen
Desert Island Wine:
1999 Barbaresco Sorí San Lorenzo GAJA
Ciao Domenico Durante
*****
@ by Dominik Kozlik – Zeitgeist Sommeliers – www.sommelier-jobs.com