Name: Costanzo Scala –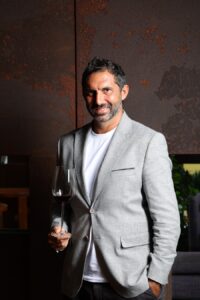 Nationality: Italian –
At the moment: UAE / Dubai
Head of Wine for Zuma – the Middle East, Turkey & Asia
Prerequisite:
Please, tell us a little bit about your first encounter with wine & the wine industry?
Well, I was always surrounded by the wine as I was born in the Italian island of Ischia, in the bay of Naples. However, it's in London where I really fell in love with wine, and more precisely at the Westbury Hotel in Mayfair. I arrived as a young man, and while I was learning English and working as Runner/Waiter in the main restaurant, part of my role was also opening and serving wines. I started to open bottles of wine from all over the world. This was incredibly fascinating for me, I started really to wonder and travel the world with my imagination every time I was opening a bottle of wine. The one thing that made it all even more exciting was the food we were serving. At the time I would not even know the basics of wine, but every time pouring a wine I was noticing how well it combined with the actual smell of the dishes. It was love at the first 'smell' – I wanted to know more, I wanted to taste and enjoy that beautiful combination not only in the nose but on my palate. From there onwards I started to ask questions and I was lucky to have one of my managers who was also a sommelier. His name is Juan Aviles, and he was my actual mentor he started to give me some insights, and not long after I decide to study it and enjoy them with my food whenever possible. I was realizing that food and wine were true passions for me. It was then that I decided that I wanted to grow in this world. I was promoted to Supervisor but at one point I decided to leave the operations of the restaurant and completely focus on wine. I wanted to become a Sommelier. I enrolled for the WSET course and after a few months, I applied at the Oxo Tower for a Sommelier Position. The Oxo Tower Restaurant at the time was my favorite place in London and it offered me my 1st job as a sommelier. I was so happy and since then I never looked back. My wine journey started
What specific traits or skills should a Sommelier(e) possess for professional performance and is there any person with those qualities you especially admire within the wine industry?
A sommelier should be someone who possesses professional knowledge but is able to translate it to all kinds of guests, the ones that have an incredible depth of knowledge and experience, and to the ones who may have not even ever tried a wine. One of the main traits that a sommelier should have is responsible. In my vision, there is a lot to be responsible about. The sommelier is usually seen as a Foe rather than as a friend and this for me says a lot. This is because many sommeliers just aim to make a sale without realizing that wine may not be within guest likes or budget. That same wine may not match the food the guest may have selected ruining both the wine and the food.  A responsible sommelier ensures that wine is served at the right temperature, in the right glass, and with the right dish. Should that not be the case, the wine may not express all is about, and all the work of mother nature, winemaker, etc it's completely undermined. The same thing happens when the wine is matched to food without any care, an incredibly crafted dish and all its single-handily picked ingredients may be destroyed by this combination and most of all, the guest's palate and pocket. Besides this, for me a Sommelier should be friendly, welcoming, approachable, a good listener, respectful to all parties, and someone that really cares a lot about the guest's memories.
What would be your advice to a young Sommelier(e). How to find a good position at home or abroad? Any further tips?
Travel, Travel, and Travel!……… and work in cities that have wines available from all over the world. For me it was London. Being there or in any other cosmopolitan city of the world that may share the same passion for the wine of the world, It s like travelling the world of wine and reaching any vineyard in any corner of the new and old world…without actually travelling.
Active:
When a customer asks for advice on selecting wine what, in your opinion, would be the best approach?
In a restaurant, we don't sell anything else than memories. It's extremely important to respect and implement the very core of the role of the sommelier and take away some of the prejudice that at times can be associated to the sommelier such as seeing this figure as a foe rather than a friend. The sommelier's role is of paramount importance in guiding the guest through the wine list offering by paying attention to the guest's palate, food selection, budget, and to their overall experience. This is why for me the best approach is to question guests and to listen to their likes in order to deliver the most appropriate wine suggestion from the list. The ultimate purpose of the sommelier is to ensure the guest has what their wishing for, but the best part of this for the sommelier is to push boundaries, bring to their attention wines that the guest never heard of or that they didn't even know of their existence but that fall within what they were looking for. The world of wine is extremely vast and there are good wines all over the world. The beauty of this role is to unlock it. In addition, in the case, the guest favours a wine that it may clash with the dishes, the sommelier should step in and steer them away in order to protect the wine, the dish, their palate, and their pocket!
What is your philosophy about glasses? Are you working with well known brands or are you considering new brands as well.  How do you decide?
Glassware is extremely important. Wine in the wrong glass can implode, while in the right glass can express all its depth. As sommeliers, we have a huge responsibility to treat each individual wine with care and attention. We must ensure that the incredible work done by the winemaker to express that particular year in that particular terroir shows in the glass at its best. As important is the serving temperature and decanting if is required.
I tend to work with well-known brands as it's important for us in terms of wine identity and positioning in the mind of the audience. At home, I tend to explore new brands more but the shapes of classic glassware remain core to me.
What advice would you give people on pairing wine with food?
I worked with Italian, French, Spanish, Chinese, Indian, and Japanese cuisine. With each cuisine, you have to use a different approach. I would advice approaching The 'Old World" cuisines (in terms of Wine Tradition) such as  France, Italy, Spain, Portugal, Germany, etc with the more traditional and classical pairing approach as the wine is shaped to match the very local cuisine of each of those countries. However, when it comes to the "' New World" Cuisines (in terms of Wine Tradition) such as Indian, Thai, Chinese, etc, or fusion cuisine I would advise approaching them with a very modern approach as wine with them is indeed a modern concept. For instance, I worked in an Indian Restaurant where I was serving Brunello with Lobster and the guests were going crazy about the combination. The great part when it comes to that cuisine is that you can think out of the box and perhaps you can even completely throw the box. I see wine as the finishing ingredient to a dish and I strongly believe that it exists a wine or a style for almost every dish in this world
Should a Sommelier(e) taste the guest's wine?
Yes! Absolutely. In most cases, Sommelier can pick when wines are not showing their best or are simply corked or off. Not all guests may recognize a wine fault or a wine not showing its best. Tasting gives the opportunity to the sommelier to maintain a close look over those aspects while evaluating wine development over time.
Looking for a suitable Sommelier position?
Create a job alert by country and we will email you positions that match your preferences!
Wine list:
What are the key ingredients for creating a wine list for a restaurant and what is your opinion on pricing wine in restaurants, do you have tips on how to determine mark ups?
A wine list should always be built in reflection of the concept, cuisine, clientele segmentation, brand positioning (stock holding capacity), and location. Ideally for me, wherever possible a wine list should be a hymn to the world of wine. The world of wine is very vast and exciting. Diversity in grape varietals, wine styles, provenance, and ratio of Old World vs New World is very important. A wine list should have a good mix of world classics, well-known names, boutique wineries, unusual wines,  hidden gems, grape varietals, and ''unknown" producing countries. Other key aspects are having all sorts of price points and being suitable for all budgets.
 How do you manage to stay on top of the changes in the wine industry?
One important aspect is staying on touch with the wine industry, not only locally, but globally. Understanding and anticipating trends is an extremely important aspect of our trade in terms of both the Wine and the Hospitality industries. Another very important aspect is Reading. Nowadays we have the luck to have every piece of information one click away. Magazines, wine websites, wine apps, and videos are all a great way of constantly staying in touch with "' the change'' that is the only constant in life (and in the wine industry). I value also very the continuous  contact with the actual people/guests as this is what we must satisfy
How would a new vineyard get their wine noticed and what is the best way for producers to improve their chances of being listed?
Ultimately it always depends on the quality they offer. Creating uniquely crafted wines with personality and uniqueness. Marketing and social activities/medias can speed up the process to reach the world faster. We live in a very visual world and in a world of trends and word of mouth. The Right channel of communication, and exposure, play an important role in the success of positioning a product out there. Competition is extremely high this is why is very important for the wineries not to die with their music inside and embrace the most appropriate or creative ways of communicating in fashion to the audience their very core unique selling point and values  
Favourite pick:
If you were a wine, which variety would you be, and why?
Being from south of Italy I should reflect the trait of my origins, a grape varietal with sunny warmth, depth (of values) and a certain degree of balance and refinement. I could be perhaps an Aglianico, Primitivo or Negroamaro
Which top 3 types of wine (your faves would we find in your home wine collection and what's your desert island wine?
It's impossible to select 3 only, I have so many favorites and thank God it's not a real situation eh eh?
At this moment out of my actual collection I would pick:
Ridge Montebello Chardonnay 2000
Nuits Saint Georges Domaine de l Árlot "Clos Des Forets'' 2003
Inniskilin Vidal 2006
Ciao Costanzo Scala
*****
@ by Dominik Kozlik – Zeitgeist Sommeliers – www.sommelier-jobs.com